The inside story of Crawley Town's crypto consortium nightmare
Crawley have already had five permanent managers in the 15 months since new owners came into power - but there's plenty of other issues involving the club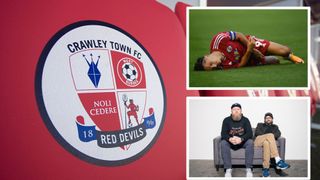 (Image credit: Getty Images)
A club going nowhere in the lower reaches of the English pyramid is suddenly purchased by North Americans who seem to live in a different world. It's a familiar story. Unfortunately for Crawley Town supporters, their script is more Brothers Grimm than the happy fairytale currently unfolding at Wrexham.

The League Two outfit were bought by crypto consortium WAGMI United in April 2022 – WAGMI standing for We're All Gonna Make It. The mysterious group was fronted by Eben Smith and Preston Johnson, a sports data analyst who worked for ESPN, among others.
WAGMI promised to take Crawley to the Premier League through the sale of NFTs (non-fungible tokens – remember them?) and by building an international fanbase to sit alongside the hardy few who lined the terraces in their council owned Broadfield Stadium in West Sussex. The Red Devils styled themselves as "The Internet's Team".

Things started well. Crawley signed League Two's top scorer from 2021/22, Dom Telford, before WAGMI raised £3.5 million in the first NFT drop ahead of the new campaign. Anyone who bought an NFT for £355 earned a package that included voting rights on club decisions, a special third kit and other digital content.
But things soured fast. Instead of chasing a play-off place, Town ended the 2022/23 season in 22nd: their worst finish in their 12 years in the Football League, and just three points above relegation to non-league. Five managers took charge, popular players exited, the crypto market dipped alarmingly and the Crawley Town Supporters Alliance (CTSA) called for the heads of Smith, Johnson and interim CEO Chris Galley.
"We never really had a good spell at any stage of the whole season," Sam Jordan, deputy chair of the CTSA, tells FourFourTwo. "And WAGMI have now totally changed because the fans have turned on them. I understand why they've gone to ground, because fans aren't happy, but as leaders they should be standing up and answering questions, and they haven't. They're not willing to listen to advice, either."
Among the CTSA's gripes are the absence of a CEO with relevant football experience; the owners' lack of transparency since a raft of controversial player sales in January led to Matthew Etherington's departure as manager; concerns over the anonymity of WAGMI members; and ownership practices that have gone against the grain. The most notable of these was asking three members of 'The Sidemen' – a YouTube collective boasting more than 130 million subscribers combined – to train with the club following a charity game, before suggesting that one of them might play for Crawley in the FA Cup.
An already strained relationship between Johnson and the fans nosedived when he took to the dugout for a defeat to Stevenage in late December (left). This came hours after Etherington and his assistant, Simon Davies, had resigned just 34 days into their reign. The former West Ham wideman walked away following the agreed sale of striker Tom Nichols to Gillingham, which led to WAGMI making Nichols unavailable for selection until the transfer went through, while justifying the deal by saying that he and Telford were 'too short' to play together up front.
"If he'd done all of that a bit differently, like not use the FA Cup for The Sidemen rather than bring the competition into disrepute and make us a laughing stock, I don't think there would be too many complaints," Jordan says.
"I absolutely understand Preston's perspective on going in the dugout – that he was doing it to support the players – but any decent CEO would have said, 'Don't do it. It's not the right thing to do'."
It's difficult for anyone to know where to go from here. The CTSA say, "Communication between the current top-level management and the fanbase has broken down irretrievably."
Johnson, though, defends WAGMI's record and expects a more stable campaign under ex-Swindon boss Scott Lindsey to give Crawley a chance to reap rewards from their unconventional approach. But NFT drops to raise millions can't keep happening every season – scarcity is key.
Crawley's task will be even tougher next year, with Wrexham joining League Two. Some fans want their own American chiefs to take a leaf out of the Ryan Reynolds and Rob McElhenney playbook, but WAGMI will do things their own way. It won't be dull.
Thank you for reading 5 articles this month* Join now for unlimited access
Enjoy your first month for just £1 / $1 / €1
*Read 5 free articles per month without a subscription
Join now for unlimited access
Try first month for just £1 / $1 / €1
Get FourFourTwo Newsletter
The best features, fun and footballing quizzes, straight to your inbox every week.