UEFA: Unequal club finances a key concern
NYON, Switzerland - The growing gap between Europe's richest clubs and the rest is one of UEFA's main concerns for 2009, general secretary David Taylor (pictured) said on Friday.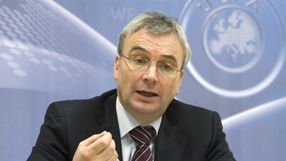 "Making progress with financial fair play is one of UEFA's three priorities for the year, along with the protection of minors and our preparations for Euro 2012," he told a news conference after a two-day meeting of UEFA's executive committee.
The takeover of several top European clubs by wealthy overseas investors and the resulting influx of capital -- highlighted by Manchester City's failed bid of a reported 108 million pounds ($154.5 million) for AC Milan's Kaka -- have prompted concerns.
"Of course the financial issue is a complex and delicate one and any changes will have to be phased in over a period of time," said Taylor.
"We will discuss it with the clubs and the players but I want to stress that we are concerned first and foremost about our competitions. They are our competitions and it is up to us to decide the conditions of entry."
Taylor said UEFA had set up a club financial control panel to look at the governing body's existing licensing system and consider any new restrictions that might be introduced.
He said the issue would be discussed at UEFA's strategy council -- which includes league, club and players' representatives -- at its next meeting on March 9.
Several club officials, including the president of the European Clubs Association Karl-Heinz Rummenigge, have called for the introduction of players' salary caps.
Taylor refused to be drawn on any possible measures discussed by UEFA's executive.
"We are at the discussion stage and it's therefore difficult to give a lot of details without setting 20 hares running," Taylor said. "We believe it is better to discuss it in public once we have concrete proposals to bring forward."
On the stop-start preparations for Euro 2012, Taylor said UEFA continued to see "some progress in the project" being co-hosted by Poland and Ukraine.
Taylor said he would be personally inspecting Ukraine's six proposed host cities next week ahead of UEFA's final venue selections in May.
UEFA also announced that 12 candidates would be standing for nine vacant seats on its 16-member executive committee at the organisation's annual congress in March.
Of the six members whose terms of office are expiring, only two, England's Geoff Thompson and Cyprus's Marios Lefkaritis, are standing for re-election.
UEFA have put forward Russian FA president Vitaly Mutko to succeed fellow Russian Viacheslav Koloskov as one of the European members on FIFA's executive committee.
Thank you for reading 5 articles this month* Join now for unlimited access
Enjoy your first month for just £1 / $1 / €1
*Read 5 free articles per month without a subscription
Join now for unlimited access
Try first month for just £1 / $1 / €1