Wigan agree fee for narked N'Zogbia
Newcastle United's unsettled French midfielder Charles N'Zogbia could be on his way to Wigan Athletic after the Premier League clubs agreed a fee.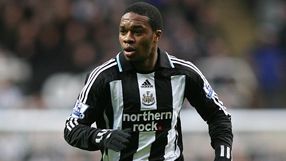 The 22-year-old said he would never play for Newcastle again after his name was mispronounced by team manager Joe Kinnear during a post-match television interview after the 2-1 defeat by Manchester City last Wednesday.
Wigan manager Steve Bruce said the move would be a boost for N'Zogbia after an unhappy spell in the northeast.
"We have agreed a fee with Newcastle and it's up to us now to convince the boy Wigan is the place to come and enjoy himself, kickstart his career...it seems to have gone a bit sour in the north-east," Sunday's British newspapers quoted Bruce as saying.
N'Zogbia, who joined Newcastle from French club Le Havre in 2004, has been linked with a move to several Premier League clubs in the transfer window.
The Times said on its website the club's had agreed a fee of six million pounds ($8.59 million) with Wigan defender Ryan Taylor moving to Newcastle as part of the deal.
NEWCASTLE FANS! Check FourFourTwo.com's ever-expandinginterviews archivefor more stuff to read:
Web Exclusives Les Ferdinand
Q&A Joey Barton
One on One Michael Owen, Kevin Keegan, Les Ferdinand, Faustino Asprilla
Boy's A Bit Special Steven Taylor, Danny Guthrie
Ask A Silly Question John Barnes
Perfect XI Ruud Gullit
What Happened Next? Tony Cunningham
My Secret Vice Nolberto Solano, Sam Allardyce
Plus! Rate Newcastle players (and others) on Talentspotter (opens in new tab)
(opens in new tab)
WIGAN FANS! Check FourFourTwo.com's ever-expanding (opens in new tab)interviews archivefor more stuff to read:
My Secret Vice Jimmy Bullard
Plus! Rate Wigan players (and others) on Talentspotter (opens in new tab)
Thank you for reading 5 articles this month* Join now for unlimited access
Enjoy your first month for just £1 / $1 / €1
*Read 5 free articles per month without a subscription
Join now for unlimited access
Try first month for just £1 / $1 / €1