World Cup 2022: Roy Keane blames Ian Wright for England's 0-0 draw with USA
England drew 0-0 with USA at World Cup 2022, with Roy Keane blaming fellow pundit Ian Wright for the stalemate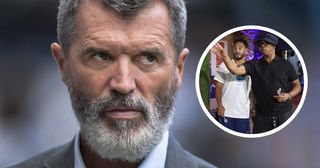 (Image credit: Visionhaus/Getty Images)
Roy Keane has put the fault of England's 0-0 bore draw at World Cup 2022 with USA at the feet of Ian Wright.
The ITV pundits were asked why they thought the Three Lions had such a poor game, with Keane slamming the performance as "terrible". Presenter Mark Pougatch then posited that perhaps a late kick-off hadn't helped.
"Listen, you make excuses," Keane responded. "Last night they were playing darts."
The comment was directed at Ian Wright, who had been to film a behind-the-scenes video where he played darts with the England team. Both Wright and Gary Neville in the studio burst into laughter at the quip from the cantankerous Corkonian.
England's draw with the United States was a drab affair in which the Three Lions might count themselves lucky to have got away with just a point. Gareth Southgate's side started off holding onto possession nicely, taking the sting out of the United States press, with Harry Kane having the Three Lions' first chance after nine minutes, which deflected out for a corner – a few minutes later, he wound up for a bicycle kick to connect with a Bukayo Saka cross but didn't meet the chance.
But the US grew into it. England were given plenty of warnings with Weston McKennie chances before Chelsea attacker Christian Pulisic rattled the crossbar. The England defence weren't quick enough to close down the United States forward line and when Pulisic cut in on his right foot, his effort from the edge of the penalty area looked as though it took a touch off Pickford before shaking the woodwork from a difficult angle.
The second half wasn't much better for the English. Harry Maguire had to clear multiple corners with his head up until the hour mark, with England struggling to get a foot on the ball, up until Jack Grealish and Jordan Henderson came on for England to replace Raheem Sterling and Jude Bellingham.
Before the game, much of the talk was about FIFA's banning of the OneLove armband with Gary Neville condemning the governing body.
"It's what I expect the FA would say, they're a risk-averse organisation, always have been," said Neville of the FA's response to pulling out from the protest, "Doesn't surprise me that FIFA have acted this way, they're a rogue organisation and in this tournament, we've probably seen them at their worst. They don't need to be that way, they represent world football – what's an armband going to do to harm FIFA?"
Thank you for reading 5 articles this month* Join now for unlimited access
Enjoy your first month for just £1 / $1 / €1
*Read 5 free articles per month without a subscription
Join now for unlimited access
Try first month for just £1 / $1 / €1