How to make the opposition play the long ball game
By Huw Davies published
Chris Hughton talks us through disabling the opposition's passing game and making them play route one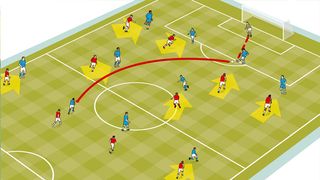 "To make the opposition play the long ball game you have to press high up the pitch. When their goalkeeper has the ball your front two need to drop a little deeper to encourage him to play the ball out.

If he then plays the ball out to his centre-back you want to force them to play it long. You do this by getting everyone to press up at the same time: your forwards should press the opposing centre-backs, your wingers press the full-backs, your central midfielders press their opposing midfielders and your full-backs press their wingers.

The only two players leaving some space between themselves and their direct opponent are your two centre-backs, who can give the forwards a little bit of room.

If the forwards are the only two players with any space, it will encourage the defender, who has the ball, to knock it long as there's no other pass available.

If the opposition have a small centre-forward they will want to thread balls through, work through the lines and play into feet or the channels.

This tactic won't let them do that. Don't press man-for-man as they will just work the ball around you and create chances to score."

Five minutes left and you need a goal
Hughton on how to find the net late on

1 Utilise your full-backs
Get your team to push higher up the pitch, especially your full-backs. You can do this by replacing a defensive full-back with a winger. Give him the license to go forward. This will allow you to push your winger up to form a front three – forcing the opposition's full-back to play deep.

2 Don't get caught
Switch to three at the back with your other full-back tucking in as a central defender to give you security. If you're chasing the game the opposition will leave two up to catch you on the counter. You're chasing a goal, but you don't want to get caught and fall further behind.

3 Be flexible
It's important that you're penetrating. The ideal way to do this is to get the ball wide, either to deliver a cross or to keep their full-backs pinned back. If you're struggling to break them down, shift to four upfront by giving one of your central midfielders license to join the attack.

Also see:
Hughton: Stop the opposition's passing game
Hughton: Last 5 mins and you need a goal
Winning the ball off the target man
Countering a team that press high up the pitch
Playing the offside trap as a full-back: the do's and don'ts
Thank you for reading 5 articles this month* Join now for unlimited access
Enjoy your first month for just £1 / $1 / €1
*Read 5 free articles per month without a subscription
Join now for unlimited access
Try first month for just £1 / $1 / €1
Huw was on the FourFourTwo staff from 2009 to 2015, ultimately as the magazine's Managing Editor, before becoming a freelancer and moving to Wales. As a writer, editor and tragic statto, he still contributes regularly to FFT in print and online, though as a match-going #WalesAway fan, he left a small chunk of his brain on one of many bus journeys across France in 2016.
Quizzes, features and footballing fun
Get the best features, fun and footballing frolics straight to your inbox every week.
Thank you for signing up to Four Four Two. You will receive a verification email shortly.
There was a problem. Please refresh the page and try again.