Robbie Keane: Defend from the front
Put opponents under pressure and make them panic, advises the Republic of Ireland veteran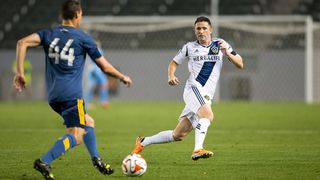 "I'm a striker and my manager wants me to press from the front. How can I force defenders into making a mistake?"
Liam Gunning, via Twitter
Robbie Keane says:
"How much you press is dictated by the game. If you're winning, sometimes it's best to sit off and let the opposition have it.

"If you're losing, press the defender and make them play a long, hopeful pass. You've got to always be on your toes, ready to press when they make a mistake – that's your chance to seize the ball.

"When you decide to press, you have to make sure all the other players are doing the same. If you go and no one else does, the opposition can play around you.

"You need your team-mates to give you a shout. If they make the call for you to go, press and you'll know they're pushing up behind you.

"Try to isolate a defender so they're on their own, with no options. The quicker you put them under pressure, the more they'll panic. Don't let them relax.
"You have to manage your energy levels wisely. When you're younger you do a lot of unnecessary running, using up a lot of energy. If no one is behind you, then it's pointless. You need to make the right decisions."
For more football tips see:
Learn how to play the pressing game
How to play the pressing game
How to make the opposition play the long ball game
Dion Dublin: Defending from the front
Chris Hughton: Stop the opposition's passing game
Suffocate the opposition
Stuart Pearce: How to defend from the front
Quizzes, features and footballing fun
Get the best features, fun and footballing frolics straight to your inbox every week.
Thank you for signing up to Four Four Two. You will receive a verification email shortly.
There was a problem. Please refresh the page and try again.