Why are goalkeepers wearing shades in training?
Switzerland goalkeeper Yann Sommer has been wearing hi-tech shades during training - FFT finds out why...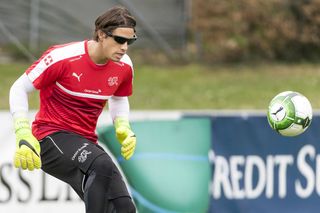 Goalkeepers are crazy, so the cliché goes, and after watching Switzerland No.1 Yann Sommer wear a pair of shades during training, FFT is beginning to think that might be true.
Yet, the Borussia Monchengladbach gloveman wasn't doing his best Men In Black impression, but in fact trying out cutting edge goalkeeper training technology, created by Japanese firm VisionUp.
The strobe glasses temporarily disrupt the user's vision by intermittently closing the lens, which, the manufacturer claims, improves eye performance in normal game situations.
The battery-powered bifocals are also able to display fast-moving objects in slow motion, with the aim of improving keepers' anticipation.
VisionUp recommend wearing them for 15 minutes during training sessions, with notable changes in performance said to be achievable in eight weeks.
They have certainly got the backing of professor Ishigaki Hisao, a notable expert in the field of sports vision studies in Japan.
"It's now possible for athletes to train and improve their vision on the pitch through daily training."
There is a catch, though. With a retail price of £357, they don't come cheap, so you might be better off sticking with your Aviators for now.
Thank you for reading 5 articles this month* Join now for unlimited access
Enjoy your first month for just £1 / $1 / €1
*Read 5 free articles per month without a subscription
Join now for unlimited access
Try first month for just £1 / $1 / €1