10 of the ugliest match-fixing scandals in football history
By Scott McIntyre published
In part one of a new series, Scott McIntyre has sifted through football's sordid past to unearth some of the stories that continue to leave scars on the world game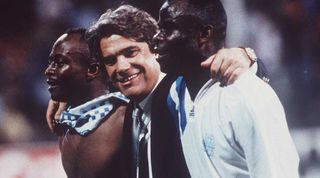 10. German ref makes some money (2005)
Former German referee Robert Hoyzer was convicted and sentenced to more than two years in prison for his part in accepting money to fix matches for a Croatian gambling-addict bar owner, Ante Sapina.
Hoyzer was found guilty of fixing multiple matches in the German second and third tiers, as well as high-profile cup matches involving Bundesliga clubs. He was reportedly paid a sum of €67,000 and received a television set for helping to arrange the matches, which involved the awarding of controversial penalties and red cards across 23 separate matches.
9. Marseille get stripped (1993)
This case involved Marseille winning a Ligue 1 and Champions League Double before being stripped of the former and banned from defending the latter, after attempts were made to bribe their opposition to 'go easy' on them – and a wad of cash in a suburban backyard was found.
With Marseille set to play their Champions League final against Milan shortly after they met Valenciennes in a clash which would also secure them the French league title, midfielder Jean-Jacques Eydelie approached three opposition players with the promise of cash to take it 'easy' on his team, and allow them to avoid injury.
When one of the trio refused and informed the French authorities, the whole scheme was exposed and resulted in the club's president Bernard Tapie receiving a two-year prison term. Eydelie, who later published an exposé of the affair, was banned from football for the same spell.
8. Fake Togo take the mick (2010)
The use of 'doctored' teams has long been a ploy of fixers at less noticeable matches, and Bahrain's clash with Togo in 2010 was a classic example. The Gulf nation stunned the Togolese side 3-0, with the team's coach, Austrian Josef Hickersberger, expressing his surprise at their opponent's lack of fitness.
But when word of the result filtered back to the African nation, the Togo FA was aghast at the outcome and said they knew nothing of the team or any of the players.
It emerged that a disgruntled former coach, Tchanile Bana, had assembled the group of 'fake' players who received a payment of almost US$60,000 (£40,000) from an international syndicate, but the investigation eventually led to other officials within the FA.
Perhaps it was little surprise that the squad didn't submit a teamsheet while in Bahrain, or that as many as five seemingly legitimate goals were disallowed for the home side.
7. Italian shopkeepers mastermind Totonero (1980)
Named after the term for illegal gambling, the Totonero scandal of 1980 resulted in an almost unprecedented series of bans after Italian officials uncovered a widespread attempt to fix matches masterminded by 32-year-old greengrocer Massimo Cruciano and 45-year-old restaurateur Alvaro Trinca.
The latter's business was often frequented by Lazio players, and that's where things were initially hatched in a widespread plot that eventually resulted in 20 players and two managers receiving a collection of bans that totalled more than 50 years.
The most prominent among that group was the star of the World Cup two years later, Paolo Rossi, with leading clubs Milan and Lazio also relegated to Serie B. The scheme eventually unravelled when the two protagonists reportedly ran out of money to keep fixing matches, after several of their earlier attempts failed.
6. The ghost game: FC Slutsk vs Shakhter Soligorsk (2015)
Fixing a match with players – real or fake – is no easy feat, so perhaps with that in mind, the past few years have seen the rise of the so-called 'ghost' matches; a contest that was recorded and reported but which never actually took place.
One such match was 'played' in 2015 between two Belarusian club teams, FC Slutsk and Shakhter Soligorsk, where two major betting agencies took bets and paid out on the result of a match that never happened. The 2-1 'result' was reported on the website of both clubs, with an 'official' from Slutsk also reportedly informing one of the betting agencies involved that the contest had taken place, only for the story to later unravel.
International reports forced the local authorities to investigate the 'fixture', with Shakhter claiming their website had been hacked and suspicion falling on a former employee of a data collection company as the person behind the scam.
5. SEA Games shattered (2015)
When Singaporean Rajendran R Kurusamny was jailed for masterminding a conspiracy to fix matches at the 2015 SEA Games, the official in charge of handing him an almost four-year prison sentence noted it was the highest-ever term handed to a fixer on a single charge.
During the trial it was argued that Rajendran was regarded as Singapore's most prolific match-fixer; no small claim given the cast of shady characters who have emerged on the island.
The 55-year-old was finally brought down as details emerged of a plot to arrange the outcome of a match between Timor-Leste and Malaysia that involved a S$15,000 payment to a Timorese official, as well as further payments to seven players to ensure they lost.
4. When water bottles get spiky (2010)
When Cremonense met Paganese in an Italian third division match in 2010, things started to go wrong early as the players began to feel lethargic, with one almost crashing his car on the way home later as he struggled to stay awake.
It later emerged that goalkeeper Marco Paolini had spiked his own team's water bottles with tranquilisers in order to fix the match and pay off his own gambling debts.
Paolini was banned from football for five years, which Italian investigators believe was linked to one of the 'godfathers' of fixing, disgraced Singaporean Dan Tan (yes, what a great name).
3. Ding gets his dong (2013)
This one had it all; in 2011 nightclub owner Eric Ding met Lebanese referee Ali Sabbagh at a Beirut cafe, with the official later claiming he was told by Ding that he could make more money in a year fixing matches than he would in a decade as an official.
Rather than money, however, this case involved women: Sabbagh was reportedly offered his choice of 'Colombian or Asian' prostitutes for free when he arrived in Singapore to officiate an AFC Cup match between Tampines and East Bengal in 2012, in exchange for influencing the outcome of the contest.
But just before the match he was arrested by the Corrupt Practices Bureau, along with his two assistants, later sentenced to six months in prison and banned for life by FIFA. Ding was jailed for three years for masterminding a plot that the court found involved an 'organised group' of fixers.
2. 79-0: Plateau United/Police Machine goal glut (2013)
With a spot on the line to earn promotion to Nigeria's professional ranks, the equation was simple for the two clubs who entered the final matchday of 2013 in contention: better the other's result.
With the Plateau United Feeders holding a 7-0 half-time lead in their match with Akurba FC, and fellow promotion hopefuls Police Machine six goals to the good against Babayaro FC, all hell broke loose as they both went on an unprecedented second-half scoring spree.
The Feeders feasted on an astonishing 72 second-half goals to emerge 79-0 winners, while the Machine couldn't quiet match that pace, only managing a 67-0 victory. One player scored 11 goals, another chalked up three own goals, and at one point there were four net-ripplers scored within a minute.
The Feeders won promotion, but it didn't take long for the authorities to act, with the Nigerian FA banning all four clubs involved for a decade in what they termed the "shameful"' incident.
1. Italy hits shameful high with Calciopoli (2006)
Nobody was too big to escape this one. When Italian police uncovered evidence that teams including Juventus, Lazio, Milan, Fiorentina and Reggina had all been involved in fixing matches with favourable referees, the repercussions were severe.
Giants Juventus, Serie A champions in 2005-06, were stripped of their title and relegated to Serie B; Milan kicked off the next campaign with a 30-point deficit; Fiorentina and Lazio escaped the initial judgement of relegation and were instead booted out of Europe for a year; Reginna president Pasquale Foti was fined £20,000 and banned from football for two-and-a-half years.
Several more individuals felt the authorities' wrath while others escaped by the skin of their teeth – but some felt the episode more than others. Gianluca Pessotto, Juventus manager in 2005/06, survived a 50-foot fall from a window at the Bianconeri's headquarters, in what was believed to be an attempted suicide. Calciopoli took Italian football quite some time to get over.
Thank you for reading 5 articles this month* Join now for unlimited access
Enjoy your first month for just £1 / $1 / €1
*Read 5 free articles per month without a subscription
Join now for unlimited access
Try your first month for just £1 / $1 / €1
Quizzes, features and footballing fun
Get the best features, fun and footballing frolics straight to your inbox every week.
Thank you for signing up to Four Four Two. You will receive a verification email shortly.
There was a problem. Please refresh the page and try again.