10 ways to improve the Premier League
We're all slaves to the juggernaut it's become, but there are still plenty of ways to make the world's most powerful league better. Allow Daniel Storey to explain...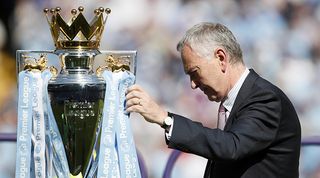 1. Cap all away tickets at £20
The 20 Premier League clubs have agreed to continue the cap on away tickets that stops them from being sold for more than £30. But that is still high for supporters who regularly have to shell out for public transport and petrol for games arranged with only a few weeks' notice.
Of course, supply and demand dictates that Premier League clubs could charge extortionate ticket prices and still come close to selling out. But we're asking for a gesture of goodwill from clubs who are supposed to be social and community institutions.
With the average Premier League away attendance at 2,800, dropping the price of away tickets from £30 to £20 would cost a club £532,000 on average. The average broadcasting revenue alone of a Premier League club last season was £104m. They can afford it.
2. End-of-season play-off
After UEFA announced that the team finishing fourth in the Premier League would gain automatic group stage entry to the Champions League, there is now very little difference between finishing fourth and second.
So with a Big Six now competing for four competitions, why not introduce a Champions League play-off which would see sixth play fifth in a one-off match at a neutral venue for the right to face fourth in a play-off final for Champions League participation?
With teams outside the financial elite likely to find it increasingly hard to break into the top four, it would mean that the overachievement of finishing sixth would still provide a shot at Champions League qualification.
3. Scrap the January transfer window
The list of Premier League clubs who failed to make a permanent first-team signing in the January transfer window: Manchester City, Manchester United, Liverpool, Tottenham, Arsenal, Everton, Leicester, Watford, Brighton, Southampton.
The three highest-placed exceptions to the rule were Chelsea (who won't actually get Christian Pulisic until the summer), West Ham (who could have signed Samir Nasri anyway because he was a free agent) and Wolves (who signed a player they already had on loan).
The January window has become a virtual non-entity. Clubs gain no value, and it provides an underserved safety net to those who didn't act appropriately the previous summer, or who have failed to plan appropriately for the next one. You'd get the summer to build your squad, and that's that. The only exceptions would be loan deals to Football League clubs from Premier League sides for those aged under 21, which could happen all season long. Which brings us to…
4. Cap loans for those over 21
The FIFA council is to ratify new rules that will limit the number of players aged over 21 or 23 (details unannounced as yet) who can be loaned to non-domestic clubs. Its aim is to restrict the loan farm model that Chelsea in particular have benefited from.
But these rules need to go further. The original intention of the loan system, to provide a means of younger players getting experience before they broke into the first team at their parent clubs, has been lost in the noise.
All loans for players over 23 should be banned, and loans for those between 21 and 23 capped at three. Clubs could loan as many players as they like up until the age of 21. If it gives players more incentive to turn down moves to elite clubs, so be it. If it gives younger players more power to dictate their futures, so be that too.
SEE ALSO One academy graduate EVERY Premier League team wishes they still had
5. Increase payments to grassroots game
Anyone who has played or coached at grassroots level knows the drill. Poor facilities (with the odd exception), low budgets and an entire movement fuelled by the dedication of wonderful volunteers who receive little more than thanks and are constantly swimming against the tide.
If this is our national game, let's at least try to give it back to the people. The Premier League does fund grassroots projects (£301.9m since 2000, as of October 2018), but the £71.4m committed between 2016 and 2019 equates to 0.85% of the broadcasting deal. That simply isn't enough, given the falling standards at the lowest levels.
The potential sale of Wembley was lauded as an opportunity to revitalise the grassroots game, and it might well be a missed opportunity. But a means-tested tax on Premier League clubs to increase their financial commitment would do just as well.
6. … and to funding referee recruitment
At some point in the very near future, we are going to face a drought of top-level referees. The introduction of VAR will cause a demand for extra officials across Premier League matches.
If you thought that there was already a lack of high-quality referees that only worsens as you journey down the football pyramid, you ain't seen nothing yet.
Perhaps it's true that standards of refereeing are dropping, but that's because a) blame culture has increased and b) the number of referees, particularly at grassroots level, is falling. Those referees who will move up the leagues and become professional face pitiful recompense for their work, meaning that they are basically doing it for the love until they reach Football League level.
We need a funding campaign that starts at the lowest level and moves upwards if we're to avoid standards slipping further.
7. Give the RESPECT campaign some teeth
But why on earth would you want to be a referee anyway? Surveys suggest that two-thirds of them receive severe verbal or physical abuse, and that officials in England are seven times more likely to be abused than those in Europe.
At grassroots level, the lingering threat of violence hangs over those who are paid peanuts. At the elite level, you have abuse screamed in your face for doing your best by people paid a hundred times more than you who also make regular mistakes.
The problem comes from a blame culture in which it's easier for managers and players to deflect blame onto officials for errors that are so marginal they become imperceptible to the naked eye, rather than examine their own flaws. It ends with players consistently and continuously swearing in the faces of officials, who feel powerless to stop them for fear of only being hounded more.
8. Roll out safe standing
The one thing on which everyone can agree is that safety is paramount. Above ticket pricing, above atmosphere, above everything. Nobody should go to a football match and never come home. Nobody should go into a football ground and feel unsafe.
But we have an option to achieve it now. Scotland Germany, Austria, Switzerland, Hungary, Belgium, Norway, Denmark, Sweden, the Netherlands, USA and Australia; all have stadia with significant standing areas. The sections at Shrewsbury and Celtic have been great successes.
Standing was part of the infamous stadium tragedies that have haunted football, but it was not to blame for it. The reason that Lord Justice Taylor advised all-seater stadiums by law was not because standing itself was dangerous, but because the style of terraced standing combined with inefficient policing was not safe. We can do this now.
9. Full Boxing Day programme
And we mean full. Christmas football is the best football, and Boxing Day is the best Christmas football. So shouldn't it be ring-fenced as a sacred cow of the English football calendar? That means all 20 teams playing, at the same time, for the only time other than on the final day of the season.
This season was better than usual, with nine matches on Boxing Day. But Wolves supporters were still asked to be in west London by 12.30pm, while Brighton played Arsenal at 5.15pm and Watford faced Chelsea at 7.30pm. And that's not good enough.
You wake up feeling a little groggy. You have a leisurely morning reflecting upon Christmas Day's events. If you're a home supporter you leave for the game at 2pm. The match is over by 5pm and you're back home to continue the jollities with some non-sport visual entertainment. Boxing Day is the one time that live football really must come above televised spectacle.
10. Increase the homegrown quotas
The rise in young, English players deciding that they'd be better off abroad than kicking their heels in a Premier League academy has been a joy to witness, but we can still give things another kick in the right direction.
PSEUDONEWS Impatient Hudson-Odoi keeps asking to play football, Chelsea complain
The truth is that the three standout academy graduate success stories over the last two years have only come through necessity. Marcus Rashford, Trent Alexander-Arnold and Aaron Wan-Bissaka all seized their opportunities during injury crises. Newcastle's Sean Longstaff is another example of the same trend. These players are good enough, they just need a chance.
The suggested change would be that at least three spaces in the 18-man matchday squad must be given to a club-trained player, who is either aged between 16 and 21 or was at his current club for three years between the ages of 16 and 21. It will either lead to greater opportunities for younger players, or might persuade clubs not to stockpile external signings.
Quizzes, features and footballing fun
Get the best features, fun and footballing frolics straight to your inbox every week.
Thank you for signing up to Four Four Two. You will receive a verification email shortly.
There was a problem. Please refresh the page and try again.