5 big ways Liverpool would be hurt by failing to qualify for the Champions League
This Is Anfield's Matt Ladson looks at the key reasons why a top-four finish is so important for the Reds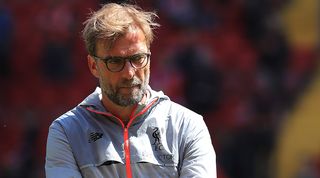 Liverpool's up-and-down campaign is epitomised by their last six results: winning three consecutive away games for the first time under Jurgen Klopp, but failing to to do in three successive matches at Anfield. That those home matches against Bournemouth, Crystal Palace and Southampton yielded just two points is fairly damning for a team fighting to qualify for the Champions League.
Somehow, Klopp's side still remain in the driving seat for a top-four finish: wins from their final two games, against West Ham and Middlesbrough, would guarantee qualification for Europe's elite competition for the first time since 2014. Some Liverpool players have already been labelling the run-in as being like 'cup finals' for the club, which, given their recent record in such games, doesn't exactly fill Reds with confidence.
A little under a year ago, Liverpool were 45 minutes away from qualifying for the Champions League, but they buckled under the pressure in the Europa League final against Sevilla. The League Cup final was also lost, while the FA Cup semi-final the year before ended in defeat by an Aston Villa side managed by Tim Sherwood. Steven Gerrard's final games of the season were lost to Crystal Palace and Stoke in embarrassing fashion. This Liverpool squad has proven time and again that they fail to show up when it matters.
So there's certainly cause for concern going into these final two games. Klopp has attempted to get his team over the line by swapping an attacking, exciting style of play to 'adult football' as he's termed it - but that's simply resulted in a dearth of attacking quality. There are plenty of reasons why the German and Liverpool supporters are desperate to avoid Champions League failure, some of which are detailed below.
1. They'd struggle to woo better talent
Starting with the obvious. It goes without saying that you attract better-quality players when in the Champions League, and whileManchester Unitedhave scuppered that claim in recent years by signing Paul Pogba and Zlatan Ibrahimovic, Liverpool don't have the financial pulling power to compensate for a lack of European competition.
Their list of targets this summer is widely thought to include Naby Keita (RB Leipzig), Virgil van Dijk (Southampton) and Julian Brandt (Bayer Leverkusen), among others. Van Dijk is also linked with Chelsea and Manchester City - and he won't be heading to Anfield if there's no Champions League football on offer. Keita, meanwhile, has already guaranteed participation in the competition with Leipzig. Champions League football might be the difference between securing Van Dijk or Michael Keane instead. 
Another summer of shopping within a lower bracket would prevent Klopp from getting the first-team players he needs to improve the starting XI - which is exactly what Liverpool need to do.
2. Keeping Coutinho gets harder
As well as attracting quality additions, Champions League football is required to keep star players - most notably Philippe Coutinho - happy at the Merseyside club. Barcelonacontinue to sniff around the Brazilian, who turns 25 this summer and has only played one season in Europe's premier tournament, in which Brendan Rodgers' men failed to qualify from a group containing Ludogorets and Basel.
Emre Can's contract situation isn't resolved and he's probably the only other player who might start looking at his options should Liverpool be part of the Europa League instead.
3. They'd lose ground on rivals
Liverpool missing out would almost certainly mean Manchester United - and possibly Arsenal too, should Arsene Wenger's side scrape fourth and United win the Europa League - being in the Champions League. That would be a huge missed opportunity to deny one or two of their major rivals a place at Europe's top table.
The TV money from Champions League football means the divide between Liverpool and their main rivals would grow even greater, something that would be compounded by possibly being the only member of the top six on the outside looking in.
It would be a tough sell for Klopp to persuade any player to sign for Liverpool rather than one of their domestic competitiors participating in the Champions League. Being in the Europa League next season would make finishing in the top four even more difficult.
4. It might affect Anfield expansion plans 
With phase one of Anfield's expansion completed with the new Main Stand in place, attention now turns to whether owners FSG will press ahead with phase two: the new Anfield Road End of the stadium.
With an estimated cost of around £70 million, money earned from a season in the Champions League could almost pay for it - Leicester reportedly earned £66m for their run in the competition this season.
Klopp has spoken previously about how qualifying for the Champions League in England is more difficult than qualifying from your group once in the competition. That seems to be a pretty fair assessment, so you'd imagine Liverpool at least progressing to the knockout rounds if they did make it - which would undoubtedly aid the expansion process.
5. Commercial impact
As well as the extra TV money and competition earnings, Champions League football would mean greater commercial impact for the club: more merchandise sold, more interest in Liverpool, more brands prepared to invest bigger amounts, existing deals being elevated to their higher fees. All of it has a knock-on effect on the club's spending power, not just for this season but next term too.
James Milner says missing out on the Champions League would make him feel sick. He wouldn't be the only one at Liverpool feeling nauseous if the Reds, who have occupied a top-four position since September, were to fall at the final hurdle.
Quizzes, features and footballing fun
Get the best features, fun and footballing frolics straight to your inbox every week.
Thank you for signing up to Four Four Two. You will receive a verification email shortly.
There was a problem. Please refresh the page and try again.