Vinícius Junior: Who the heck is the 16-year-old Real Madrid will pay €45m for?
The Spanish giants have confirmed their mega deal to bring Flamengo's Brazilian wonderkid to the Bernabeu from summer 2018 – and he hasn't even played a first-team game yet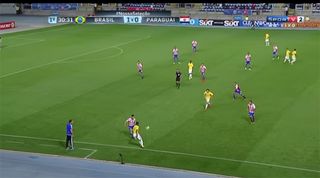 "How did you get him so cheap?" Half a smile flickered across Pep Guardiola's face. "I don't know," he responded. "But I think now he'd be expensive."
He was talking, of course, about Gabriel Jesus, and while £27 million is hardly pocket change, the reporter's question seemed a reasonable one. These are early days, but with nine-figure pricetags being quoted for the likes of Kylian Mbappe and Antoine Griezmann this summer, Manchester City would be justified in viewing the young Brazilian as a major bargain.
One imagines that a similar thought process is behind Real Madrid's capture – not yet formalised but privately agreed – of Flamengo starlet Vinícius Júnior this week. It's perhaps a generous reading, given the Spanish club's propensity to spend first and think later, but it's the only one that could possibly make sense of what is, on the surface, a mind-bending deal.
For the stragglers, here are the brute mathematics of the thing: Madrid are paying €45million (£37.7million) for a 16-year-old who will only be able to move to Madrid in June 2018, when he turns 18 (the plan is that he'll stay at Flamengo until summer 2019, though). That is fully €15 million more than the release clause in Vinícius's contract – a mark-up prompted by rival interest from, yep, Barcelona. According to Globo Esporte, two further payments of €8 million will be made to the player himself and his team of representatives.
Still early days
That is serious, serious money for someone who is yet to play a game of senior football, and the disconnect between price and product was neatly brought home on Tuesday. As Madrid fans read all about Vinícius in Marca – 'Said and Done', shouted the front page – and Zinedane Zidane dodged questions about the transfer, the player himself was checking in at Flamengo's Ninho do Urubu training complex for his very first session with the first-team squad. It is likely to be at least a few weeks before he is even deemed ready enough for a spot on the bench.
Madrid, then, have gone all in on potential. Luckily for them, there's plenty of that to go around as far as Vinícius is concerned. The teenager has been viewed as a future star since he first joined Flamengo's academy in 2010, blazing a trail through the youth teams and establishing himself as one of Brazil's most alluring prospects.
His ability was there for all to see at the South American Under-17 Championship earlier this year. Vinícius played a starring role for the Seleção, bewitching fans in Paraguay with his trickery, pace and mercenary ruthlessness in the penalty area.
He finished the tournament as top scorer with seven goals, but it was six seconds of cavalier showmanship against Ecuador that really stuck in the mind: he flicked the ball over the heads of three hapless opponents in quick succession, prompting SporTV's commentator to erupt with delight.
Clasico fight
That gambit was typical of his daring style and no surprise to his first youth coach, Cacau. "He used to do that all the time," he told Globo. "That cheekiness was there from the start. The other kids called him Robinho and asked him for autographs as a joke. It was very funny."
Now he signs autographs for real, his star power having ballooned since European sides began to take an interest in him. There was an enquiry from Manchester United last year ("The talks didn't get far," former Fla president Kleber Leite has claimed) and Barcelona were so keen that Neymar – another player with whom Vinícius shares certain stylistic traits – tried to make informal inroads on their behalf.
But it was Madrid who won, and Madrid who must now be patient – because for the time being, Vinícius's growth is tied to Flamengo. He's expected to sign a new contract with the club and, as part of the Rubro-Negro's nascent 'Pratas do Ninho' academy fast-tracking programme, should be blooded in the first team in the months ahead – even if there is a sizeable queue for attacking berths at the club.
Key figures at the Rio de Janeiro outfit are clearly excited about the prospect of him stepping up. "It would be silly to say a 16-year-old kid is ready, but he's done really well at youth level," Flamengo coach Zé Ricardo said last week. "His potential his massive." Sporting director Rodrigo Caetano has been similarly effusive in his praise: "The kid really does have huge talent."
Could go either way
Elsewhere, though, there have been calls for caution. The hype machine has certainly been known to chew up young Brazilian talent; for every Neymar, there is a Victor Andrade, deified by the YouTube generation during his ascent through the Santos ranks but now languishing in the German second division.
Hundreds more don't even make it that far, and while Vinícius is by all accounts a grounded young man, those close to him will need to be alert to the possibility of that pricetag weighing him down.
His Brazil Under-17 coach, Carlos Amadeu, is among those to have made that point. "He's a promise, but we shouldn't go overboard," he said recently. "He's a good kid, but he has a lot of mistakes to make and I just hope people are patient with him. If he stays focused despite all the glamour surrounding him, he can get to a really high level."
Zé Ricardo, at least, seems to recognise Flamengo's responsibility over the next two years, saying he hopes Vinícius can "develop naturally here with us".
Will he be worth the gamble? Will Zidane or whoever is managing Real Madrid in three years' time laugh when reporters describe the €45 million fee as a steal? Only time will tell. For even in the context of modern transfer fees and early talent identification, these are virgin waters.
Quizzes, features and footballing fun
Get the best features, fun and footballing frolics straight to your inbox every week.
Thank you for signing up to Four Four Two. You will receive a verification email shortly.
There was a problem. Please refresh the page and try again.