7 times Alberto Moreno lost his head and forgot how to defend
The full-back started to trend on Sunday afternoon for all the wrong reasons. Tim Ellis takes you through the other times Liverpool's Spaniard cost his side a goal through his dubious defending…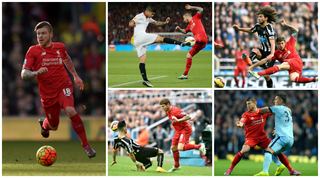 When Liverpool signed Alberto Moreno from Sevilla in the summer of 2014 for £12m, he was being billed as one of the most promising left-backs in Europe and touted as the heir to Jordi Alba in the national Spanish team.
Yesterday, Gary Neville described Moreno's tackle on Theo Walcott as "absolutely garbage" and that "you might as well start a goal down with Moreno at left-back."
The Spaniard's first two years at Liverpool have been traumatic at times for both himself and the supporters with a series of high profile errors at crucial times…
i can't remember the last time i saw a left-back as erratic, rash and clueless as alberto moreno. painful to watch. pic.twitter.com/JygFTkpt63
— adam (@watch7ower) August 14, 2016
1. Moreno's debut vs Manchester City, August 2014
Liverpool were still trying to recover from the loss of Luis Suarez and the realisation that their dodgy backline could not be bailed out with a 5-3 or 6-3 win anymore. Still, the Reds were holding their own at the Etihad when Dejan Lovren attempted to find the debutant with a weak header in the area.
Moreno waited for the ball to drop to his left foot while probably humming "We Have All the Time in the World" in Spanish. Stevan Jovetic nipped in to steal the ball and fire into the net. It was an inglorious start. 

2. Liverpool vs Newcastle United, November 2014
Liverpool were utterly dreadful in the first half of the 2014/15 campaign and the loss to Newcastle was their fourth League defeat in 10 matches.
When Moussa Sissoko and Paul Dummett played a one-two for the Frenchman to cross towards Remy Cabella, Moreno managed to cut the ball out with his right foot but then went into a freeze frame mode again which allowed Ayoze Perez to step in and score from close range.
3. Arsenal vs Liverpool , April 2015
Liverpool had just been stung by their bitter rivals Manchester United at Anfield in the race for fourth when they arrived at the Emirates.
In this crushing defeat by the Gunners, their defence resembled four drunken sailors playing football on the plank.
Arsenal's first was delivered by Hector Bellerin who cut in from the right before firing a left-foot finish into the bottom corner. Moreno virtually bent over backwards in showing his fellow Spaniard the inside as he put his hands behind his back in submission.
4. Sevilla vs Liverpool, Europa League final May 2016
Things were going swimmingly for Liverpool as they went into the break in Basle one-nil up thanks to Daniel Sturridge's sweet strike. Within 17 seconds of the restart, Moreno had made two errors that led to Kevin Gameiro's equaliser.
Mariano pounced on a poor headed clearance as Sevilla switched the ball straight from kick-off and then Moreno compounded the error with a feeble challenge on the same payer who merely rolled it across goal for the French striker to tap in. It was the beginning of the end as Liverpool collapsed.
Jamie Carragher deleted a Twitter message after the match suggesting that Jurgen and the transfer committee ought to sign a fine left-back. Or something beginning with f...
What a start to the second half for @SevillaFC_ENG! @kevingameiro9 equalises 17 seconds from the restart. #UELfinalhttps://t.co/Ona0seUeZa
— BT Sport Football (@btsportfootball) May 18, 2016
5. Villarreal vs Liverpool, Europa League semi-final first leg, April 2016
A disciplined away performance from the Reds looked like securing a goalless draw away at El Madrigal until Moreno went on his customary charge late in the game.
With minutes to go, he steamed down the left only to shoot high and wide when glory beckoned, dramatically collapsing on the floor in that familiar animated jumble of arms and legs. Then, two minutes into injury time, he could not be located by any tracking device as Denis Suarez squared for Adrian Lopez to tap in.
Jurgen Klopp said: "I don't know where Alberto [Moreno] was in this moment but that was the only big mistake we made in this game and they scored with it."
Watch from 3:00
6. Liverpool vs Villarreal, Europa League semi-final second leg, May 2016
Liverpool produced a rip-roaring performance to secure a place in the Europa League final, but even then, Moreno almost undid all of the good work of his team-mates as they gegenpressed the Spanish team to death.
Sitting pretty at 2-0 on the night with an extra man advantage following the dismissal of Victor Ruiz, Alberto decided it was time to have a hack at Suarez in the box. Time froze. Klopp winced. The crowd fell silent. The referee waved play on.
7. Norwich City vs Liverpool, January 2016
A game notable for its terrible standard of defending on both sides, the 23-year-old reached new lows of direness with his display.
The circumstances that led to Norwich's third goal was summed up perfectly by the Guardian's match commentary: "Sheer idiocy by Moreno. Redmond slides Naismith free into the area down the right. Moreno is fortunate to get away with knocking Naismith to the floor from behind - so to make sure, he knocks into the back of Naismith again as the Norwich debutant springs up! Naismith goes back to the ground again, and the referee points to the spot."
Quizzes, features and footballing fun
Get the best features, fun and footballing frolics straight to your inbox every week.
Thank you for signing up to Four Four Two. You will receive a verification email shortly.
There was a problem. Please refresh the page and try again.