Analysing the cold, hard evidence: Will Arsene Wenger stay, or will he go?
Chas Newkey-Burden fights through the noise to work out whether or not the Frenchman will extend his stay at the Emirates Stadium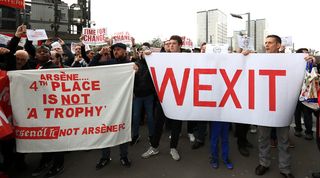 He's staying...
New deals
In January, rumours emerged that a new two-year deal was on the table for Wenger; days later, it was officially announced that Olivier Giroud, Laurent Koscielny and Francis Coquelin had all penned contract extensions. Players are usually reticent to commit their futures to a club if there's a question mark hanging over the manager's future (oh, hi there Mesut), so some fans have put two and two together and concluded that Wenger has, in fact, already signed the extension.
It's also been claimed that the club slipped the January rumour out to test the water with fans, and that the French trio's signatures prove that the long-serving gaffer has himself signed on the dotted line.
Wenger's timetable
The under-fire boss has said he'll decide his future in March or April. Results during those months will go a long way to determining his side's prospects of a top-four finish, as well as their chances of winning the FA Cup. Those who suspect he's already signed point to the comment as proof that Wenger and the club are simply waiting for an opportune moment to reveal the news to a frazzled fan base.
He says he wants a revolution
The Frenchman says he wants to "reinvent" his coaching approach at Arsenal – hardly the talk of someone planning to quit but very much the sentiment of one planning to hang around. Wenger-friendly journalists have written stories claiming such a revolution is already under way: it's said, for instance, that the Frenchman has tailored training programmes for the run-in, which is seen as a small but significant switch from the past.
An expert in deflection
Football managers increasingly take the heat away from club owners. Nowhere is this truer than at Arsenal, where, thanks to Wenger's longstanding presence, owner Stan Kroenke faces a fraction of the criticism many believe he deserves. But if Wenger left and Kroenke fluffed the succession, fans would quickly turn their wrath on the owner. Has the American made Wenger an offer he cannot refuse?
Five Alive
The Gunners' progression to the semi-finals of the FA Cup could be the beginning of an archetypal latter-Wenger-era-papering-over-the-cracks run-in.
Fighting talk
In recent press conferences, Wenger has made a number of comments which suggest he's already decided to stay. The 67-year-old recently said of his mood: "I feel very strong, very motivated, ready to give my best."
He's going...
The Chips are down
Arsenal chairman Sir Chips Keswick made a rare public statement about Wenger's future last week, stating that the board "understands the debate" and "respects that fans are entitled to their different individual opinions". He also pointed out that "Arsène has a contract until the end of the season", adding that "any decisions will be made by us mutually and communicated at the right time in the right way". Nowhere in his statement did he offer any support to the manager.
He's ready to mingle
Last month, the Frenchman effectively created a managerial Tinder account by openly hawking his services to new clubs, saying: "No matter what happens, I will manage next season, whether it's here or somewhere else. That's absolutely for sure."
Wrighty writes him off
Gunners legend Ian Wright claims that Wenger told him he's "coming to the end" of his time at Arsenal. "I was with him for a few hours last night, we were talking and obviously he didn't say to me 'I'm leaving at the end of the season'," Wright told the BBC last month. "[But] I just get the impression, looking at him, that that's it. I think that's it."
Debunking the conspiracy theory
Those who believe Wenger will leave have poured scorn on the hypothesis that he may have already signed a new deal. They argue that it would be against corporate law for Arsenal to keep such a development under wraps, as the club would have to immediately reveal such financial information.
If you can't stand the heat
Wenger has previously told friends that harsh words from Arsenal fans hurt him deeply, so it seems unlikely that he'll want to experience such vitriol for two more years. He'll understand that the unrest will only escalate if he stays.
Allegri's English quip
Arsenal have reportedly drawn up a four-man shortlist – comprising of Thomas Tuchel, Max Allegri, Roger Schmidt and Leonardo Jardim – in the hunt for Wenger's successor. Other bosses are starting to hint that they are interested in the Emirates hot seat; Juventus boss Allegri joked recently: "How's my English?"
A simple equation
In his despairing post-match interview at Bayern Munich in February, Wenger appeared a broken man who had finally surrendered to the inevitable. Before that game, sources had reported that it was "50-50" whether he would remain at the Emirates. How can that 5-1 defeat, and the repeat scoreline in the second leg, have done anything but radically shift those odds in favour of a parting?
Backroom exodus
Sometimes the first sign that a football figurehead is about to step down is the flight of those who work beneath him. Last month, Arsenal academy manager Andries Jonker left to become the boss of Wolfsburg. Freddie Ljungberg, who coached Arsenal's under-15s side, has also jumped ship to become Jonker's assistant at the Bundesliga side.
Potentially more significant is the news that Wenger's closest ally, Boro Primorac, is rumoured to be moving on too. The first-team coach, who has been Wenger's right-hand man for 20 years, is said to be leaving for a job in Turkey this summer. Will the Gunners boss be following him through the exit door?
Quizzes, features and footballing fun
Get the best features, fun and footballing frolics straight to your inbox every week.
Thank you for signing up to Four Four Two. You will receive a verification email shortly.
There was a problem. Please refresh the page and try again.