From bad dog to top dog: the rise of Diego Costa
Diego Costa may now be feared across Europe - for his goals and physicality - but there was a time he wandered Iberia struggling to get a game. Victor Ferreira reports on the Brazilian's faltering first steps in Europe...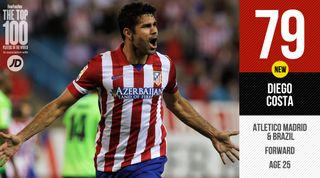 Diego Costa is Atletico Madrid's top dog, who has won the hearts of fans and manager Diego Simeone with his vicious play on the pitch.
The 25-year-old striker chases down every lost ball and isn't scared of making a crunching tackle or two. His aggressive and ferocious behaviour have been likened to a pitbull terrier. 
But Costa was more of a stray puppy who failed to find his footing early on in Portugal and Spain. He went from door to door looking for a home before finding one in Simeone's side.
The Spanish press often note Costa's punished and scarred face. With all the battles the 25-year-old endured to break out of obscurity early on, Costa can now display those scars as trophies. 
Born in Lagarto, Sergipe in Brazil, Costa was restricted to playing football on the streets until he was 16 when he signed for modest São Paulo side Barcelona Esportivo Capela. Super-agent Jorge Mendes picked him up and convinced officials at Portuguese side SC Braga to sign Costa to their youth academy in 2006.
Costa missed the rest of the year for bureaucratic reasons and only saw action when he was loaned to second-division side Penafiel for the following season. Manager Rui Bento led Penafiel at the time and had already become accustomed to seeing stars pass him by.
Bento was part of the Portuguese golden generation team featuring the likes of Luis Figo, Rui Costa, and Joao Vieira Pinto that won the 1991 Under-20 World Cup. Bento recognised similarities in his loanee Brazilian. 
"You see those kinds of players at 17 or 18 and they have exceptional quality. That's what Diego Costa was like. He wanted to be somebody in football," Bento has said of his stray-turned-superstar.
The two developed a close relationship during the loan period. Costa used a particular pair of boots in all his games and training sessions; much as he would become known for never letting a ball become lost, he wore those boots until they tore. The young loanee stressed and worried about finding an identical pair of replacements – until Bento bought them for his striker. 
Costa played in 13 games for Penafiel and scored five goals, helping the minnows finish eighth in the Liga de Honra. 
Sold to Spain - and sent back 
That was enough to draw the attention of the Rojiblancos. In December 2006, Braga sold Costa to Atletico for €1.5 million, Mendes starting a tradition of importing clients such as Simao Sabrosa, Falcao and Tiago to the Spanish capital. 
Costa stayed on loan with Braga for the remainder of the season but struggled to find a role under manager Jorge Costa. He only managed to play in six games and was overshadowed by striker Ze Carlos and the militant Joao Vieira Pinto. 
Returning to parent club Atletico in the summer, Costa found an even more crowded forward line with Javier Aguirre usually choosing between Simao, Sergio Aguero, Diego Forlan and Jose Antonio Reyes. Costa was sent out on loan again, spending the following two seasons with Celta de Vigo and Albacete. 
Costa didn't set the Spanish second division alight, and Atletico officials rejected him once more in summer 2009. This time he was sold, to Real Valladolid as part of the deal that took highly-rated young goalkeeper Sergio Asenjo to the Vicente Calderon. 
Still 21 but with a wealth of experience from his travels, Costa began the season on a tear, scoring six goals in his first 12 Primera Division games. Sadly for player and club, the form didn't last – Costa only added two more goals in the remaining 22 games, and Valladolid were relegated – but the striker had made his mark in the top flight. 
GOALS AND GAMES
2006/07 Penafiel 5 in 13
2006/07 Braga 0 in 6
2007/08 Celta Vigo 6 in 30
2008/09 Albacete 10 in 35
2009/10 Real Valladolid 8 in 34
2010/11 Atletico Madrid 6 in 28
2011/12 Rayo Vallecano 10 in 16
2012/13 Atletico Madrid 10 in 31
2013/14 Atletico Madrid 15 in 15 (to Dec 1)
It was almost like déjà vu. Costa's play from September to December at Penafiel was enough to convince Atletico to commit the first time; his play in the first months at Valladolid was enough for the capital club to activate the buy-back clause in his contract. 
Brought in as the primary backup to Forlan and Aguero, Costa had his share of playing time with the Colchoneros in 2010/11, managing a solid but unspectacular six goals in 28 games in his debut season. Then, in summer 2011, disaster: he suffered a cruciate ligament injury which ruled him out for six months.
But pitbulls don't give up. Returning to fitness, Costa was loaned to Rayo Vallecano and played like a man possessed, bullying markers out of challenges, snarling and attacking opposing goals with such ferocity that you could picture drool hanging from his sharpened teeth. 
Clearly inspired, Costa buried 10 goals in 15 starts for the Franjirrojos and was called back to Atletico. Now he was ready to show his true qualities to Atletico.
From bad dog to top dog
Recognising a player who shared his determination, Simeone unleashed the pitbull and the striker rewarded his manager with goals. But much like the dog that spontaneously loses its temper and begins to chase down neighbours, Costa often lost his cool in the heat of the game.
"On the pitch I fought with everyone, I couldn't control myself," Costa said. "I insulted everyone, I had no respect for the opposition. I thought I had to kill them." 
In last year's Europa League, the striker looked almost murderous when he headbutted a Viktoria Plzen player – and in the Madrid derby he continuously collided with Sergio Ramos.
Simeone stuck with his striker through the disciplinary problems and teamed him with Radamel Falcao. While the spotlight was on Falcao and his 34 goals, his sidekick managed to add 20 of his own.
With Falcao having departed for the riches of Monaco, Costa has continued the Colombian's torrid goalscoring pace in 2013/14, having scored 17 goals in 17 games across all competitions.  
He's still somewhat overaggressive on the pitch and is frequently targeted by opposing fans – but as baseball legend Reggie Jackson once put it, "Fans don't boo nobodies". Costa has had to fight with teeth and claws to become a mainstay at the Vicente Calderon and he'll compete with the same ferocity to stay there.  
Quizzes, features and footballing fun
Get the best features, fun and footballing frolics straight to your inbox every week.
Thank you for signing up to Four Four Two. You will receive a verification email shortly.
There was a problem. Please refresh the page and try again.