Frayed nerves and £15,000 flutters: inside the bookie's lair during a World Cup match
Ever wondered what the bookies do during a game? Julian Rogers sits in with the betting bigwigs during a World Cup clash...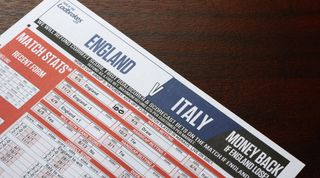 Kick-off between Brazil and Mexico is just minutes away. At Ladbrokes' headquarters in north-west London, Bradley Addison's eyes dart between four 20-inch monitors arranged in a grid on his desk.
An unrelenting stream of bets from the shops, online and mobile cascade down the 24-year-old football trader's top two screens. It's a recurring blur of wagers on Brazil to win and Neymar to be first goalscorer, interspersed with a handful of conspicuous four-figure bets on the hosts, including one for £5,000. 
On his bottom-left screen an inaudible Gary Lineker is powwowing with his trio of BBC studio pundits. On the opposite side, Addison has Oddschecker.com open to provide a panoramic view of the match prices being hawked by Ladbrokes' dozen main rivals. Brazil are odds-on favourites for this Group A encounter, although they've eased from 1/4 to 1/3 partly due to the news that Hulk is only on the bench. 
Because of Brazil's skinny odds, a popular selection appears to be the 6/5 (better than even money) on Brazil to be winning at half-time and the final whistle. Phil Scolari's side are also the banker in a raft of treble bets that include Belgium (who defeated Algeria in the teatime clash) and Russia to beat South Korea at 11pm. In a nutshell, there's an avalanche of money riding on the Selecao. 
"Yes! A draw!"
A natural tendency of sports gamblers is to back either side to win, so bookies love a dreary stalemate. "The draw is the dream result for us because everyone will be going with Brazil," says Addison. That's apart from the adventurous customer who's plonked down £15,000 on the draw at 9/2 (potential returns of £82,500 including his stake).
Addison, who has a degree in mathematics, revels in this constant battle of wits between bookie and bettor. "It's my opinion against the customer's opinion, which is exciting, especially when it goes in my favour and I was proved right." 
Yet many punters prefer to keep their powder dry and place bets during the game – on the match odds, correct score, corners, cards and more. "In-play betting has grown exponentially," says Addison. "A few years ago it accounted for 20% of bets, but now it's about 50%."
Once the match gets underway, the baton is passed to the six in-play traders positioned behind him who are intently focused on their banks of monitors. Bedecked in t-shirts, skinny jeans and varying degrees of facial hair, the vibe is more tech start-up than Wolf of Wall Street.  
In-play trader Michael Sneddon hurriedly tunes into Radio 5 Live's match commentary. Bookmakers need to immediately suspend the betting when there's a goal or a red card, but TV pictures are at least three seconds behind the live action. Radio waves, however, travel at the speed of light. "You've always got to be one step ahead," Sneddon explains. Nevertheless, it's somewhat disorientating hearing that a fierce shot by Mexico's Hector Herrera has glanced over the bar when the monitors show the Porto man still dribbling down the wing. 
Despite high expectations for goals, the chances in the opening 20 minutes are few and far between. The hosts' odds gradually creep out, while the draw's contract. With the opening group games producing a hatful of goals and a dearth of draws, the preceding evening's soporific 0-0 between Iran and Nigeria was a "godsend", reveals Sneddon. A similar result here would be a huge bonus.
On 26 minutes, Neymar soars to meet a Dani Alves cross but his header is clawed away by Mexico goalkeeper Guillermo Ochoa. The traders swing into action and offer customers 7/1 for Brazil's talisman to score via his coiffed bonce. A large LCD screen bolted vertically to a pillar displays Ladbrokes' FTSE share price and a real-time count of customers logging into their accounts. There's currently 5,500 on PCs and 5,700 on mobile devices – and both numbers are rising rapidly. 
Suddenly another lumpy bet on the draw appears on Sneddon's bottom-left screen – this time for £10,000 at slightly over 2/1. In its slipstream is a procession of yet more Brazil bets, including two for £500 on half-time and full-time. However, Brazil struggle to make the breakthrough and the largely uneventful first half ends goalless, which means backers of Brazil winning both halves have done their dough. 
Wonga
Ladbrokes expects to take over £100m on the whole tournament, although England's long pre-tournament odds and premature exit may mean turnover nudging £200m. But this could still turn out to be a record-breaking £1bn betting event for the industry. Football's popularity as a betting product has surged in recent years. 
Punters from a bygone era tended to congregate in smoky man-caves on the high street to have a flutter on the horses or gangly mutts pursuing a motorised hare around a sandy oblong. Nowadays football, not racing, is the sport of choice for young gamblers who only need to reach for their smartphones to place a bet. And the betting choice is quite bewildering; as well as the World Cup today, there's matches in the Singaporean S League, Lithuania's A Lyga, Kazakhstan Cup and crucial women's World Cup qualifiers. "Some punters will bet on anything, even a kickabout in the car park if we priced it up," says Sneddon. 
A popular, but more 'exotic' Brazil-related wager has been defender David Luiz to score from a free-kick during the tournament. However, Sneddon reveals that Ladbrokes' analysis of 5,000 Premier League games discovered that there are an average of just 1.04 direct attempts on goal from a free-kick each match. Of these, just 6% nestle in the net. Suddenly that 66/1 on PSG's dead-ball specialist doesn't look quite so attractive. "That's how you get your punters in – they think something always happens," he says.
Sneddon's top-left monitor is tracking the Asian Handicap markets (the underdog is assigned a fractional or whole goal(s) head-start) offered by the Far East bookies. These firms are renowned for taking large bets on these low-margin markets. The scale and appetite for football betting in that part of the world is truly enormous, as illustrated by betting consultant Joe Saumarez Smith: "If you think that the Hong Kong Jockey Club, on a normal weekend's football bets, handles roughly what you would expect to see in the whole football season in the UK, you can see that the numbers in Asia are pretty spectacular."
Samvo is a brokerage firm that places bets on behalf of well-heeled clients across a range of leading Asian bookmakers such as IBCBET and SBOBET. The minimum wager Samvo will handle on a 'two-way' market is £1,000 and individual bets regularly surpass £1m. "The average bet size really depends on the match, but can range from £25,000 and up," says director Jane Guan. It's big business. 
Back at Ladbrokes, and the in-play team sends a push notification to mobile and tablet users during the interval: Neymar to score next and Brazil to win 2-0 at odds of 16/1. Over 160 bets on this outcome are staked in under a minute. Soon after, 1,000 of the 8,000 mobile customers currently online have gobbled up the carrot being dangled on the stick. "It's something that the customers think will happen, and the juicy price sends them gaga for it," says in-play assistant manager Dave Weston. 
The previous day, though, Ladbrokes was staring down the barrel at a £400,000 payout after offering tasty odds on Thomas Muller to complete a hat-trick and Germany to win 5-0 when 3-0 up against Portugal. Muller netted again in the 78th minute, creating a nail-biting climax. "We were hiding under our desks," says Weston. Luckily for them, the match finished 4-0. "But these bets have got to come in sometimes, otherwise the customers won't have any money left," he says philosophically. 
It's still 0-0 by the 63rd minute and Brazil's odds have drifted to even money, which attracts hordes of £10 and £20 punters hoping to double their money. The liabilities on the tournament favourites are mounting up, just as an incongruous £4,000 bet on Russia against South Korea filters down the traders' screens. "It would be a kick in the teeth if Brazil win now," says Weston. But Neymar & Co. continue to struggle to beat the impervious Ochoa, who is performing heroics.
Relief is then etched across Weston's hirsute face when Thiago Silva's pointblank header is instinctively thwarted by Ochoa with minutes to go. "F***ing hell," Weston mutters under his breath. "It gets to you because it's so close."
There's three minutes of injury time and Brazil are now 7/1 to snatch victory; a probing Mexico are 22/1, while the draw is just 1/8. In the end, though, neither side is able to score. It's the perfect outcome for the bookmakers, prompting Weston to gently thump his desk. "This might even be the best result so far," he smiles. "It's always satisfactory when you get a favourite turned over."
Even after paying the two big draw-backers their £115,000, it's been a very good night at the office with a significant six-figure sum taken, although Ladbrokes staff are tight-lipped on specifics. To top if off, Russia could only manage a 1-1 draw. As the old adage states, the house always wins. Well, most of the time anyway. 
Quizzes, features and footballing fun
Get the best features, fun and footballing frolics straight to your inbox every week.
Thank you for signing up to Four Four Two. You will receive a verification email shortly.
There was a problem. Please refresh the page and try again.