How Everton rediscovered their mojo under Marco Silva
Sam Allardyce claimed to have won "hearts and minds" during his spell at Goodison Park last season, but Toffees remained unconvinced. You can't blame them, writes Daniel Storey – there's more out there besides mere passiveness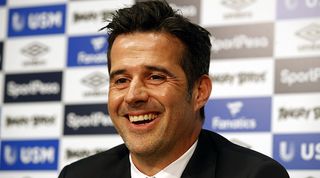 There is a misnomer that football supporters demand success. It might be true of some, perhaps those who we might term 'modern' fans and have had expectations warped by a consumerist climate of same-day deliveries and social media posts where the sun always shines.
But for most, the accusation is widely misplaced.
Entitlement is most often labelled at supporters of the sleeping giants; those clubs that have consistently performed below historical expectations. In the Premier League, Newcastle, West Ham and Everton are obvious examples. In the Football League, Aston Villa, Leeds and Nottingham Forest fit the bill. Supporters apparently demand that their club wins trophies, qualifies for European competition or gets promoted, depending on the team.
It's mostly nonsense. Very few reasonable supporters believe that their club has a divine right to any achievement. That misses the point. What they do demand is that their club tries to be the best it can be, or is at least on a path towards that goal.
It's undeniable that there is less patience with managers in a sport where short-termism reigns supreme, but clubs themselves are more responsible for that than supporters. For them, it's about the commitment to building something wholesome and tangible.
More to life
The majority of Everton supporters were happy that the club parted company with Sam Allardyce in the summer. They were appreciative of him moving the club away from relegation trouble, although few considered that as a likely eventuality anyway.
But their happiness at his exit stemmed not from a demand for too much – as Allardyce himself claimed – but because they didn't believe that he would, or could, build an Everton team which they could be proud of. When the financial might of the top six makes winning a trophy increasingly unlikely, pride matters.
SEE ALSO How the Premier League's Big Six COULD look after the Brexit apocalypse
The Merseyside derby became the embodiment of that suspicion. Allardyce faced Liverpool three times, in the Premier League and the FA Cup. In the first game they drew 1-1 at Anfield having scored from their only shot on target in open play; in the second, they lost to a late Virgil van Dijk winner; in the third, they drew 0-0 at Goodison. Having lost three of the previous four derbies, including 3-1 and 4-0 defeats, that represented some improvement.
But look at the journey as well as the result. In 270 minutes against Liverpool under Allardyce, Everton had four shots on target and averaged 33% possession. "The basis of our performance was nullifying Liverpool," said Allardyce after the Goodison draw.
That strategy may well be reflective of the growing divide between the two clubs, but supporters don't appreciate having that divide hammered home. Moreover, Everton played the same way in many other fixtures. The team became passive; so too did the club. 
A new dawn
Now Everton supporters have a manager in whom they can truly place pride. This is not just a question of league position – although being sixth after more than a third of the season is some achievement – but about building towards something positive. It's as simple as this: under Marco Silva, Everton are on the up again.
Silva signed six first-team players this summer – Richarlison, Yerry Mina, Lucas Digne, Kurt Zouma, Andre Gomes and Bernard; all aged between 21 and 25. In the previous two seasons, 10 players had arrived at Everton aged between 26 and 33. Everton are responsible for the youngest XI selected in the Premier League this season, where the average age was 24.7. In 2017/18, Allardyce selected one of the oldest at 29.3.
But he is also committed to playing a brand of expansive, attacking football that was lacking under his predecessor. During Allardyce's short reign, Everton ranked 20th in the Premier League for total shots and 19th for chances created. So far this season, Everton rank sixth for total shots and fifth for chances created. A style has been turned on its head, while Silva would point out that only the top four have kept more clean sheets in the Premier League. If there was a question over his defensive organisation, positive answers have come despite the upheaval of a new left-back and two new central defenders.
SEE ALSO The 10 best teams that DIDN'T win the Premier League
Red marauders
Now Silva faces his biggest challenge to date – competing with a Liverpool side unbeaten in the league this season and in the Merseyside derby since 2010. To make matters more difficult, it's 19 months since the Reds lost a league game at Anfield.
But then Everton supporters are not expecting victory at Anfield, just as they aren't expecting instant success. They can be confident, however, that their manager has a plan not just to frustrate Liverpool, but to test them. And he will do so with a young, hungry team and new signings from Champions League clubs who came to Goodison because they believe in the project.
Marco Silva is not perfect, but then neither are Everton. But every stakeholder at this club now sings from the same hymn sheet. Only can Everton hope to compete with the Premier League's financial elite. This may take time and will take patience, but there is no reason for Silva not to be afforded both.
Everton are finally building something potentially special. More importantly, they are building something to believe in. 
Quizzes, features and footballing fun
Get the best features, fun and footballing frolics straight to your inbox every week.
Thank you for signing up to Four Four Two. You will receive a verification email shortly.
There was a problem. Please refresh the page and try again.