Why this season's Real Madrid are a shadow of their former selves
Los Blancos' three consecutive Champions League titles are doing nothing for them in a dreadful season so far – but why such a miserable slide?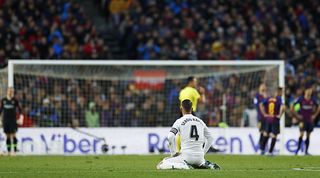 When the European champions travel to face a team from a Basque mountain village of around 30,000 people, you expect an away win. But Real Madrid did not beat Eibar last Saturday. They didn't even draw. They lost 3-0 – and it could have been worse.
So chaotic were Madrid that the whole display bordered on the mysterious. They hit back by beating Roma 2-0 on Tuesday, but don't be fooled: Madrid conceded 17 shots and played well only after Cengiz Ünder had somehow skied a tap-in at 0-0 just before half-time.
Madrid haven't been that lucky in La Liga, where they sit sixth, behind Espanyol and Alaves. They've shipped more away goals (16) than every team bar rock-bottom Huesca. While ditching Julen Lopetegui for Santiago Solari in late October brought a brief revival, the Eibar debacle showed that Madrid are still wobbling. That might be down to these five factors...
1. The new hierarchy
Madrid went 480 minutes without scoring earlier this season, their second-longest drought in history. But it's not just down to selling Cristiano Ronaldo to Juventus in summer. It's also down to a change in the hierarchy.
Since Ronaldo had arrived in 2009, the way that Madrid attacked was clear. Full-backs looked for him with crosses, playmakers served him through-balls, fellow strikers made runs to free him up. Coaches designed systems to help Ronaldo score. Bar the players signed this summer, only Marcelo and Sergio Ramos among the current squad have ever known a Madrid without Ronaldo.
0.8% - Real Madrid have scored with just one of their last 119 shots in all competitions (34 shots on target). Key. October 22, 2018
This season the players, and especially the forwards, have had to change their mentality. Having played second fiddle for nine years, Benzema has had to go from unselfish provider to ruthless goalscorer overnight. Neither he nor Gareth Bale have stepped up – Ronaldo shot more often per league game than the two are doing combined. And where Ronaldo averaged about a goal per game, Bale and Benzema have hit eight in 25 league fixtures.
2. The World Cup hangover
Last week, The Timesfound that out of the 84 Premier League players involved in the World Cup knockout stages, 52 have since been injured. The lack of a summer break wears down bodies, tires minds and disrupts pre-seasons. The report didn't mention La Liga, but top clubs everywhere have more players involved in the later stages, including Madrid.
Among the first-team regulars, only Benzema and Bale rested over summer. Toni Kroos came home after the group stage; the rest played taxing high-stakes knockout games. Two of those who have struggled the most this season, Raphael Varane and Luka Modric, are also the only Madrid players who reached the final. "I felt completely drained," Modric has said.
3. The defensive injury crisis
The lack of rest has most likely contributed to the defensive injury crisis.
The list is startling. In late September, Marcelo strained a muscle in his right calf; just a few days later, Dani Carvajal also suffered a calf injury. In late October, Varane picked up a muscle problem. Three of the four first-choice defenders had now missed games. Then two weeks ago, Casemiro, Madrid's only senior holding midfielder, sprained his ankle.
Even the backup defenders have been sidelined. Nacho is likely to be out until January with a knee ligament injury. Sergio Reguilon, the young left-back, and Jesus Vallejo, the promising centre-back, have also had issues. And Alvaro Odriozola, the right-back bought from Real Sociedad in summer, was forced off with a knock at Eibar.
That means seven out of Madrid's eight defenders, plus Casemiro, have been struck down by injuries this season. No wonder the defence has been unstable.
SEE ALSO Ranked! The 12 best players never to win the Ballon d'Or
4. Staleness
The senior players at Madrid have been together for a long time. This seemed to foster stability and team spirit when they won their Champions League titles, but now it appears to be an issue. In the summer, president Florentino Perez bought Thibaut Courtois, Odriozola and Mariano, when perhaps more signings were needed.
The depth Madrid enjoyed when they won La Liga in 2016 is gone. That season, Zinedine Zidane could name a B team that some felt played even better than the A team. With less competition for places, most of the senior players now know they will start each week no matter what. Given that the team so often seems to lack intensity in La Liga, Perez might regret not doing more to freshen up the squad. A new chance awaits in January.
5. A lack of hunger?
We can only speculate how motivated the Madrid players feel. What is certain is that it's human to feel complacent after achieving something great – and especially if you've just won the Champions League three years in a row.
Only two teams have ever managed that feat, and it may be worth recalling their subsequent form. Ajax won the European Cup from 1971 to 1973. When they lifted that last trophy, they'd also won the league in six of the last eight years. But in the next three seasons, they came third each time and won nothing but a UEFA Super Cup.
As for Bayern Munich, who won the European Cup between 1974 and 1976, they finished their next three league campaigns in 7th, 12th and 4th. They didn't win another title in four years.
Such a trophy drought surely won't happen to this Madrid side, but considering the magnitude of what they've achieved, some challenges were to be expected. Still, they are only six points off the top, in a title race where nobody seems able to take command. There's still time to put things right.
Quizzes, features and footballing fun
Get the best features, fun and footballing frolics straight to your inbox every week.
Thank you for signing up to Four Four Two. You will receive a verification email shortly.
There was a problem. Please refresh the page and try again.