Hugo Sanchez, the home favourite who didn't quite shine at Mexico '86
"I didn't like missing penalties, of course, but it was good in one way because it showed everyone I was only human..."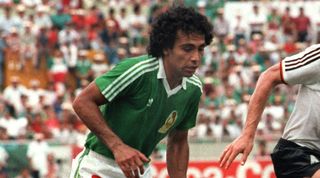 Mexico was hit by a terrible earthquake just months before the tournament began. How much did that motivate the team to do well?
We weren't affected by it personally but we saw it as our job to bring a little happiness to all those people who had suffered so much. As a team we made something positive out of it and helped speed up the recovery process. It inspired us to go out and get good results, the fans got behind us and we improved on our performance at Mexico 1970.
What are your memories of the tournament? Was there added pressure to do well on home soil?
Playing at home was an advantage because we were one of the seeded teams and that helped us go further. The fans were also a factor. They motivated us and I think we acquitted ourselves well.
You were carrying an injury going into the tournament. How much did it affect you?
I'd picked up a little ankle ligament injury in the UEFA Cup final against Cologne but by the time the World Cup started I'd shaken it off. I missed a few training sessions but that was it.
What was it like to work under Bora Milutinovic?
He's very experienced and he helped me a lot. He was my coach for three seasons at Pumas so we knew each other well and I liked the way he worked. He paid attention to detail on the pitch and he took an interest in his players, which is something I've taken with me as a coach.
He is seen as quite a defensive coach. Were you happy to play that way?
You might think that, but he hasn't always had the teams to play a different style and there's no one who's been at as many World Cups with as many different teams as he has. I think he got the very best out of us then.
Manuel Negrete scored one of the goals of the competition with a scissor-kick against Bulgaria. Did you give him any tips?
We were team-mates at Pumas and we worked on things like bicycle kicks. He improved his technique a lot and I wasn't surprised to see him score that goal. I was thrilled for him and the only thing I was jealous of that World Cup was powerful teams like Argentina and France, with all the great players they had. Very few of us played abroad then and that weighed against us a lot. It still does in fact.
You missed a penalty in the 1-1 draw with Paraguay in the group phase. How much did that affect you?
We ended up winning the group anyway so it didn't affect me at all. I didn't like missing penalties, of course, but it was good in one way because it showed everyone I was only human. I'd won all those titles with Madrid and top-scored in five seasons and people thought I was superhuman. I hated missing penalties, but in that way it was positive for me.
Was it true you got booed after that game?
No, never. I always had great support from the fans and that World Cup was no different. I'm happy for that.
Were you disappointed you only scored the one goal? Why do you think your goalscoring record for the national side never matched your record at club level?
Well, it wasn't the same to play for Real Madrid and Mexico. I was the star of the team and people expected me to go and score as many goals as I had for Madrid. I'd finished that season top scorer in Spain and everyone thought I'd do the same in the World Cup. But it wasn't the same. That said, I'm still one of Mexico's top scorers even though I missed a lot of games playing for Madrid and Atletico in Europe. If I hadn't, then I would have broken all the records.
You lost 4-1 in a penalty shootout to West Germany in the quarters. What are your memories of that match?
I felt powerless. I couldn't take a kick because I had cramp in both legs after playing a really tough match in 40-degree heat. I was one of the designated penalty-takers and it was horrible not being able to do my bit. The mental strength and experience of the Germans made the difference in the shootout. They're better prepared for situations like that.
It was an exhausting match. The Germans were physically stronger than us but we had more technical ability and we had to take a few more risks to try to open them up. Francisco Cruz had a perfectly good goal disallowed too. We matched the Germans and having that goal chalked off really hurt.
The big problem with that game was that we played in Monterrey not Mexico City, where the altitude gives us an advantage. That was the fault of the Mexican FA, who did the same thing in 1970, when the team had to leave the capital and play against Italy in Toluca. We had that advantage and we threw it away. It was huge error by the FA and it showed a total lack of confidence on their part.
Reflecting on the tournament, was it a good achievement to get to the quarter-finals or could you have gone further?
We could have got to the semis against France and I think we could have matched them. But we only had the weapons to go so far. Argentina were the strongest side there and they deserved the title, especially with Diego in such great form.
Interview by James Calder, May 2010.
Quizzes, features and footballing fun
Get the best features, fun and footballing frolics straight to your inbox every week.
Thank you for signing up to Four Four Two. You will receive a verification email shortly.
There was a problem. Please refresh the page and try again.