Manchester City players planning one-man clearout
Senior stars have a certain someone in their sights, Back of the Net report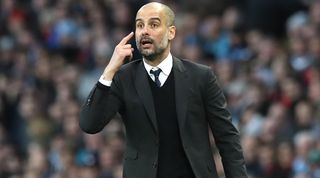 Manchester City players are seeking to move out one particular piece of dead wood in the summer, it has emerged.
Senior dressing-room figures, including Yaya Toure, Vincent Kompany and Fabian Delph, have identified what is holding the club back and are taking steps to have him replaced in due course.
Pell over Pep
Toure said: "There's a lot of important players here, like me, and The Oracle [Delph], and Public Limited [Kompany], and My Little [Wilfried] Bony, who are vital to Man City's future.
"Unfortunately, one part of the setup doesn't agree. The part who eats nothing but sunlight and drinks only dew from fresh-picked bluebells, and has a reputation as a style icon despite wearing sweaters under his suit. So something has to give.
"Think of how hard it would be to sell all of us," the Ivorian continued. "That would take a huge amount of hard work, and nobody here wants to do any hard work.
"Much better to bring in someone who trusts their squad to get on with the delicate task of earning £200,000 per week without expecting too much in return. Someone like, oh, I don't know, Manuel Pellegrini."
Matter of identity
Long-serving full-back Pablo Zabaleta said: "This club has a proud tradition of cocking everything up just when it looks like we're about to make some progress.
"The fans know that, the players know that, and we need a manager who understands that too.
"Though, you never know, we might just have one in place already."
Please note: This satirical news story is not real. Like, obviously.
More funny stuff • New features you'd love on FourFourTwo.com
Quizzes, features and footballing fun
Get the best features, fun and footballing frolics straight to your inbox every week.
Thank you for signing up to Four Four Two. You will receive a verification email shortly.
There was a problem. Please refresh the page and try again.