Meet the Bundesliga new boys already arousing suspicion
David Morris introduces surprise 2. Bundesliga champions Ingolstadt, a club that's just 10 years old and has risen from the fourth tier to the big time in as many seasons...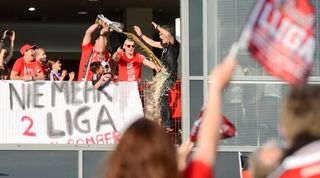 Who are they?
It's common for German football clubs to have numbers within their name, and FC Ingolstadt 04 are no different. Only their '04' corresponds to neither the year 1904 nor even 1954, but in fact 2004.
Founded in that year, the Bavarian side came into existence as the result of a merger between ESV Ingolstadt and MTV Ingolstadt, both of whom were declared bankrupt.
Starting in the Oberliga Bayern (fourth tier), Die Schanzer finished second in their first season, went up as champions the next and then celebrated promotion to the 2. Bundesliga two seasons later in 2007/08. They suffered immediate relegation back to the third tier, but bounced back at the first time of asking. 
Since then they've been ever-presents in the 2. Bundesliga, although until this year they'd never finished higher than 10th. But the 2014/15 campaign has blown everyone away – Ingolstadt have reached a level of consistency that's enabled them to secure promotion to the Bundesliga after just a decade of existence.
Why all the fuss?
Ingolstadt's promotion, as romantic as it may seem, hasn't been greeted with the sort of delight offered to similar fairytale stories at Carpi in Italy and Bournemouth in England. 
Partially backed since 2006 by car manufacturer Audi, there are questions over whether Ingolstadt have simply bought their way to success. Obvious (but ultimately unfair) comparisons have been made with the likes of Hoffenheim, who rose through the leagues after spending a large sum of money on players, and RB Leipzig, who are currently in the process of flexing their financial muscle in Germany.
Audi own 19.94% of the club and 100% of the stadium (the Audi Sportpark, who'd have thunk it?), and they are rumoured to currently contribute approximately €8 million a year.
There's suspicion that their involvement could increase as Ingolstadt's profile does, and criticism is particularly strong as they secured promotion ahead of traditional favourites Kaiserslautern and Darmstadt, both of whom could still yet make it with a game remaining. 
There is additional concern regarding Audi's involvement, though, as the manufacturer also has input into affairs at Bayern Munich, while their umbrella company Volkswagen almost fully back Wolfsburg.
Four of the club's six supervisory board members are linked to Audi, with the words of one of those (Martin Wagener) somewhat ominous. "The higher the club plays, the higher the value that we get," he mused.
So they're not all bad then? 
In short, no. The partnership with Audi has been perceived as harmful and against the non-corporate model German football seeks to embrace. But on further investigation, it's not the quite what it may seem.
Audi's involvement may unsettle, but it hasn't impacted on the pitch that much. Die Schanzer's budget of approximately €8.5m this season sits roughly in the middle of 2. Bundesliga.
And in the club's entire history, only €4m been spent on playing staff, a distinct difference to the likes of Hoffenheim and Leipzig that chairman Peter Jackwerth has been keen to point out. 
There's also more to the stadium arrangements than meet the eye. While Audi have naming rights and now own the ground, those rights have only recently been bought. The construction of the stadium was actually initially funded by Jackwerth after agreeing loans with the city.
While promotion inevitably means more funds for transfers are likely, the partnership between Ingolstadt and Audi is not as shady as some may lead you to believe.
Audi chairman Rupert Stadler indicated as much recently when he declared: "It's not just about money. The point is that a team gets together. This is happening at FC Ingolstadt."
Season in a nutshell
Hugely consistent. While those challenging for promotion have stuttered, Ingolstadt have by and large trotted along smoothly despite enduring some teething problems at the beginning of the campaign when they won just three of their opening seven games. They've suffered just four defeats, with the first of those not coming until late November, and are also the division's second-top scorers.
Stefan Lex may lead the line in that respect (though he's only netted nine times), but the star of the show has been (former Hoffenheim man) Pascal Gross, who has contributed seven goals and 16 assists.
One worry may be that they only have the fourth-best defence in the league, and tightening up at the back is sure to be something the club look at before heading into the Bundesliga. The man tasked with that challenge is Ralph Hasenhuttl, who has performed wonders since taking the reins in October 2013. Before then he'd turned VfR Aalen into a mid-table 2. Bundesliga side after years of struggle. 
So, Ingolstadt eh...
With around 130,000 inhabitants, it's one of the smallest cities in Germany, though that doesn't leave it short of history. Ingolstadt is home to the Illuminati, with the order founded there in the 18th century, and is also the setting for Mary Shelley's Frankenstein. Returning to Audi, it is also approximated that every one in four citizens of Ingolstadt works for the car manufacturer. The All-Car Derby against Wolfsburg is on.
Quizzes, features and footballing fun
Get the best features, fun and footballing frolics straight to your inbox every week.
Thank you for signing up to Four Four Two. You will receive a verification email shortly.
There was a problem. Please refresh the page and try again.