Mourinho risks making Ruben Loftus-Cheek Chelsea's Paul Pogba
By Liam Twomey published
The 19-year-old is the latest talented youth product to be underused by the Blues. Liam Twomey examines why his lack of game time is potentially damaging for the champions...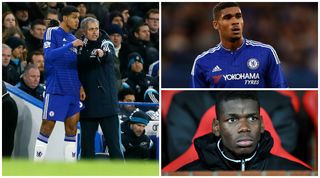 Jose Mourinho's epiphany occurred in early October as he faced the media. Southampton had just handed Chelsea their fourth Premier League defeat of the season at Stamford Bridge, eviscerating a home midfield that featured a listless Cesc Fabregas, a hapless Ramires, and Nemanja Matic, brought on and hauled off within the space of 28 second-half minutes.
Ruben Loftus-Cheek had remained an unused substitute, but Mourinho insisted that was about to change. "Clearly it is time," the Chelsea boss admitted. "Not to play four, five or six kids – some are not ready – but Ruben is a case where he's more ready, and if everything goes normal during the next two weeks, he's a player to start the next game and a run of matches, to try to get that stability as a first-team choice."
The international break came and went and Mourinho was true to his word, handing Loftus-Cheek his first Premier League start of the season at home to struggling Aston Villa. He was deployed in the No.10 role – not his regular position at youth level – and Chelsea's brave new world lasted all of 45 minutes.
"He is brilliant with the ball," Mourinho gushed when asked why he had substituted Loftus-Cheek at half-time. "He doesn't look 19 – he looks solid, stable and mature. But without the ball he doesn't look as good tactically." (It perhaps lends itself to Mourinho's requests of a No.10, discussed by Michael Cox here.)
Six weeks passed before Loftus-Cheek next ran out onto a Premier League pitch – and that was as a 92nd-minute substitute in Chelsea's goalless draw with Tottenham at White Hart Lane on Sunday.
RECOMMENDED Goalless without parking the bus: 5 things we learned from Tottenham 0-0 Chelsea
Pogba parallels
Those who have watched Loftus-Cheek at youth level will tell you he is not a midfield destroyer nor an elusive No.10, though he may yet bloom into either. Instead, he is an imposing box-to-box midfielder who combines a muscular 6ft 3in frame that enables him to dominate physically with startlingly polished technique and composure. He rarely makes a bad decision on the ball.
He is, in many ways, Paul Pogba three years ago; that rare blend of natural physique and refined skill in a 19-year-old that gets the coaches and scouts of Europe's elite clubs drooling. And like the Frenchman three years ago, he isn't playing much senior football.
Mention Pogba to a Manchester United fan now and the tone of the response is likely to range from mild embarrassment to outright frustration. Few would contest the claim that letting the Frenchman leave Old Trafford for nothing in the summer of 2012 was Sir Alex Ferguson's most expensive mistake.
"Pogba signed for Juventus a long time ago as far as we're aware," a bullish Ferguson told MUTV at the time. "It's disappointing. I don't think he showed us any respect at all, to be honest. I'm quite happy that if [footballers] carry on that way, they're probably better doing it away from us."
Within a year of watching Rafael and Park Ji-sung play ahead of him in central midfield against Blackburn Rovers, Pogba was making his mark in a title-winning Juventus team and widely regarded as the best young player in the world. Just over a year after his departure, desperate to fill what had become a gaping void in the middle of the pitch, United paid £27.5 million for Marouane Fellaini.
Public criticism
We don't know whether Loftus-Cheek can develop as far or as fast as Pogba has, and he is clearly still at the foot of the mountain. But we do know he will enter the final year of his Chelsea contract next summer and, as interested rivals watch from afar, Mourinho has done little to back up his bold claim that the 19-year-old is central to his future plans.
Since making his senior Chelsea debut in a Champions League group game against Sporting a year ago, Loftus-Cheek has racked up nine appearances in all competitions, five of them starts. He has not yet completed 90 minutes, but has been publicly savaged by his manager for a perceived lack of intensity and effort.
"When Chelsea had the ball he was playing very, very well," Mourinho told reporters after giving Loftus-Cheek just 28 minutes in a post-season friendly against Sydney. "But when Sydney had the ball I think he was more impressed by watching Mikel and Matic work, instead of himself.
"He has to learn that when you are 19 years old you have to run three times the amount of the other more experienced players. You don't have to play like a superstar with the ball at your feet because this is the not the under-18s. He has to learn what it takes to play for Chelsea."
Loftus-Cheek took his dressing down without complaint, said all the right things publicly and impressed club staff with his response in training. If he does have an attitude problem, it has so far failed to show itself anywhere outside Cobham.
Living in the present
In fact, it's perhaps Mourinho's track record that hints at the root of the issue. For every Kurt Zouma there is a Kevin De Bruyne or Romelu Lukaku that suggests an innate distrust of young, raw talent when there is the more immediate business of matches and trophies to be won. Whenever the Chelsea boss criticises Loftus-Cheek, some only hear convenient excuses.
The perception may be unfair but it undoubtedly exists and compounds Chelsea's already-pathetic track record of cultivating their own talent over the past 15 years. Within this context it is no surprise that recent days have given rise to rumblings of a loan move for Loftus-Cheek in January, even if there is no desire within the club to outsource his development.
Such an outcome would not just be a setback for Loftus-Cheek, but also a disheartening development for a Chelsea academy that has produced some of the best teenage footballers in Europe over the past three years and harbours high hopes for Dominic Solanke, Izzy Brown, Lewis Baker (all on loan at Vitesse this season) and others becoming first-team contributors in the reasonably near future.
Mourinho has no shortage of problems to solve in this nightmare of a season, but if Loftus-Cheek's development and state of mind aren't high on his list, they should be. Chelsea have waited too long for a world-class talent to emerge from their ranks to surrender a potential superstar so needlessly.
Thank you for reading 5 articles this month* Join now for unlimited access
Enjoy your first month for just £1 / $1 / €1
*Read 5 free articles per month without a subscription
Join now for unlimited access
Try first month for just £1 / $1 / €1
Quizzes, features and footballing fun
Get the best features, fun and footballing frolics straight to your inbox every week.
Thank you for signing up to Four Four Two. You will receive a verification email shortly.
There was a problem. Please refresh the page and try again.