Rooney hails hate-filled fans as 10th man
England hero Wayne Rooney has praised sections of the travelling support for spurring them on against Scotland. Back of the Net reports...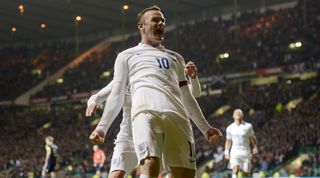 Wayne Rooney has stressed how much of a lift it gave the England players to hear anti-IRA chants during their victory over Scotland.
England beat their historic rivals 3-1 with an impressive, gutsy performance, but Rooney believes his brace owes much to the obsolete, hate-filled choruses coming from sections of the away support.
"It obviously gave us lads a massive lift to hear some of our supporters sing antiquated, sectarian slurs relating to a conflict most of us weren't alive to remember and none of us understand even remotely," Rooney told FourFourTwo.
"There's nothing that makes you feel more loved as a player than the vitriolic abuse of an organisation that was effectively disbanded more than a decade ago. It's much better than anything relating to the sporting spectacle taking place and our performance in it.
"For us, those fans are like a 10th man. They inspire us to dig deep, like having a man sent off for a terrible foul.
"I just hope they can crack out that song about the German bombers next time we're playing. As players we love to think about the tragic loss of a generation of young men when we're trying to find a way past Estonia's stubborn defence."
Many England supporters are said to be keen to move on to updated targets for their chants such as the Poll Tax, Argentina and denim jackets.
"We'll always follow the England [sic]," an England supporter told FFT.
"Wherever our boys go they can always be sure we'll be there [displaying a potent cocktail of aggression, arrogance and ignorance that perpetuates a damaging image of the English nation]."
The more organised England supporters have already begun reading books on Lithuanian history and are 'making good progress' on a chant about the Molotov-Ribbentrop pact, which they are diligently translating into colloquial Lithuanian to ensure it offends as many as possible.
Quizzes, features and footballing fun
Get the best features, fun and footballing frolics straight to your inbox every week.
Thank you for signing up to Four Four Two. You will receive a verification email shortly.
There was a problem. Please refresh the page and try again.