Ruben Loftus-Cheek's road is running out at Chelsea – and reaching an inevitable conclusion
Left out of the latest England squad and scraping minutes for his boyhood club, the Blues midfielder is facing a painful and unfulfilling end at Stamford Bridge. Daniel Storey gets depressed…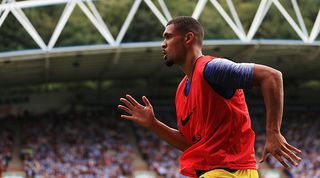 "It's been a hard season. To be honest, it's been very difficult," said the 22-year-old Chelsea player. "I had a good season last year and I played a good World Cup. I can't stand to have so much patience again. Now I'm 22 years old and I really want to play.
"It's too early to talk about when to change [and] if I'm going to change. But it's clear that it's not a good situation for me. It's been difficult to get into the team, and when we get the good results that we currently do, it will only be even harder. It's a gift for the team, but for me personally it has been a hard start of the season."
Those are the words of Andreas Christensen, a young Chelsea player pushed to the point of extreme frustration by his lack of first-team minutes. But they must surely reflect the feelings of another. Christensen has played 253 minutes in all competitions for Chelsea this season. Ruben Loftus-Cheek has played 99.
Troubled youth
The pair have their similarities. They were born less than three months apart in 1996. They have been regularly touted by Chelsea's youth coaches as the likeliest candidates to become the club's first established academy graduate since John Terry. They both have long-term contracts with at least three years left to run.
But while Christensen has chosen to vocalise his disappointment at dropping further back in the Chelsea queue and talked up a departure, Loftus-Cheek has stayed quiet on the issue. But if they aren't on the same page yet, they probably should be.
You can't blame Loftus-Cheek for backing himself at Stamford Bridge this season. An elite footballer is fuelled by ambition and confidence needs to stay high to overcome regular disappointment. Having impressed at Crystal Palace last season, Loftus-Cheek started three matches at the World Cup for England. If he hadn't quite come of age in Russia, the English public had at least finally seen what the midfielder could offer.
Chelsea's short-termism can provide a series of second chances for the club's players. Loftus-Cheek had been loaned out by Antonio Conte, but the Italian left. Short-termism brings new managers, and new managers should bring with them clean slates. Just ask Ross Barkley, whose 131 Premier League minutes between January and May under Conte has already been more than doubled by Maurizio Sarri.
But short-termism is a double-edged sword. Each Chelsea manager – and the revolving door turns on average every two years – arrives with a list of transfer targets and his own ideas. Chelsea have signed five central midfielders in the last 14 months (Tiemoue Bakayoko, Danny Drinkwater, Barkley, Jorginho and Mateo Kovacic). Not all play in Loftus-Cheek's preferred position, but they only make it harder to establish yourself in the first team.
Oversubscribed
Chelsea supporters may not care to concede it, but Loftus-Cheek is now persona non grata in the Blues' midfield, a place he shares with Cesc Fabregas. He was left out of the matchday squad against Southampton last weekend as Barkley registered his first league goal and assist for the club. That was a reaction to Sarri's stern words for Loftus-Cheek after his start against MOL Vidi in the Europa league.
"He's a great player from the technical point of view, and from the physical point of view," Sarri said. "But he has to improve from a tactical point of view. I want more from the tactical point of view because we conceded three or four counter-attacks to the opponent. We have to do better, especially in this case with the midfielders."
Perhaps most crushingly, it's also Barkley who is now keeping him out of the England setup: Loftus-Cheek was excluded behind his club team-mate by Gareth Southgate for this round of international fixtures.
NEWS Sarri: Barkley can live up to his 'great' potential
It's very hard to be optimistic about the short-term future. Having signed Jorginho and Kovacic, adopting the inimitable N'Golo Kante and transforming Barkley, Sarri already has four players for three positions. Most likely is that Loftus-Cheek will have to make do with Europa League, EFL Cup and FA Cup starts against weaker opposition.
That might be sufficient if he was 19, but Loftus-Cheek turns 23 in January and has started just 36 club games in his senior career. It may be time to face the reality that Chelsea was the best club for his tutelage, but one of the worst for his eventual development. Otherwise he faces a catch-22: the tactical maturity Sarri craves comes with experience, but experience is limited by his manager due to the tactical immaturity.
Bitter end
Admitting defeat will be hard. Loftus-Cheek has been at Chelsea since the age of eight, placed on a conveyor belt to the first team that only ground to a halt when the happy ending was in full view. Every coach at Chelsea who has worked with him speaks of a player destined for the very top, while Rio Ferdinand was famously astonished by his ability to read play as a 16-year-old when watching the Nike Cup at Carrington in 2011.
On this journey, failure is castigated from the minds of the young. Only 0.4% of boys who enter the academy of a professional club at the age of nine will make a career out of the game, and mental resilience is one tool to ensure that you are not one of the 96.6%. Natural talent only counts for so much.
But Loftus-Cheek does now have difficult questions to answer of himself and Chelsea; questions that could define his career. If a loan move in January strikes as the obvious move, is that merely delaying the inevitable?
The honest assessment is that we don't yet have enough proof of Loftus-Cheek's ability, simply because he has had insufficient opportunities to prove it. Goodwill is still high after recent England appearances, but it won't last forever. It might be time to find a club that will cherish him.
Quizzes, features and footballing fun
Get the best features, fun and footballing frolics straight to your inbox every week.
Thank you for signing up to Four Four Two. You will receive a verification email shortly.
There was a problem. Please refresh the page and try again.