The Week In Arsenal: Giroud and Walcott culpable in bore draw once again
It was not just the lack of cutting edge in front of goal that worried Andrew Mangan, as the Gunners once more bottled an opportunity and displayed an alarming lack of fight...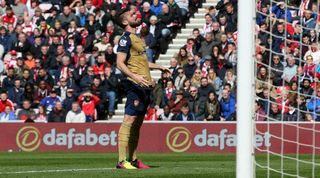 The week in five words
Boredom. Tedium. Monotony. Ennui. Apathy. 
What went well
Thanks to Petr Cech, Arsenal kept a clean sheet and won a point. That's really about the only positive to take from the Sunderland game.
What didn't
Once more, Arsenal were toothless in attack, pedestrian in their build-up, and looked like a team that really has no idea what kind of football it's supposed to be playing. 
Throughout Arsene Wenger's reign there's always been a cohesive style of play but that's no longer the case. All the parts are there, assembled in the usual way, but they look like players going through the motions, or ones who don't really know what they're supposed to be doing. 
Last season, during the Gunners' excellent second half of the season, Per Mertesacker spoke about 'automatisms' – meaning players knew what their team-mates were going to do, and when they were going to do it.
It was a sort of unspoken knowledge or communication. It allowed them to take risks and play with fluency. It's difficult to see how that applies to this particular version of the team, and what's striking is that it is, for the most part, the same group of players. Only Alex Iwobi and Mohamed Elneny are different, and neither could be said to be the underlying problem.
READ THIS Mohamed Elneny: The Egyptian offering hope in a tough stretch for Arsenal
As each week passes it looks more and more like Wenger's message is not getting through. It's a worrying sign that he can't get a reaction from the players, and maybe the Arsenal manager himself is struggling for ideas.
Quote of the week 
"At the moment Giroud cannot score," said Wenger after the game. Which begs the question why he chose to start him over Danny Welbeck.
READ THIS
Arsenal and Arsene Wenger are stuck with each other – for a year, anyway
The need-to-know facts
Mesut Ozil has created 137 goalscoring chances for team-mates this season in the top flight, more than any other player in a single Premier League campaign since 2003/04.
Giroud has now gone 14 Premier League games without scoring, his longest goal drought in the competition.
Jack Wilshere made his first appearance for Arsenal since the 2015 FA Cup final, 330 days ago.
The Gunners are now unbeaten in seven Premier League games, their best run without defeat since May 2015.
Video of the week
Walcott displaying an alarming lack of fight by jumping out of making a tackle.
Loser of the week #1
There is no winner of the week from an Arsenal point of view, so here are two losers. Firstly, in reference to the video above, Walcott jumping over the ball and out of the way summed up his contribution to the team this season.
He could have gone in for the ball and created something but instead chose self-preservation, and at this level that kind of selfishness is simply not acceptable. After Wenger already cast doubts over his future this week, this might be another nail in his Arsenal coffin. 
Loser of the week #2
Giroud has scored in just one of his last 20 games for the club. "You go through spells like that and I believe we have to support him and give him the needed confidence," said Wenger after the game.
It is a dismal run of form but the Frenchman doesn't help himself either. Rather than being a strong, aggressive centre-forward, he allows himself to be bullied out of games by average defenders. In mitigation, he didn't get great service in front of goal, but the things he's supposed to be good at – holding up the ball, being an outlet for the Arsenal midfielders to work through – were sorely lacking as well. 
Incredibly, despite that dreadful goalscoring record since his last Premier League strikes in January, he remains Arsenal's leading scorer. Which, more than anything, highlights the need for an upgrade this summer. 
Quizzes, features and footballing fun
Get the best features, fun and footballing frolics straight to your inbox every week.
Thank you for signing up to Four Four Two. You will receive a verification email shortly.
There was a problem. Please refresh the page and try again.