21 signs you're a proper Chelsea fan
Garry Hayes picks out some of the key things that unite all true Blues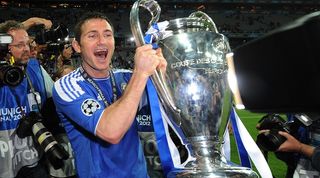 1. Hearing a lad shout out 'Oi! Oi!" in public doesn't seem quite right if 'Zigger Zagger' doesn't precede it.
2. You get up when you want, except on Wednesdays, when you're rudely awoken by the dustman.
3. You know the only place to be every other Saturday is strolling down the Fulham Road.
4. When you see signs warning of slippery conditions, you can't help but think of Steven Gerrard.
5. Blue is the colour, naturally.
6. You know calls of "It's only a pound, hurry up!" isn't a sales pitch from staff inside Poundstretcher trying to flog you a bargain.
7. The number one tourist attraction in New York City isn't the Empire State Building or Statue of Liberty, but the district of Chelsea in Manhattan.
8. You'll adamantly state that Chelsea isn't a girl's name.
9. You know there's only one England captain.
10. You view May 19, 2012 as the most important day in history for any London club.
11. "Champions of Europe!" You know Arsenal and Tottenham fans will never sing that.
12. When fans talk about sitting on "The Benches" you know they're not referring to your misspent youth guzzling White Lightning down the local park.
13. Hearing the First Noel at Christmas doesn't feel right as the lyrics are wrong. You attend Midnight Mass and sing about Peter Osgood scoring goals past Pat Jennings from near and afar, instead. "Osgood, Osgood..."
14. You've also supported Leicester for one day and one day only.
15. You're more interested in making history than reliving it.
16. You can recount with stunning clarity where you were and exactly what you were doing on April 30, 2005.
17. You know it wasn't over the line. It wasn't even close.
18. Wembley is beginning to feel like a second home.
19.Forza Azzurri! isn't just a command for the Italian national team.
20. You take great delight in reminding West Ham fans who Frank Lampard scored his 200th Chelsea goal against.
21. Raquel Welch never looked so good as she did in this photoshoot.
Raquel Welch on the set of western 'Hannie Caulder', wearing a number 9 Chelsea Football Strip, 1971. September 23, 2016
Quizzes, features and footballing fun
Get the best features, fun and footballing frolics straight to your inbox every week.
Thank you for signing up to Four Four Two. You will receive a verification email shortly.
There was a problem. Please refresh the page and try again.