4 big things Real Madrid fans can expect in future from record-breaker Gareth Bale
The Welshman surpassed Gary Lineker's goal haul against Sevilla on Sunday, but Blancos still haven't seen the best of Bale. Lee Roden explains what they have to look forward to...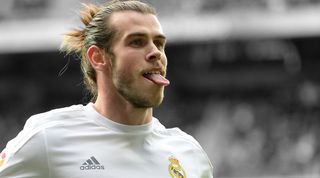 By scoring against Sevilla at the weekend, Gareth Bale took his overall tally to 43 strikes in 76 La Liga appearances, ensuring he is now the all-time highest British goalscorer in the competition.
Claiming a record Gary Lineker had held for over a decade-and-a-half was already a significant feat, but it's even more noteworthy considering the Welshman has yet to find his best form in Spain. The next logical question, therefore, is that if Bale can break records while not at his best, should Real Madrid expect even better things from him in the future?
43 - Gareth Bale is now the British top-scorer in La Liga history (Gary Lineker, 42). Express.
— OptaJose (@OptaJose) March 20, 2016
1. He'll be more involved
There is little doubt that Spanish and English football are quite different beasts. While much is made of the Premier League's more high-octane style, the tactical demands and spatial restrictions of La Liga are sometimes overlooked.
For most of his time in Madrid, Bale has suffered from that change, often spending large spells of games disconnected from Madrid's overall play and looking isolated from his team-mates.
Against Sevilla, however, Bale delivered one of his most complete performances since joining Madrid. Rather than drifting in and out of the game, he was constantly engaged, varying his offensive play between dangerous crosses from the right, well-timed runs into the box and, most tellingly, switching play accurately to the opposite flank.
Those interventions in the direction of play were particularly noteworthy. Bale not only understood where his team-mates were going to be positioned on the other side of the pitch, but also when was appropriate to release them, keeping Sevilla guessing over his next move.
After some encouraging games in the winter, that match against the Andalusians was the clearest sign yet that the penny may finally have dropped for the ex-Spurs man. A Bale who not only scores goals but also makes a greater contribution to his team's overall game can only be good news for Madrid.
2. He should have some coaching consistency
RECOMMENDED
Why the Clásico might not be such a mess for Real Madrid after all
There were enough cultural challenges for Bale to contend with upon moving to Madrid without the constant changes in coach he has been presented with.
First asked to learn the ropes at the Bernabeu under the more passive, expressive style of Carlo Ancelotti, it was followed by the restrictive, repetitive Rafa Benitez. Just when the forward appeared to be finding his feet in that scenario, things were shaken up again – the modus operandi is now a more flexible attacking one under Zidane.
Footballers aren't machines, and aren't immune to the disruption that a change in manager can cause. It doesn't take a genius to conclude that coaching consistency could be beneficial for Madrid's record signing.
The safe money is always on a managerial sacking at the Bernabeu, but there is reasonable cause to believe Zidane could still be in charge at the start of 2016/17. Madrid at least appear to be on an upward trajectory right now – the Sevilla win was by far their most convincing since the World Cup winner took over.
More importantly, Florentino Perez is starting to run out of top managers to hire: with Ancelotti joining Bayern Munich, Jose Mourinho presumably off to Manchester United and Antonio Conte likely joining Chelsea, there are few quality options available this summer. The trigger-happy Real Madrid president may be forced to stick rather than twist out of necessity.
That could help Bale's cause. So far, his understanding with Zidane seems to be good: considering Zizou was very much a hands-on assistant during Ancelotti's reign and already knows him well, that makes sense. He could be the man to coax some consistency out of the former PFA Player of the Year – provided Madrid opt for some rare coaching consistency of their own.
3. Finding fitness will help massively
Bale's challenges in Spain haven't just been mental – recurring physical issues have played a huge part in prolonging his process of adaptation. The player arrived at Madrid injured, and since than has struggled with constant muscle problems, resulting in 21 missed games since September 2013.
To make matters worse, there have been a large number of shorter spells on the sidelines, meaning it has been difficult for him to find any kind of rhythm or form. Frustratingly, Bale's muscles have a habit of giving way just as he appears to be hitting his stride.
The forward has managed a more-than-decent 54 goals for Madrid despite that lack of consistent playing time, so it isn't a stretch to suggest that once they finally manage to keep him away from the physio room for a prolonged period of time, his effectiveness would augment.
Zidane at least seems to be resisting the temptation to rush him back when he isn't quite ready, something previous managers have been guilty of. Patience could make a world of difference in the long term.
4. He won't compete with Cristiano forever
Another positive change that would help Bale's cause in the future of his position. Since joining Madrid in 2013 the Welshman has mostly been given an unfavourable role on the right wing, Benitez only flirting with playing him behind the striker.
At no time has he been consistently permitted a run on what many see as his best spot starting from the left wing and cutting inside.
Cristiano Ronaldo is the main reason for that. The Portuguese demands freedom of movement of his own, and considering his effectiveness over the course of his career, it's understandable that he gets it.
That creates a problem for Bale, however. If Ronaldo starts on the left, the Portuguese will inevitably move inwards and end up occupying the space his team-mate would like to move into. If the older striker starts up front, competing for space continues to be a problem – Ronaldo isn't a static centre-forward who plays off the shoulder, but one who drops back and roams around the final third.
Bale's chances to attack those central areas would still be limited regardless.
Ronaldo is 31, however, and won't be around forever. After a difficult season in which he has been criticised for failing to turn up against the big teams, his departure from the Bernabeu isn't as far off as it once was.
Perhaps only when he leaves will Bale really be allowed to show his true potential in Spain, something we have only seen glimpses of so far despite the record number of goals.
Thank you for reading 5 articles this month* Join now for unlimited access
Enjoy your first month for just £1 / $1 / €1
*Read 5 free articles per month without a subscription
Join now for unlimited access
Try first month for just £1 / $1 / €1