4 examples of relentless Bayern Munich pressure: Will this be Man City next season?
Extreme defensive pressing was at the heart of Bayern Munich's success – and disappointment – last night…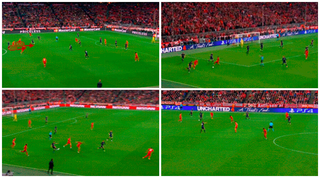 Bayern Munich's sharp start to Tuesday night's match deservedly earned them the opening goal in the 31st minute. But by the 53rd, during which Atletico had netted their crucial away goal, Bayern's defensive desire to apply immediate collective pressure was ultimately at the root of both their dominant first-half performance and their undoing within the first 10 minutes of the second half.
This first GIF occurred right after Bayern lost possession by their corner flag. David Alaba immediately and impressively switched his mindset and became completely refocused on regaining possession (particularly high up the pitch for a left-full-back). Several other Bayern players closed in the space behind Alaba aggressively and forced Atletico to cleverly weave through the pressure and then rush an extremely optimistic pass forward that eventually ended up rolling out of play.
This sequence was one of several examples where, after losing the ball, Bayern's unified defensive intensity in their attacking third allowed them to quickly regain control and resume asking questions of Atletico Madrid's defence.
In the next GIF, the combination of effort and collective appetite for reclaiming the ball from Franck Ribery, Alaba, Xabi Alonso, Douglas Costa and Arturo Vidal quickly extinguished Atletico's chance at meaningful possession, and gave Bayern the opportunity to take it back while already in their attacking third.
This time on the right side, Bayern's compactness and combined tenacity forced Atletico into another frantic and incredibly tough square pass. Simeone's team did their best to move from the defensive to middle third, but the limited time Bayern allowed them on the ball during such stretches made it a very challenging task.
Although the sequence above ended in Bayern conceding a foul, the work-rate from all players involved was tremendous. And unsurprisingly, only moments later, Guardiola's side's relentless pressure created additional opportunities to impose their possession-heavy and often-threatening style of play on the game.
Picking their moments
Along with others, these three situations where Bayern showcased their incredible defensive team spirit also all shared two very important attributes that prevented their chasing of the game from skidding into recklessness.
In all of these instances, Bayern began applying high collective pressure solely along either outer portion of the field in their attacking third (see image below), and exclusively when there were always at least two Bayern players behind any challenge for the ball.
Seen below, in the 53rd minute, Bayern's eagerness to reclaim the ball got the better of them. After a central Jerome Boateng pass was redirected away by Atletico Madrid's Diego Godin (a very similar pass from Boateng in the first half led to Alonso's free-kick goal), both Boateng and Alonso tried to quickly close any space for the Spanish side as the ball arrived at Gabi's feet.
However in doing so, the three-man defence at that moment dissolved into just a defence of one — the line of Alonso, Boateng and Javi Martinez became only Javi Martinez. And not only did this leave Bayern exposed, they also unfolded in a central part of the field, which allowed Atletico greater flexibility in their decision-making.
Unfortunately for Bayern, despite great defensive intentions, this is the sequence that led to Atletico's priceless goal.
While it's hard to discredit anything Atletico Madrid did to punch their ticket for Milan, it feels bittersweet to see Pep end his bid for a Champions League trophy at Bayern thanks to one ill-fated blip in the game – especially after such a fine effort from his troops.
More analysis on FFT.com • More Bayern Munich • More Atletico Madrid
Quizzes, features and footballing fun
Get the best features, fun and footballing frolics straight to your inbox every week.
Thank you for signing up to Four Four Two. You will receive a verification email shortly.
There was a problem. Please refresh the page and try again.