5 reasons why Real Madrid should worry about Liverpool in the Champions League final
Between the Reds' desire, Real's ageing legs and Liverpool's under-the-radar threat, Matt Ladson of This Is Anfield on five factors to provoke the Spanish giants' concern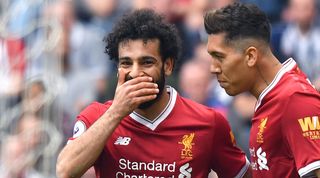 Liverpool held their Champions League media day at Anfield on Monday, as the five-time European Cup winners count down to Saturday's final against Real Madrid in Kiev. Jurgen Klopp's squad, fresh from a few days at a training camp in Spain, looked relaxed and in good spirits as they did a light session featuring some quick passing combinations and rondos.
On that same day, Spanish media were highlighting how Real Madrid's staff and players are expecting their "easiest final yet" against a mentally weak Liverpool. "This final is the easiest final they have in front of them, all of them – [club president] Florentino Perez, the captains. Everyone," claimed one report.
Liverpool are labelled as "an incredibly exciting, attacking side but one prone to big, defensive lapses and one that is weak mentally." Another writer described Liverpool's midfield as "tradesmen" lacking the creativity of players such as Paul Pogba, Ilkay Gundogan, Kevin De Bruyne or David Silva.
The Spanish side aren't exactly famed for their modesty, but such arrogant claims may be music to Klopp's ears. Here are five reasons why Real really should worry about Liverpool ahead of Saturday's final...
1. Salah vs Marcelo
Ahead of big games, media and fans always discuss the key head-to-head battles. This time around, Mohamed Salah vs Marcelo is the main one dominating discussions from a Liverpool perspective.
Real Madrid play a very high defensive line, a tactic that Liverpool have prospered against this season, with Salah's pace key to exploiting large spaces in behind. Marcelo is arguably the most attacking full-back in world football, and for all his impressive output going forward, he's certainly a player that can be exposed defensively.
This was evidenced in the semi-final against Bayern Munich, when right-back Joshua Kimmich scored in both legs. His goal in the first particularly highlighted this, when James Rodriguez released Kimmich on the counter to give Bayern a three vs two in attack; Marcelo was caught high up and was slow to get back. 
Salah will be hoping for an evening such as the one he enjoyed in the semi-final first leg against Roma, when he had the run of the right side of attack.
2. Real Madrid's complacency
Zinedine Zidane's side have won the last two Champions League titles, and three of the last four. So it's understandable for them to be confident going into the final against a Liverpool side that haven't appeared on this stage for 11 years.
Madrid have the know-how and mentality required to win these games no matter what, as we've so often seen, with two of their last three successes going to extra time. Heartbreak for a valiant opponent has been a common theme.
Yet Liverpool will be hoping that complacency will be an issue for a side that has come up short in domestic football this season, finishing third in La Liga, 17 points behind Barcelona.
3. Youth vs experience
The lack of experience among Liverpool's players in lifting European trophies may be perceived as a disadvantage, but their squad is vastly younger than Real Madrid's. This could work to their advantage in Kiev.
Of the Spaniards' likely starting XI, Sergio Ramos is 32; Marcelo 30; Luka Modric 32; Cristiano Ronaldo 33; while Karim Benzema is 30. They are an ageing side past their prime and starting to decline. Eventually there will be a tipping point where they can no longer use their experience to get past younger sides.
Liverpool are the exact opposite: a side filled with youthful players, with only 32-year-old James Milner a veteran. The rest are hungry for success and about to hit their prime as a squad on the rise.
Addressing this point in his pre-match press conference, Klopp said: "They are more experienced – that is a fact. Experience is important in life, but it's not the only thing. You can level it with desire, attitude and work rate – and that's why I love football." 
4. The Firmino factor
Much of the pre-match build-up will obviously focus on 44-goal Salah, but Roberto Firmino goes under the radar and yet is key to Liverpool's progress under Klopp.
The Brazilian forward himself has 27 goals this season in all competitions, plus an impressive 17 assists. Eleven of those goals and nine of those assists have come in his 14 Champions League appearances (including the play-off round). Only Milner has more assists than Firmino in this season's competition – and the Englishman broke the record for assists in a single Champions League campaign.
If Marcelo is Real Madrid's main defensive weakness, then arguably Raphael Varane is next on the list for those who can be exposed. The Frenchman has been inconsistent in the past and can be slow on the turn, something Firmino can take advantage of.
With the Brazilian dropping deep so often, aiming to pick the pockets of the deepest midfielder and then release Salah or Sadio Mané ahead of him, Varane and Sergio Ramos will need to decide whether to go with him and leave more space behind them, or stay put and give Firmino the time to pick up possession and play a pass.
5. Opportunity counts
"We have the biggest chance of our lives. For some it will be the only one," said Dejan Lovren on Monday. This is a Liverpool side that has been expertly put together by Klopp in the last two years, moulded in his style. It features players who have points to prove and hunger to do so. Their attitude is excellent. 
Also evident in this run to the final has been the camaraderie among the squad, and their togetherness. There has also been a huge improvement in the relationship between the players and supporters at Anfield.
Unity equals power. There is a desire, a hunger and the opportunity for all of Liverpool's players to make more Reds history. They know this; Klopp will ensure they are reminded of it.
It's a chance to banish the memory of the Europa League final defeat two years ago, after which the manager delivered a speech to his players telling them that: "This is just the start for us. We will play in many more finals."
Saturday is the next major step on that journey. For Liverpool, this isn't a privilege, but an opportunity they're hungry to take.
Quizzes, features and footballing fun
Get the best features, fun and footballing frolics straight to your inbox every week.
Thank you for signing up to Four Four Two. You will receive a verification email shortly.
There was a problem. Please refresh the page and try again.