How good really is Zidane the manager? Why the Real Madrid boss just keeps on winning
The enigma of Zizou has outsiders puzzled. As he takes aim at a hat-trick of Champions League titles as a coach, Thore Haugstad explores the 'Zidane effect'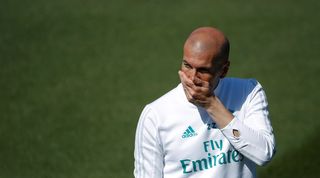 There is an expression in the Spanish sports press, and particularly in the Catalan newspapers, that aims to explain the secret of Zinedine Zidane. That's no small ambition: if there really is a secret, it's well hidden. On Saturday night, the Frenchman could win his third Champions League in two-and-a-half years as a coach at the top level. Yet after all these titles and all these wins, it's still pertinent to ask: how has he done it?
Zidane doesn't fit into any conventional managerial bracket. He's no visionary like Pep Guardiola, no cynic like Jose Mourinho, no disciplinarian like Sir Alex Ferguson. Quite often, his team don't even play well. Yet in Europe, they keep winning. And so with no particular competence to praise, enter the theory that explains it all: La flor de Zidane. Basically: Zidane is just lucky.
Lucky he certainly is. Madrid had a favourable draw en route to the 2016 final, which they then won on penalties. Lucky. In 2017, they took advantage of a harsh red card given to Arturo Vidal to beat Bayern Munich in the quarter-finals. Lucky. This year they got a stoppage-time penalty against Juventus in the quarter-finals, before Marcelo handled inside the box against Bayern Munich in the semi-finals. The referee didn't see it. Lucky, lucky, lucky.
But just lucky? Many managers say you need fortune to win the Champions League, but that's a reference to winning it once. Reach the final three times in three years, and you're entitled to more credit. Perhaps Zidane gets less praise than he deserves because of the nature of his strongest points. Tactical experts may find little to praise, but his secret isn't tactical. It's social.
The Zidane effect
That has been the case ever since Zidane sat down in front of a sceptical press in January 2016, when he was presented as the new coach of Real Madrid. His predecessor, Rafa Benitez, had been the opposite: all tactics and no social skills. While Zidane may not have had much to show beyond a wobbly 18 month-stint with the Castilla reserve team, he did immediately show one thing: he knew how to talk.
That day his script reflected the values of the club so well that it might have been written by president Florentino Perez. According to Zidane, Madrid would fight for every title, they would play attacking football and they would entertain. Tricky questions were evaded or crushed with a charismatic smile. If Zidane were to fail in his mission, a career as a diplomat or politician surely awaited.
In the next five months, Madrid notched up 12 league wins in a row and won the Champions League. Their displays could vary, but what stayed consistent was the calm around the team: the players were happy. Established stars praised Zidane; even those benched refused to grumble. Most were surprised by what the Madrid press began to call the 'Zidane effect', save for a well-placed observant who knew him well.
That observant was ex-Madrid coach Carlo Ancelotti, for whom Zidane had worked as an assistant in 2013/14. "He has all the qualities necessary to be a fantastic manager: charisma, personality and experience," Ancelotti had said two months before the appointment. None of the traits he listed related to tactics. "When Zidane talks, the players listen," Ancelotti noted.
Carlo's disciple
If Zidane can be compared to any coach, it's Ancelotti. Tactically they are similar: they change formations often and play attacking football. But above all, they keep dressing rooms happy.
"It's the most important thing for a manager, the relationship he has with the players," said Ancelotti. "You can talk all you want about tactics or techniques, but if you don't have the players on your side, you won't have the collective motivation to put a system in place or the players to make it work."
Those lines served as a preamble for the 2016/17 season. Whatever tactical system Zidane had in place, it tended to be a chaotic one, with Madrid leaking goals. Yet time after time they fought back. More often than not, their grit was enough to win the game. "Madrid have an extraordinary competitive spirit," said ex-Madrid player, coach and director Jorge Valdano. "Nobody plays bad football as well as Madrid."
As the season reached its second half, Zidane used his position of authority to make bold calls. He rotated up to nine players at once, unleashing his 'reserve team' on weaker league opponents to good effect. He also persuaded Cristiano Ronaldo to rest, with the Portuguese playing just 29 league games. When the Champions League knockouts and the league run-in came around, Madrid hit top gear to win both titles, securing their first Liga and European Cup double since 1958.
No to new players
But while that triumph was sweet, the Zidane blueprint seemed hard to sustain as long as Madrid remained so disorganised. They had relied on heroic comebacks to win the league, but such displays can only be repeated for too long. This season they have finished third, 17 points behind Barcelona. They shipped 44 goals; more than Espanyol, Valencia and Getafe.
In fact, by January, when they had lost 3-0 at home to Barça, it looked as if the season would unravel. The team shape wasn't just fragile, but key players were underperforming, with stalwarts such as Marcelo and Ronaldo among the accused. When the transfer window opened, some called for Zidane to freshen up the squad. But he refused. "I'm happy with my squad," he said.
As Madrid kept floundering, Zidane could be criticised for staying too loyal to the big names. Yet as the knockout stages began, Madrid recovered. Players who might have been benched earlier began to pay Zidane back for his loyalty. Marcelo scored in the last 16, the quarter-finals and the semi-finals. For a period, Ronaldo struck about two goals per game.
With pretty much the same bunch who reached the finals in 2016 and 2017, Madrid edged out Paris Saint-Germain, Juventus and Bayern Munich to set up Ta new final.
Chaos and continuity
Throughout this, their continuity has been astonishing. When Madrid line up against Liverpool, they could play 10 of the 11 names that started the final in 2016. The only players they have bought under Zidane have been playmaker Dani Ceballos and left-back Theo Hernandez, two youngsters meant to serve backup roles. The saying is that you should keep building your team even when you're winning. Zidane has ignored that advice and been rewarded.
All of which could set up a chaotic final. Madrid may well concede a few goals, but their experience will give them an edge. Zidane will stand on the touchline, clapping his hands and encouraging his team, appearing to his critics as the coach who merely got the job at the right time – the lucky guy with such fantastic players.
But those players will be happy, united and loyal. And if that seems easy to achieve, try asking Benitez or Jose Mourinho about the Madrid dressing room.
If there's one explanation for why Zidane is doing so well, perhaps it belongs to Julian Nagelsmann, the young Hoffenheim coach. "Thirty per cent of coaching is tactics, 70 per cent social competence," he said two years ago. That may well encapsulate the 'Zidane effect'. In any case, one thing is certain: he isn't just lucky.
Quizzes, features and footballing fun
Get the best features, fun and footballing frolics straight to your inbox every week.
Thank you for signing up to Four Four Two. You will receive a verification email shortly.
There was a problem. Please refresh the page and try again.