8 pieces of Jurgen Klopp managerial genius for Liverpool fans to drink in
Andy Brassell dissects the charismatic German's time at Borussia Dortmund...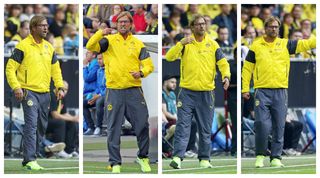 With the Anfield hotseat beckoning, we take a look at Jurgen Klopp's big Dortmund moments and what they tell us to expect if he comes to the Premier League. Get excited, Liverpool fans...
1. Instilling a never-say-die spirit
September 13, 2008
This was the day of just Klopp's fourth Bundesliga game at the helm and his first Revierderby, as old enemies Schalke came to Signal Iduna Park. It started badly – Dortmund were 2-0 down at half-time, so the new boss introduced Alexander Frei for the bustling Nelson Haedo Valdéz at half-time.
Still, Heiko Westermann made it three shortly after the break and with 23 minutes left, Klopp's Dortmund were staring down the barrel of a humiliation. Then Frei got to work, setting up Neven Subotic before scoring twice himself, including an 89th-minute equaliser from the spot, to bring the house down. A nervous Klopp turned his back to the pitch as Frei took the penalty - the big licks on the air guitar followed later.
2. Creating a one for all and all for one culture
October 15, 2010
Dortmund travelled to struggling Köln on a rainy Friday night looking for a seventh straight Bundesliga win, and it was all going to plan when Jakub Blaszczykowski gave Klopp's men a 20th-minute lead. Yet a fractious game was epitomised by a bubbling feud between Nuri Sahin and Lukas Podolski, with Prince Poldi openly baiting the Dortmund midfielder about Germany's 3-0 win over Turkey days before.
Podolski equalised, only for Sahin's deflected shot right at the end to give the visitors the win. Sahin sprinted away from his team-mates and launched the mother of all knee-skids on the wet turf, deliberately taking him past a crestfallen Podolski. Goalkeeper Roman Weidenfeller quickly spotted the potential for trouble and raced from his goal to get all up in Podolski's grill, earning himself a yellow card but drawing the fire from the already-booked Sahin - and showing that everyone in this team had each other's backs. "The hunger of the team was impressive," Klopp wryly remarked afterwards.
3. The Dortmund daring
February 27, 2011
Although Louis van Gaal's grip on authority at Bayern Munich was beginning to look very tenuous, Klopp's young table-topping side arrived at the Allianz Arena to play the champions knowing that the world was watching, probably for the first time. Far from being tentative, Klopp went to attack a vulnerable Bayern with what almost amounted to a front four. Lucas Barrios was ostensibly on his own up top, with Robert Lewandowski just behind him, but Mario Götze and Kevin Grosskreutz frequently sped up in support of both, pinning Bayern back while Nuri Sahin's switches of play ensured a directness rarely seen in visitors to the Allianz. Barrios, Sahin and Bayern youth product Mats Hummels scored in Dortmund's 3-1 win, which took them 16 points clear of Bayern and showed the world what they were made of.
4. Personnel management
February 3, 2012
After two prolific first seasons at Westfalenstadion – the second of which involved him hitting 19 in the Bundesliga to propel Dortmund to that incredible title win – Barrios endured a frustrating final campaign at the club, playing second fiddle to an emerging Lewandowski. Klopp vetoed a potential move to Fulham over Christmas, preferring to keep the Paraguayan at the club in reserve. Barrios remained on the margins, but it turned out to be a good decision. He scored to seal victory at Nürnberg in February, and he deserved his hat-trick in the late season romp at Kaiserslautern with the title already clinched. The striker still has enormous respect for Klopp, telling French television earlier this year that he was "on the other end of the phone if they need my help" when he was on loan at Montpellier and Dortmund were propping up the table.
Klopp is on good terms with many of his former charges
5. Having a steady hand
April 23, 2013
The day before Dortmund hosted Real Madrid in the Champions League semi-final first leg, fans were reeling from the breaking bombshell that 20-year-old wunderkind Mario Götze had agreed to join Bayern in the summer. Klopp had known for just under two weeks, having heard the news the day after the dramatic quarter-final win over Malaga. He played a blinder in his press conference, lightening the mood by lamenting the pull of playing of Pep Guardiola. "I can't shorten myself by 15cm and start speaking Spanish," he smiled. There were even (unconfirmed) rumours that Klopp had leaked the Götze news himself to galvanise his side against adversity. Either way, the following day, Robert Lewandowski hit four past Real Madrid at Westfalen to as good as seal a ticket to Wembley. Götze, naturally, was outstanding.
6. Losing his cool... but remaining humble
September 18, 2013
Dortmund's reward for their run to the 2013 Champions League Final was an excruciatingly hard group the next season, featuring Arsenal, Napoli and Marseille. They got off to a bad start, losing at Rafa Benítez's new side – and with Klopp personifying the performance, as he was sent off for screaming at the fourth official for not allowing Neven Subotic back on from treatment quickly enough as Gonzalo Higuaín scored.
"I have to take the blame," Klopp said afterwards, with typical frankness. "That was just dumb." It was not his first run in with officials, or his last, and he is conscious of the fact that his personality sometimes dominates. "On good days," he said at San Paolo, "when the coach keeps his cool, we might get a result."
7. The greatest comeback... almost
April 8, 2014
Dortmund had been humbled 3-0 in the quarter-final first leg at the Santiago Bernabéu by a Real Madrid side eager to get their revenge for the previous season's ousting, and a revival looked hopeless – especially for a side so heavily reliant on counter-attacking. So when Marco Reus struck twice for Klopp's gutsy team in the first half, Los Blancos were shaken, and Westfalen was rocking.
RecoMMENDED
Had Henrikh Mkhitaryan not spurned two heaven-sent opportunities later on, Carlo Ancelotti might have been on the end of another titanic Champions League comeback. The sight of Cristiano Ronaldo, injured but on the substitutes' bench as insurance, frantically urging his nervous side on from the touchline in an almost faux-Klopp style, was some tribute to Borussia Dortmund's – and their coach's – style.
8. Resuscitation and the final act
April 11, 2015
Klopp had pulled Dortmund away from trouble after a torrid first half of the season, but things were still not right. That was underlined by Oscar Wendt's opener for Borussia Mönchengladbach 28 seconds into the trip to Borussia-Park, the third time that Die Schwarzgelben had conceded in the opening minute of a Bundesliga game in the season. Normally circumspect sporting director Michael Zorc broke cover to call it "totally unacceptable", and although his criticism seemed to be more of the players, Klopp's hold over his team came into question after a heated discussion on the touchline with captain Sebastian Kehl in the closing moments of that 3-1 humbling at Gladbach, a team that looked set to replace Dortmund as the bright young things of the Bundesliga. After seven years he had run out of ideas, the players were no longer responsive and he quit four days later. Let's hope the break has refreshed him.
Kloppo shows 'echte liebe' [true love] for Dortmund
Thank you for reading 5 articles this month* Join now for unlimited access
Enjoy your first month for just £1 / $1 / €1
*Read 5 free articles per month without a subscription
Join now for unlimited access
Try first month for just £1 / $1 / €1