Adel Taarabt exclusive: Luka Modric told me I'd play for Real Madrid or Barcelona one day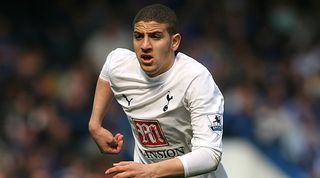 Adel Taarabt has told FourFourTwo that his ex-Tottenham team-mate Luka Modric thought the Moroccan would one day play for Barcelona or Real Madrid.
Taarabt is starting regularly for Benfica this season as they sit second in the Primeira Liga table, one point behind unlikely leaders Famalicão. The playmaker only made his debut for the Portuguese giants in March of this year, however, 1,387 days after joining the club.
Tottenham signed a highly rated Taarabt in 2007 but the midfielder only managed nine appearances before being moved on to QPR in 2010.
The midfielder was Football League Player of the Year in 2010/11 as QPR won the Championship, but his form tailed off in the top flight and led to loan moves at Fulham and Milan before his permanent move to Benfica in 2015.
In an open and frank interview in the November 2019 issue of FourFourTwo magazine, out in shops Friday, Taarabt admits that he harbours some career regrets.
"I don't like to say this about myself, but I think if you talked to everyone who saw me when I was a young talent, many would have said I'd play for Real Madrid or Barcelona one day. Even Luka Modric said that to me once," said the midfielder, now 30.
"But it didn't happen. Not only because of others, but because of me."
SEE ALSOJurgen Klopp exclusive: Steven Gerrard should replace me as Liverpool manager one day
Taarabt was renowned for his skill and flair at QPR and had a famous secret admirer during his days at Loftus Road.
"Raheem Sterling texted me a few months ago. I was listening to an interview where he said I was his idol at QPR," grinned the Moroccan.
"These days it would be Cristiano Ronaldo or Lionel Messi, but when he was a kid he watched me!"
Read the full interview with Adel Taarabt in the November 2019 issue of FourFourTwo magazine, out in shops and available digitally from Friday (September 27). We also catch up with Liverpool boss Jurgen Klopp, head to Buenos Aires for another madcap Boca-River Superclasico, shine a light on the murky world of money laundering, go inside Wolverhampton Wanderers and much, much more. It's a belter.
Subscribe today! 5 issues for just £5...
Thank you for reading 5 articles this month* Join now for unlimited access
Enjoy your first month for just £1 / $1 / €1
*Read 5 free articles per month without a subscription
Join now for unlimited access
Try first month for just £1 / $1 / €1