Analysed: How Monreal broke in from the outside to nail his Arsenal spot
Edward Stratmann evaluates the quietly impressive rise of Arsenal's unheralded left-back over the last year...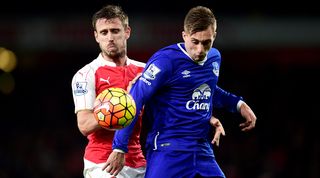 It's easy to forget that Nacho Monreal has been at Arsenal for almost three years. Many questioned the legitimacy of the Spaniard's contributions at the beginning of his Gunners career, as the former Malaga man struggled to adapt to the Premier League away from the country he'd played in his whole life. Kieran Gibbs being the undisputed first-choice left back didn't help either.
But fast-forward to now and the tables have well and truly turned, for Monreal is an absolutely crucial component of Arsene Wenger's currently excellent Arsenal outfit.
Middle man
During the early stages of last season, when the Gunners were enduring a horror run of injuries, Monreal's turning point arrived when Wenger was forced to deploy the Spaniard at centre-back.
Although he went through some turbulent moments, the Spaniard's work in the heart of defence was positive. Monreal, who confesses he is a player who needs to playing week in, week out to perform at his highest level, unsurprisingly struggled drifting in and out of the team at the start of his Arsenal career. "I need to play every single game in a row," he told Arseblog in June. "Two seasons ago, it wasn't like that."
Monreal went on to add how beneficial that lengthy stint at centre-back was for him. "The best thing about playing there was that I was playing for 10 games," he noted. "After that, I was completely fit so when the boss said: 'Nacho, you come back to playing left-back,' I was ready to play. It wasn't starting from the bottom again. I felt strong, I was confident because I was playing.
"The rest of the season I played left-back, like I've played always, and it was a good season for me. Two seasons ago I didn't play, I didn't defend good." Monreal hasn't looked back since. Now, with his confidence regained and him enjoying the rhythm of playing regularly, the 29-year-old's wonderful start to the 2015/16 campaign has seen him become one of Arsenal's most indispensable players.
RECOMMENDED Modern football's most common formations: a rock, scissors, paper guide
Alexis aide
While Monreal's exertions at left-back haven't drawn the plaudits like Mesut Ozil, Santi Cazorla and Alexis Sanchez have, his role in the team has been every bit as important.
The balance he provides to Wenger's side is crucial: with the heavily attack-minded Hector Bellerin at right-back, who is constantly marauding upfield, Monreal's more stable positioning ensures Arsenal have some extra cover in case of a turnover.
By not being so aggressive in his forward forays, it means if a counter occurs, the Arsenal centre-backs can shuffle over and cover Bellerin, knowing Monreal is there to help Laurent Koscielny when he needs to shift across to where Per Mertesacker or Gabriel would usually be situated. Moreover, the platform he provides for his dynamic left winger ahead of him, Sanchez, is crucial. Monreal's astute positioning often ensures the Chilean star has the necessary freedom to wreak havoc in the final third.
Despite his team-first approach, Monreal does still add some attacking impetus, sensibly picking his moments when to motor upfield and join in attacks. Once in possession, the 29-year-old uses his slick one- and two-touch game to help knit Arsenal's moves together towards their more gifted offensive weapons.
In doing so, his understanding with former Malaga team-mate and good friend Cazorla has particularly shone through, with the pair combining beautifully when working in close proximity to one another.
Courtesy of Sanchez's tendency to drift infield, Monreal is also regularly afforded the chance to get up the touchline by using the space created by the Chilean dragging his full-back with him. From such locations, his underrated crossing game has meant he's created plenty of chances for the Gunners, and he's even supplied two assists this season as a result of his useful deliveries into the box.
Thou shalt not pass
Where the ex-Osasuna youth product really stands out, though, is in his defensive game. Having dealt with the likes of Moussa Sissoko, Gerard Deulofeu, Xherdan Shaqiri, Juan Mata, Wilfried Zaha and Thomas Muller, who he nullified marvelously in Arsenal's recent 2-0 win over Bayern Munich, it's clearly no fluke that more than often than not he wins his one-on-one battles.
RECOMMENDED How Aubameyang became Europe's most sought-after striker – and what's next
So much of his masterful defensive work can be put down to his ability to make good decisions. He doesn't do anything rash, instead preferring to play the percentages. He'll only dive into tackles if he knows he can win them, and won't take a risk on a 50-50 shot of winning the ball back.
In addition, when dealing with quicker players, Monreal prefers to play it safe and usher his opponents to the outside by cleverly positioning his body to block off the interior route. This tactic ensures he rarely gets beaten on the inside, which is often a cardinal sin for a full-back, and it's a key reason why he can comfortably handle adversaries who are much faster than him.
In duels both on the ground and in the air, Monreal competes tirelessly and never lets his opponent win an easy ball. Despite his relative lack of height against bigger strikers, the defender has used his strength and astute reading of play to impressively win three aerial duels per game this campaign. It complements nicely his 2.1 successfully completed tackles per game, 2.7 interceptions and 3.5 clearances.
Strikingly, for a player who's often engaged in one-on-one battles, Monreal averages fewer than one foul per game in the league, which is a real testament to his discipline, concentration and positioning.
Arsene's ace
Even though we're only 10 games into the new season, Monreal's tremendous start is epitomised by the fact he's played every minute of every Premier League game for the Gunners.
He won't mind not grabbing the headlines, but within Arsenal's inner sanctum his unheralded efforts most definitely haven't gone unnoticed – Wenger's decision to block Athletic Bilbao's advances in the summer proved what a vital component of the Frenchman's system he is. It's been an impressive rise to prominence for the man who not so long ago was on the outside looking in. These days, there are few more dependable left-backs in England, or Europe for that matter. Arsenal's Mr. Consistency is now that good.
RECOMMENDED Swansea vs Arsenal preview: Is it Implosion Time for the Gunners again already?
Quizzes, features and footballing fun
Get the best features, fun and footballing frolics straight to your inbox every week.
Thank you for signing up to Four Four Two. You will receive a verification email shortly.
There was a problem. Please refresh the page and try again.