Analysed: Why Liverpool boss Klopp prefers mobile Firmino to static Benteke
The Brazilian was labelled a "real centre-forward" by his manager on Sunday, pushing his ex-Aston Villa team-mate down the pecking order. Thore Haugstad considers why the Belgian is struggling for playing time...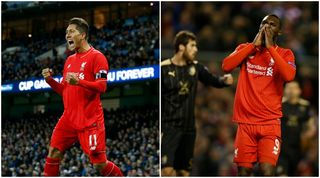 Jürgen Klopp may have a few problems at Anfield, but his selection of strikers isn't one. That was at least the stance offered after Sunday's 1-0 defeat to Manchester United, a game in which lone forward Roberto Firmino helped Liverpool play well to no avail. "Roberto Firmino again had a very good game," Klopp said. "He can play in this position, he is a real centre-forward. I don't know who you will compare him with, but we have no problem in this position."
The stats, however, suggest Liverpool do have issues. They have scored 17 times in 14 league games under Klopp and have managed a total of 25 goals this season, fewer than relegation-threatened Sunderland. They have unleashed the second-most shots – 365 – and created the second-most chances – 295 – but their chance conversion rate of 10.3% is the second lowest in the league.
No wonder Klopp is routinely quizzed about his frontmen. With Daniel Sturridge and Philippe Coutinho injured and Christian Benteke benched in the big games, the players who began the clash with United had struck just six league goals all season: Firmino has three in 19 league appearances, while Jordan Henderson, Emre Can, Adam Lallana and James Milner have three in a combined 65 league outings. "I think they're missing that fox in the box, that 20-goal-a-season man," the club's former midfielder Paul Ince said recently.
And yet Klopp has that supposed striker in Benteke, signed for £32.5m in summer. So why is he not playing?
Fast forward
The answer centres on a preference for mobility. At Borussia Dortmund, Klopp first had Lucas Barrios then Robert Lewandowski, who could make clever runs ahead of playmakers such as Shinji Kagawa, Mario Götze and Marco Reus. When Klopp lost Lewandowski, he opted for Pierre-Emerick Aubameyang, who upon his arrival in 2013 was reported to sprint faster than Usain Bolt.
That Klopp should want a quick forward at Liverpool is no surprise, but the use of Benteke has perhaps underlined the strength of the emphasis. Firmino is no perfect fit – the ideal would be a striker moving in behind the defence to a greater extent – but Klopp has apparently decided that some movement is better than nothing.
Results in the league so far support his view: some of Liverpool's finest displays have come with Firmino up top, such as the 3-1 win at Chelsea and the 4-1 triumph at Manchester City. The Brazilian links up play efficiently and facilitates intricate combinations in the final third; over the five league fixtures in which he has led the line, Liverpool have averaged two goals per game.
Creator in chief
In his first outing as a line leader, at Stamford Bridge, Firmino did not resemble a classic No.9. He received just one pass inside the box, improving Liverpool's fluency and setting up Coutinho's equaliser.
Perhaps his finest display came at City, where he troubled Martín Demichelis and Eliaquim Mangala with aggressive pressing, nimble movement and sharp runs in behind. His goal was assisted by Coutinho, with whom he enjoys an intuitive understanding.
The chances Liverpool created that day came from central positions, with counters and transitions at the heart of everything. City had not conceded four at home over 90 minutes since February 2003 – and it could have been even worse for Manuel Pellegrini's title chasers.
The two other goals scored by Firmino came against Arsenal, though his influence was more profound against United. He provided an outlet, overloaded the flanks and set up efforts for onrushing midfielders, creating five opportunities in total.
Static striker
This gives Firmino importance beyond goals, which is harder to say about Benteke. While the Belgian can hold the ball up and provide a formidable presence inside the box, he is not as adept at raising the game of those around him. Over the six league fixtures he has started under Klopp, Liverpool have averaged only 0.83 goals per game.
Much of the link-up play disappears with Benteke in the side. The Belgian has a decent touch, but his pass completion of 66.4% is the worst out of any outfield player at Liverpool, and far inferior to Firmino's 76.7%. Winning long balls is not always enough to boost the team, something that could be seen in the 2-0 defeat at Newcastle, where his accuracy left much to be desired.
On other occasions, Benteke has not seemed a natural fit. Against Swansea, for example, he received few deliveries from out wide and only managed only one effort on goal before coming off after 71 minutes.
To his credit, some of his substitute appearances have proved decisive. At Chelsea he won two headers that resulted in two goals, the latter converted by himself. The towering header against Southampton at Anfield exemplified his potential, and he also leapt off the bench to sink Leicester and help Joe Allen equalise against Arsenal.
Waiting for Sturridge
Yet even the nature of those moments could work against him. The involvements at Chelsea came from long balls, but Klopp does not like to play that way. And if Benteke works well as a sub, Klopp might just keep him as an impact player.
The Leicester game in particular showed how highly Klopp values mobility. It was Origi who started, and Liverpool found him with numerous early passes that caught the Foxes' backline off guard. "We needed his speed today," Klopp said. "Christian is a fast player, but Divock is a little bit more a player for these runs, these ways and what we needed behind the last line of the opponent."
This means the ideal striker would surely be Sturridge, whose only start under Klopp came at Southampton in the League Cup, where Liverpool won 6-1. This leaves Benteke in an unfortunate situation: Klopp recently said he has a future at the club, but when asked whether the striker was too static, he declined to comment.
On the evidence available so far, Klopp's calls have been understandable. Until other options arrive, Firmino seems the most natural fit.
RECOMMENDED
Quizzes, features and footballing fun
Get the best features, fun and footballing frolics straight to your inbox every week.
Thank you for signing up to Four Four Two. You will receive a verification email shortly.
There was a problem. Please refresh the page and try again.