Analysed: Why Pep got it right despite his Barcelona bashing
The 4-0 scoreline may suggest a thrashing, but Thore Haugstad explains why the Catalan's tactics were actually spot on at the Camp Nou on Wednesday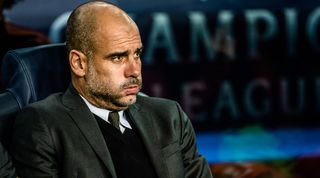 It got ugly towards the end. Error after error, misplaced passes ahoy and the MSN trident running circles around a disorganised backline. Parts of Manchester City's 4-0 defeat by Barcelona evoked the chastening visits to Catalonia under Manuel Pellegrini, as gaps opened up in midfield, Neymar terrorised Nicolas Otamendi and Lionel Messi hit a hat-trick. So chaotic did City appear that Pep Guardiola could well be labelled foolish and naive.
Yet what should not be forgotten is that City long stood up to Barça at the Camp Nou with an authority that few bar Atletico Madrid have rivalled in the Luis Enrique era. After 52 minutes, the game was balanced, the possession shared, the chance statistics comparable. The only goal to materialise owed much to an ill-timed Fernandinho slip. Then Claudio Bravo gave the ball to Luis Suarez, handled it outside the area and earned a dismissal that effectively ended the contest.
"Up to that point there aren't many regrets," said Guardiola. "We'd created enough chances and arrived at the byline many times. We played with huge personality and we did create two or three clear chances. We are a new club, getting to know each other in a process. My perception is that we did well, knowing where we've come from and who we are."
Pressing matters
The success Guardiola initially enjoyed came through a bold system. He benched a fit Sergio Aguero to add an extra midfielder, fielding Kevin De Bruyne up front with Raheem Sterling on the right wing and Nolito left. Just behind, David Silva, Ilkay Gundogan and Fernandinho were joined by Pablo Zabaleta whenever City had the ball. That meant City attacked with three at the back, three up front and four central midfielders, but when they defended, Zabaleta returned to right-back in a 4-1-4-1. With Pep, nothing's ever straightforward.
The key was the pressing. Not even a minute had passed before City stormed upfield to close down Marc-Andre ter Stegen, who would soon hoof two clearances across the touchline and hit several other long passes. City also made ominous tackles and interceptions inside the Barça half.
Guardiola's plan was similar to that used by Atletico. He pushed Silva up next to De Bruyne to press the centre-backs as the wingers marked the full-backs. That should have left Barça with three versus two in midfield, but when the ball was on the right, City's left winger (Nolito) would tuck in to mark the nearest central midfielder, leaving Barça's right-back free. The same happened on the other side, meaning City effectively used man-marking up front.
MSN disconnected
One potential drawback was that Barça's forward trio could run in behind the high backline, yet this threatened to happen only once when a long ball to Neymar was stopped by an outrushing Bravo. City largely managed to close down the central midfielders and stop forward passes and switches of play. This affected Sergio Busquets, who received 15 passes before Bravo's red card but sent only two forward successfully.
Guardiola probably knew it would be impossible to quieten Barça completely. Messi was elusive when emerging between the lines, even if he needed a slip to pounce on Andres Iniesta's flick for 1-0. Ivan Rakitic and Samuel Umtiti nearly headed in free-kicks; Suarez had a low finish saved.
Yet that was hardly the stuff of nightmares. Bravo only made one save before he saw red, at which point City had pressed so well that the MSN trio had completed just 23 passes between them: Messi had managed nine out of 19, Suarez eight out of 11 and Neymar six out of 10. This would have been abnormally low for Barça had it counted for the final third, let alone the whole pitch.
Wasteful visitors
City also troubled Barça. Much of the gameplan seemed to centre on Sterling. The winger received several diagonal passes on the right, which were meant to send him flying at Jordi Alba and later Lucas Digne, who replaced an injured Alba on 10 minutes. Already in the third minute, Aleksandar Kolarov's crossfield pass enabled Sterling to cross low for De Bruyne, only for Ter Stegen to intervene.
If Sterling didn't always manage to go past players, his wide positioning stretched the play for De Bruyne. The Belgian kept reaching the byline, particularly down the right, and it may be of regret to Guardiola that City did not capitalise on these situations: Nolito received one cross but failed to fire, while other deliveries were cleared or caught by Ter Stegen. Questions can be asked of the movement inside the box, where Nolito and Silva were supposed to run free; Aguero's presence could surely have made a difference here.
Further opportunities emerged. Gundogan glided past a hobbling Gerard Pique (who soon came off for Jeremy Mathieu) only to be denied by a stunning Ter Stegen save. An unmarked John Stones headed a Silva free-kick just wide. Still in the first half, a Sterling cross hit Digne's arm without prompting in a penalty. The deflection fell to De Bruyne, who nearly squeezed in an equaliser.
As such, on 52 minutes, it was 6-5 to Barça in attempts, 2-2 in attempts on target and 2-3 in corners. As for passes in the final third, Barça had attempted 45 and completed 22, whereas City had tried 55 and succeeded with 36. As far as competing at the Camp Nou goes, it was hardly a disaster.
Indeed, only then did calamity ensue. Bravo got dismissed, City switched to 4-4-1 and their attempts to outpass Barça backfired: De Bruyne lost the ball in midfield (2-0), Stones unwittingly released Suarez, who then found Messi (3-0). Though Mathieu was sent off, Barça still managed to miss a penalty and add a fourth. The scoreline looked bad, but it was Bravo's poor pass that had triggered the final scenes, not the tactics. On this occasion, and despite the result, Guardiola got it right.
Thank you for reading 5 articles this month* Join now for unlimited access
Enjoy your first month for just £1 / $1 / €1
*Read 5 free articles per month without a subscription
Join now for unlimited access
Try first month for just £1 / $1 / €1