The apathy and inevitability of Newcastle's relegation is the most damning thing about it
They've been here before, writes Neil Wood – but what has really changed?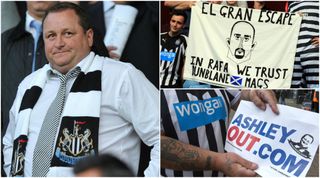 Just a few weeks ago, one football website compiled a Premier League 'Too Good To Go Down' XI based on statistics and data from Opta. It contained five Newcastle players: Rob Elliot, Daryl Janmaat, Georginio Wijnaldum, Ayoze Perez and Moussa Sissoko.
After the midweek Premier League results, however, it was confirmed that the Magpies will be playing their football in the Championship next season – a relegation three seasons in the making cemented.
You won't find any support of the 'too good to go down' notion on Tyneside, more an overwhelming sense of inevitability, acceptance and apathy in equal, familiar measure.
An inevitable calamity
Newcastle's toothless display at already-relegated Aston Villa last weekend highlighted their on-field problems this season, none more so than an elusive end product and that dismal away form.
Though it now looks like a win wouldn't have saved them from the drop in any case, the goalless draw at Villa Park – only their second point on the road in 2016 – simply wasn't enough.
Rivals Sunderland pulled off a spirited performance against Chelsea at the Stadium of Light, coming from behind twice to beat last season's champions 3-2 and leapfrog Newcastle out of the relegation zone.
The Magpies' fate was confirmed on Wednesday night with their rivals' 3-0 win at home to a troubled Everton team in managerial limbo and seemingly with scant motivation or intent.
Long gone are the days of Newcastle pitting themselves against the likes of Barcelona or Juventus, vying for breathing space amongst Europe's elite and offering fans little reason to believe they aren't dreaming a dream as audacious as a Philippe Albert lob.
Instead, in the nine years since Mike Ashley came to town, fans have already tasted relegation once amid a storm of PR calamities, appalling recruitment policies, trifling signs of ambition and the unwanted transition of a club that has seen St James' Park become draped in Sports Direct-sponsored sadness.
This season has provided nothing at all new for the Toon Army and lessons have still not been learned. Thus, the 'too good to go down' myth is an insult to the fans who turn up in scores to support every week regardless, for they know as well as anyone that Newcastle United deserve to be relegated from the Premier League this season.
Ashley not the only culprit
It's the latest episode that the Newcastle faithful, who have endured a rough few years with their club under Ashley's ownership, will have to take square on the chin.
Much has been made of the fans' perpetual discontent towards Ashley, but, let's be honest, not even the most black-and-white blooded of Geordies can really believe he's on a one-man mission to rain misery, committed to perturbing all who follow the Club.
Ill-prepared, ill-equipped, stubborn and alone in a world he doesn't understand: yes. Sadistic bringer of pain and serial bubble-burster: no. Well, not intentionally anyway.
But even as a grey cloud of apathy and numbness engulfs the fans' now-weather-worn feeling of Ashley-induced anger that once ruled supreme, it is the billionaire businessman and accidental anti-Christ's methods – nothing else – that are still at the root of the gloom.
As has been the case in the past, though, Ashley cannot be shot at for a lack of investment made this season. But an uncharacteristic near-£83 million spend – including a desperate attempt to plug holes in the January transfer window – saw cash rashly pumped into a faltering team.
All the while, of course, the glaring problems were ignored: namely the need for a defender and proven goalscorer that were staring the rest of Newcastle in the face.
If the Ashley era is anything to go by, it's not beyond the realms of possibility that these needs weren't even recognised in the first place, let alone addressed, and so Graham Carr – Ashley's man to oversee transfers and who has a chequered record at the very best – is hardly excused from criticism.
Bye-bye Benitez?
To further rub salt into wounds, Newcastle might yet have to part with just about their only ray of light in this torrid season in Rafael Benitez.
The man tasked with halting the capitulation has quickly become immensely popular for the way he has managed to breathe life into a squad that looked beyond hope under his ill-appointed predecessor Steve McClaren.
In the end, Rafa's appointment came too late to bear fruit and the Spaniard may well exercise the relegation break clause written into his three-year contract.
You have to go as far back as the late, great Sir Bobby Robson to find a manager that Newcastle fans have held in such esteem and, though Geordies won't blame Benitez if he does depart, they will retain a huge soft spot for the man that could have transformed Newcastle's fortunes.
Had Lee Charnley, Ashley's hand-picked decision-maker and managing director, admitted defeat earlier in his extended support of McClaren – a manager he tried to tempt to Tyneside as far back as January 2015 – then the current mood would surely have been one of excitement and not regret.
Ignoring the issues
All ifs and buts aside, the fact of the matter is that Newcastle must endure another relegation before the most fiscally poignant season in Premier League history, and there are no excuses.
The players have not performed again; the people at the top have not performed again; the problems and the need to address them have been consistently ignored again. The list is long.
But most worrying is that these faults aren't exclusive to the current season: they have become deeply ingrained, familiar traits of Newcastle United Football Club on the whole.
"I'm wedded to Newcastle, like Sports Direct. They've got me and I've got them," were Ashley's brazen words in a rare interview in March. If he intends to prolong this loveless marriage, then a compromise must be met.
And so, amid a wave of contemplation and hurt over the 'R' word on Tyneside, underpinned with that distressing layer of apathy and numbness, the demand from fan to owner is simple: wake up to your mistakes.
Quizzes, features and footballing fun
Get the best features, fun and footballing frolics straight to your inbox every week.
Thank you for signing up to Four Four Two. You will receive a verification email shortly.
There was a problem. Please refresh the page and try again.