Arsenal show newfound tactical flexibility and ruthlessness
Bobby Gardiner was at the Stadium of Light armed with our award-winning analysis tool Stats Zone as the Gunners impressed…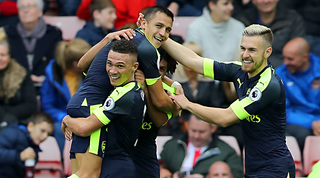 For a moment, it all seemed very typically 'Arsenal'. After dominating the first half against Sunderland and looking under no real threat at the beginning of the second, a questionable passage of defending from the Gooners ended with Petr Cech bringing Duncan Watmore down for a penalty, one that Jermain Defoe dutifully scored.
Given the events of seasons past, you could be forgiven for thinking the match had already ended, the next 35 minutes of the match bound to be a replay of the frustrating attempts from Arsenal to rescue the points that they deserved in a way we had all become accustomed to. Riddled with the stereotype of not having a Plan B, it seemed pre-destined.
It is a pervasive idea that carries not just into Arsenal's match performances, but in the perceived necessity of their recruitment as well. The time-old statement that the club have, in recent times, needed another striker is based as much on the need for a 'different option' or tactical alternative to Olivier Giroud as on his ability as a goal-scorer. The signing of Lucas Perez seemed to be Arsene Wenger admitting as much, with the Spanish forward coming from a Deportivo side with a very different tactical system, one that played the most long balls in La Liga last season.
And yet, just as quickly as the narrative turned sour on Arsenal, they completely flipped it on its head again. What's more, they did it with players that were all, bar Shkodran Mustafi, available to them last season, and their saviour was none other than the much maligned Giroud.
Bellerin, pseudo-winger
One of the most interesting tactical features of this Arsenal side is Hector Bellerin's dual role of full-back and pseudo-winger. Blessed with the pace of a sprinter, the Catalan born 21-year-old can both hold an exceptionally high position when Arsenal are in possession, and make the recovery runs to make sure his side of the pitch isn't a huge defensive weakness when they aren't.
It is a role most like that of Dani Alves at Barcelona in recent times, and so it is no surprise that Bellerin is constantly linked to a Cesc Fabregas-style return home. Luckily for Arsenal fans, Wenger has recently pledged to attempt to tie Bellerin down for more than the three years on his current deal, also adding that "I think in life you do not necessarily have to play where you were born. Modern life is not exactly like that."
Arsenal's first goal typified the benefits of Bellerin's role as an auxiliary winger. In a beautiful move that spanned 22 passes, a record high for a move that led to a goal in the Premier League this season, the Spaniard played 4 of them. His initially high and wide positioning allowed Alex Oxlade-Chamberlain to pry for an opening inside. After a patient reset of possession backwards, the pair swapped, giving Chamberlain the opportunity to beat his man and whip a dangerous cross in to Alexis Sanchez, who athletically pounced above Lamina Kone.
#safc 0-1 #Arsenal (via @StatsZonehttps://t.co/7D2swcFG8L): Lovely move for Sanchez's header: some 22 passes. pic.twitter.com/Wqr3P5WPKd
— Stats Zone (@StatsZone) October 29, 2016
Normally this season, Theo Walcott has been the beneficiary of Bellerin's ability to both support in attack and be competent defensively. Where Chamberlain played like a traditional winger against Sunderland before he was taken off in the second half, Walcott tends to be uninvolved in play, especially in build-up, before getting involved in the final phase. Iwobi, Walcott's complement on the left for most of this season, makes over twice as many passes per 90 as the Englishman.
This suits Walcott, and goes some way to explaining his fantastic form so far this season, having scored 5 in the Premier League and 3 in the Champions League already. Chamberlain put in a good performance against Sunderland, but is likely to drop back to the bench when Walcott returns from his apparently minor hamstring injury.
Giroud + Shape Change
Wenger sensed that a change was necessary immediately after the Sunderland goal, and moved quickly to bring Giroud on for Alex Iwobi. The Nigerian had been quiet compared to some of his other performances this season, but this wasn't necessarily down to a lack of involvement – despite going off in the 68th minute, Iwobi completed more passes in the attacking third, 19 out of an attempted 21 than anyone else in the match. Many of Iwobi's passes were played back inside so that Arsenal could switch the play to target Sunderland's weak left hand side.
Wenger has obviously seen something he likes on the Sunderland left. (@StatsZone) pic.twitter.com/uoHXTfW5NG
— Seb Stafford-Bloor (@SebSB) October 29, 2016
The accompanying change of shape, with Aaron Ramsey coming on for Chamberlain as Arsenal looked to centrally overload with their full-backs flanking high for width, proved too much for Sunderland to handle, and they duly cracked.
Growing optimism
The win took Arsenal top of the table, albeit possibly briefly depending on how Manchester City and Liverpool fare in their fixtures this weekend, and is another step forwards in a gradual tale of the ever-growing optimism from fans and neutrals alike about their chances this season. What will impress those who watched this early kick-off is the ruthlessness that the Gooners showed after Sunderland scored, and the tactical ingenuity from Wenger that enabled it.
Another factor will be that, somewhat scarily, Arsenal are still yet to assemble their strongest eleven. Santi Cazorla, Nacho Monreal, and Theo Walcott, all guaranteed starters, missed making the squad against Sunderland due to minor injuries, while Lucas Perez is reportedly out for another 6 weeks or so.
Whether this season will end up in the 'typical Arsenal' folder or not remains to be seen, but the chances of them defying conditioned pessimistic expectations continue to improve.
Thank you for reading 5 articles this month* Join now for unlimited access
Enjoy your first month for just £1 / $1 / €1
*Read 5 free articles per month without a subscription
Join now for unlimited access
Try first month for just £1 / $1 / €1