Bayern's statement of intent to dominate Germany and Europe
Signing seals domestic domination and targets continental control...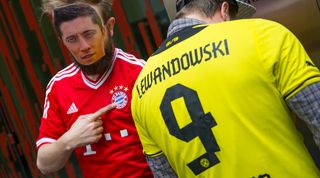 Few, aside perhaps from some over-confident Premier League suitors, were surprised when Bayern Munich announced on Friday that they would be signing another Borussia Dortmund star in the summer. Robert Lewandowski is the latest player to swap the Schwarzgelben (Black and Yellows) for the Roten (Reds) of Bavaria. Bayern continue to make the headlines even when the Bundesliga season is in its month-long pause mode.
Bayern chairman Karl-Heinz Rummenigge declared his club "very happy about completing the transfer", a phrase which speaks volumes. Completing is quite the word: Lewandowski has been linked with Bayern ever since the Champions League final last year – indeed, Arsene Wenger claimed that "he signed for Bayern one-and-a-half years ago, everybody knows that." (opens in new tab) Whatever the timing, the Pole has achieved his aim of joining the best team in the world – another unsurprising development considering the striker's habitual contractual itch.
Among the quotes of either delight or hopeless inevitability and the Photoshopped pictures of Lewandowski in Bayern colours, there were few choice words left. Munich-based daily Sueddeutsche Zeitung reminded us of Jupp Heynckes' quote after the Champions League final: "[Mario] Götze has already signed. I don't imagine Lewandowski will be far behind." And if Don Jupp says so, who are we to disagree?
The thing is, no one did. Not even Dortmund. Munich-based tabloid Abendzeitung quoted Dortmund chairman Hans-Joachim Watzke as saying "What Robert does is his choice. The most important thing for us is that he has always given 100% – and that he will continue to do so." BVB's sporting director Michael Zorc added that Lewandowski would be keen to "finish strongly."
This transfer stung far less than Götze's. The Dortmund board and fans might feel resigned to losing their players to Bayern, but the club are securing long-term stability. They have learnt from the financial misdemeanours that nearly sent the club under after winning the title in 2002. The whims of an individual, albeit an extremely talented one, are not being pampered to. This should not only be recognised but also celebrated, particularly considering Dortmund's excellent record at recovering after the departure of stars.
He's staying in the Bundesliga, so that's a consolation for fans of German football – but maybe not for Mario Mandzukic, whose future at Bayern was immediately cast in doubt. In his typically calm and convincing manner, Rummenigge ruled out the possibility of Mandzukic leaving: "It's not even a topic of discussion."
According to populist newspaper Bild, the Croatian striker is unmoved: "I'm not worried. I can't do anything about it. Bayern will always sign good players." It was a more perceptive and realistic reaction than that of his agent: "He can play with Lewandowski." Guardiola's system is largely designed with barely one striker, so the concept of two seems silly.
FEATURECould any Premier League boss tame Mandzukic? (opens in new tab)
Some argue that the arrival of Lewandowski is Guardiola's resurrected attempt of what failed with Zlatan Ibrahimovic at Barcelona. More likely, Guardiola wants more. Mario Mandzukic scores goals and has improved his defensive efforts to heroic heights, and would be an asset to the majority of top sides. But does he possess the type of quality capable of producing a striking masterclass of four goals at home against Real Madrid in a Champions League semi-final?
As he was at Dortmund, Lewandowski will become part of a system, albeit a different one. Both teams are fluid and rapid in transition from defence to attack, but he will not be under as much pressure to score the important goals. At Bayern, that responsibility is shared. Lewandowski's arrival simply means that Bayern can add to their already formidable attack one of the most complete, traditional strikers in Europe; another level of dependability.
Lewandowski doesn't track back as much as Mandzukic – perhaps the greatest reason he isn't considered a complete modern player – but his composure and ball-striking ability, particularly in pressure situations, are marvellous. His drag-back and top-corner finish against Madrid last season is one of the most technically complete individual goals ever in the Champions League: a split-second of devastating brilliance.
It is exactly for this reason that Bayern have signed him. Domestically, they are leaping and bounding away from even their closest rivals but in Europe's top footballing competition, funny things can happen: consider Arsenal and Manchester City both triumphing, albeit eventually pointlessly, in Munich during 2013.
In those rare moments, this Bayern side know they must take their chances if they are to cement their place in footballing history – quite clearly the club's mission. They banished 2012 with a stunning display of dominance last year. In the future, there will be no more missed chances. And Lewandowski will be a large reason why.
Thank you for reading 5 articles this month* Join now for unlimited access
Enjoy your first month for just £1 / $1 / €1
*Read 5 free articles per month without a subscription
Join now for unlimited access
Try first month for just £1 / $1 / €1
Get the FourFourTwo Newsletter
The best features, fun and footballing quizzes, straight to your inbox every week.