As Ted Lasso returns, here are the best fictional football teams ever
AFC Richmond are back in action as Ted Lasso makes its return to screens, but how do the Greyhounds compare to these classic fictional sides?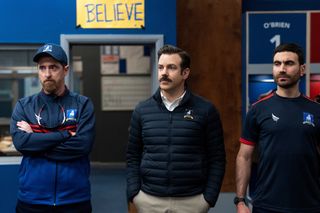 (Image credit: Apple TV)
AFC Richmond are back in action, as beloved football-based sitcom Ted Lasso returns to our screens.
Fans of the show will be excited to find out if the Greyhounds, who were relegated at the end of series two, can bounce back up to the Premier League. It won't be easy, especially after the loss of a key member of the coaching staff, but Jamie Tartt and his team-mates are looking like more of a team than ever.
We're nearing the end of the Richmond's story, however: the third season, running from March 15 on Apple+ (opens in new tab), will be the final series of the show.
So how do AFC Richmond compare to some of the classic fictional football teams that have come before them? From Coco United to Hounslow Harriers, we run the rule on the greatest teams from TV, film and fiction?
WHAT YOU NEED TO KNOW Ted Lasso series three: Start date, trailer, episode count and storyline released by Apple TV+
AFC Richmond (Ted Lasso)
Lasso's coaching mantra is built around the idea that heart, friendship and belief in oneself are the key ingredients to success. It's no surprise, therefore, that AFC Richmond are swiftly relegated from the Premier League.
There is a kernel of quality in his team, however, particularly when the phenomenal Jamie Tartt learns to bring the best out of his team-mates and Dani Rojas rediscovers his scoring boots. FFT is slightly concerned about the recent loss of Greyhounds coach Nate, who appeared to be the only person at the club with any tactical nous. Then again, who needs tactics when your manager has a moustache as thick as one of Jack Grealish's calves?
Leddersford Town (Striker!)
It's hard enough to manage a football team at the best of times. So you really have to feel for Steve Barnes, whose star player, Pat Duffy, has been murdered ("the gravest of crimes", according to author Steve Bruce) in cold blood on the changing room floor. What's more, Barnes has been framed for the murder.
In a plot that shares worrying similarities with The Fugitive, Barnes has to juggle managing Leddersford with clearing his own name - at one stage, fleeing from assailants through a drain before leaping into a reservoir (honestly, how was Bruce not sued for this?). Not even the millions of chairman Sir Lawrence could get a football team functioning under these conditions.
Coco United (Coco Pops Advert)
Trailing 10-0 at half-time in the Jungle World Cup, not even Rafa Benitez would take on the United job at this point. All hope seems to be lost for the home side, with visitors Amazon Rainforest running riot. That is, until Coco the monkey fills the cup (which only winners should be allowed to touch, technically), with Coco Pops and milk.
To hell with modern nutritional standards - that much milk actually is a good idea before another 45 minutes of action, apparently. The hippo playing centre-forward for United bags a late winner but Coco attributes his side's turnaround to his decision to "turn the milk really chocolatey". It's a shameful credit-grab that not even John Terry would get behind.
Wirral County (Mike Bassett: Manager)
In the follow-up to Mike Bassett: England Manager, Bassett has lost the England job after a "disastrous Euro qualifying campaign", suffered two relegations with Newcastle, and been sacked from Norwich and Colchester. Thankfully, he found a place at his boyhood team, League Two side Wirral County.
Own goals aplenty and transfer hijinks follow, with a not-so-fierce relegation battle not far behind, and though Wirral lose to local rivals Chester on the final day of the season, it's Mansfield who instead go down on goal difference. Sorry, Stags fans.
Melchester Rovers (Roy of the Rovers)
During Roy Race's initial 40-year stint at Melchester, they clinched an impressive nine league titles, eight FA Cups, three League Cups, three European Cups, one UEFA Cup, and four Cup Winners' Cups.
Like all clubs, they also had their tough times: Race was shot and fell into a coma in the early 1980s, eight players were killed in a terrorist attack in 1986 (Race escaped with a dislocated shoulder), and Race's career came to an end when he crashed a helicopter in the 1990s.
A hard reboot followed in 2018, with Melchester working their way up the EFL.
Allied Prisoners of War (Escape to Victory)
Predating FIFA Ultimate Team Icon Cards by a good 30 years, the side assembled for 1981's Escape to Victory included Pelé, Bobby Moore, a 28-year-old Ossie Ardiles and Mike Summerbee.
The plan to use a football match to stage an escape from a Nazi prisoner of war camp does seem, in retrospect, to rely on an uncharacteristically relaxed attitude to security on the part of the fascist guards – but we can't argue with what works.
The kit is an all-time classic, and the football scenes – Sylvester Stallone's goalkeeping apart – are more believable than most, thanks to some help from Ipswich players and a 'soccer play design' credit for Pelé. Even his overhead kick appears to be an honest-to-god, actual overhead kick caught on film.
Just don't talk to us about that disallowed goal.
Longmarsh Prisoners' XI (Mean Machine)
An adaptation of the 1974 American football film The Longest Yard, FourFourTwo readers might find this more familiar from Escape to Victory, with the important caveat that the heroes of this move do not, in fact, escape. But then again, the heroes in Escape to Victory don't actually win.
Vinnie Jones leads this ragtag bunch of loveable ne'er-do-wells to a win over their prison guards. While a number of the high-brow dramas mentioned on this list feature liberal use of slow-motion at the plot's denouement, this is surely the only one that affords that directorial flourish to a square ball.
Renford Rejects (Renford Rejects)
A mainstay of '90s Saturday morning children's entertainment, the Rejects were a five-a-side team comprised of philosophers, make-believe Italians, Hull City fans and talented women.
Initially called the Renford Rovers, an unpleasant name change was forced upon them after a rival player sabotaged their league registration form. We think that's how Arsenal got their name, too.
While on-pitch success was never the Rejects motivating factor, the same cannot be said for those who took up cameo roles. Jim Rosenthal and Bob Wilson made regular appearances, while the likes of Ian Rush, Gianfranco Zola, Martin Keown, Shaka Hislop, Roberto Di Matteo, John Terry, Kasey Keller, Harry Redknapp, Stan Bowles, and several members of England's 1966 World Cup-winning team also popped up.
Hounslow Harriers (Bend It Like Beckham)
West London's premier amateur women's side, Hounslow Harriers may take a liberal approach to player-coach romantic relationships – but you can't argue with results.
Disappointing performances in Europe aside, Jesminder, Jules, Joe and co. do at least lift the vaguely-named 'championship'. We're treated to close-ups of the Copa Mundials worn by Jules, suggesting that Keira Knightley's character is something of a no-nonsense hard nut, making her Ronaldo-esque stepover around the keeper to score in the final against QPR all the more impressive.
But it's the winning goal – Jess's slo-mo free-kick soundtracked to 'Nessun Dorma' – that really cements their place on this list.
Harchester United (Dream Team)
Using cutting-edge rotoscope technology (no, us neither), Sky One drama Dream Team merged their characters into real Premier League footage, giving it far better foobtballing scenes that many of its rivals.
The Dragons really had their ups and downs: they bravely fought off relegation, qualified for the Champions League, were actually relegated after a match-fixing scandal (playing in both Europe's elite club competition and the Championship simultaneously), won the FA Cup (with one player being shot by a sniper) and lifted the Premier League title. And that's not even half of it.
Off the pitch, things were no less dramatic. Harchester suffered various murders, a bus crash on the way to the UEFA Cup final, an arson attack and, on one occasion, the goalkeeper took the rest of the squad hostage.
Thank you for reading 5 articles this month* Join now for unlimited access
Enjoy your first month for just £1 / $1 / €1
*Read 5 free articles per month without a subscription
Join now for unlimited access
Try first month for just £1 / $1 / €1
Get FourFourTwo Newsletter
The best features, fun and footballing quizzes, straight to your inbox every week.
Conor Pope is the Online Editor of FourFourTwo, overseeing all digital content, and joined the team in February 2019. He plays football regularly, both on grass and artificial surfaces, and has a large, discerning and ever-growing collection of football shirts from around the world.
He supports Blackburn Rovers and holds a season ticket with south London non-league side Dulwich Hamlet. His main football passions include Tugay, the San Siro and only using a winter ball when it snows.