The big interview: William Gallas – "I never said I'd score an own goal on purpose. How can you say that?!"
Does he regret losing his cool at St Andrew's? How does he feel about Henry's handball? Did he really fall out with AVB at Spurs? Your questions answered in September 2017…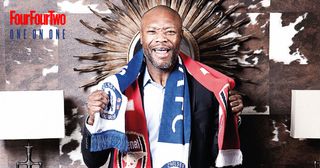 Not many foreign imports have shown such clear affection for the English capital as French defender William Gallas. The versatile stopper played in 319 Premier League matches over a dozen years in London with Chelsea, Arsenal and Tottenham. It's therefore fitting that our meeting with the 39-year-old begins in a black cab as he heads to the location of his photo shoot: Stamford Bridge, no less.
But even for this adopted Londoner, the jellied eels on offer were too much. "What is this?!" a squirming Gallas asks as FFT presents him with the eels. "I've never seen this before in my life..."
What he has seen is Premier League glory, World Cup final failure, dressing room bust-ups and lots of controversy....
What is it about London that you like so much? And what's the one thing about the city that annoys you most?
Natasha Hart, via Facebook
It's a cosmopolitan city. You can meet different people, experience different cultures and you feel you can speak to anyone in the street. For example, if you want to go somewhere and you're lost, people will stop and take time to show you the correct route. But at the same time, London has changed a lot. When I arrived in 2001 there was not much traffic and people were very patient on the road. But right now, people are not that patient in their cars any more.
Your cousin is the French rugby union player Mathieu Bastareaud. Did you ever play rugby? Did he play football? And if he and you had swapped sports, who do you think would fare better?
Alan Reeves, via Facebook
[Laughs] Me, playing rugby?! Look at my body, how could I play rugby? I would break my leg. I would be finished if I did that! You know, my cousin is the same height as me, 1.83m, but my weight is 82 kilos and his is almost 120! He's big, but he's still really fast. He is passionate about football, but I'm not too sure how good a player he is these days. I would say he would be better playing football than I would be playing rugby. If I ever played rugby, I'd just run away. I know the opposition would be able to catch me and put me on the floor very easily.
Your first goal for Marseille involved a run from the halfway line against Manchester United in the Champions League in 1999-2000. Did you used to fancy yourself as a forward back then?
Greg Harris, via Twitter
I started out as a striker when I was at Clairefontaine [France's national football academy]. But while the other players got scouted and signed by clubs after two years, I stayed for one more year in the academy as I wasn't performing well in attacking positions. My coach said: 'William, you're not that good as a striker, not that good as a winger and not that good as a midfielder. This year is your last season, so you have to play at the back.'
I remember this happened before a game with Paris Saint-Germain. I started playing right-back and I was good. And the next game was against Auxerre and I was pretty good again. My coach said, 'That is your position.' At the end of that season I received an invitation from Caen, then I went to play in their first team after a year. Two seasons later I went to Marseille.
How did Marcel Desailly and John Terry compare as central defensive partners when you were at Chelsea, and which one was your favourite?
Robert Barnes, London
I can't choose – both were world-class defenders. In around 1998 Marcel was the best defender in the world, while John had his best time maybe around 2006. I think Marcel was a teacher to John. When I joined Chelsea, Marcel said to me: 'William, we have a young boy here and he is really talented, he will be the future captain of England.'
I remember my first training session with them. Because everything was so new to me I was a bit intimidated, and when I saw John, I thought, 'Oh my God. He can play and give long passes with both of his feet – I can't do that.' And he was so strong as well. I thought it would be really difficult for me to get into the Chelsea first team. But I gave it my all every day and in the end I got to play in various positions across the back four, just like I had done with Marseille.
How much did Chelsea transform as a football club after the arrival of Roman Abramovich back in 2003?
Alberto Vega, via Twitter
It became more professional. The level of organisation increased a great deal. Abramovich started to invest a lot of money in players, but also other staff like coaches, doctors, physios and even a chef to make the food. He also moved the training ground from Harlington to a new one at Cobham. I once heard this story that before Abramovich came to Chelsea, he wasn't sure which club he wanted to invest in. I heard it was between Chelsea, Spurs and Liverpool. He decided to buy Chelsea when we beat Liverpool in our last match of the 2002-03 season, which meant that we finished in fourth spot and qualified for the Champions League at Liverpool's expense. Maybe otherwise he would have bought Liverpool.
As a chairman he is very passionate. When we won games, he would often come to the changing room and speak to some of the players. He was like, 'How are you? How do you feel? Are you OK? I've seen you receiving some kicks, do you think you will be all right to play in the next match?' He was really close to us all.
The 'ghost goal' at Anfield in 2005 – do you think the ball crossed the line?
Mark Smith, via Facebook
No, no – the ball did not pass the line. I'm sure, as I cleared it! I remember it vividly. It was disappointing, because our team was probably the strongest in Europe back in 2005 and if we had the opportunity to go to the final, we would have been champions. To win the Champions League was my dream.
Chelsea only conceded 15 goals on the way to the Premier League title in 2004-05. That's just crazy – how on earth did you all manage that?
Tony Valentine, via Facebook
It was unbelievable, but we were very strong defensively. Jose Mourinho was always focused on that side of things. Whenever we had a meeting with the players, he would say, 'I don't want my team to concede any goals.' What people have also got to understand is that we never had any fights with each other on the pitch. That was thanks to Jose. If something went wrong, he would say straight away. If one player didn't play well, he would tell him, 'I asked you to do this. Why didn't you do it?' That made it easy for everyone, as you focused on your own game.
Have you ever hit a ball as sweet as your last-minute stunner for Chelsea against Spurs in 2006?
Steve Lambert, Kent
No, that is definitely the best goal of my career. How could I score better than that? [Laughs] Even my son still shows me that goal. 'Do you realise what you did?' he asks me. 'Yes son I know,' I'll reply. He is still proud to watch that video.
Something people won't know is that the night before that game, I got maybe two or three hours sleep. I forgot the game was a lunchtime kick-off so I went to bed late. When they phoned me the next morning I said, 'I'm f**ked, I cannot play!' My mind was tired. When I was on the pitch I didn't think too much. Maybe that's why I scored that goal!
Why were you so adamant about leaving Chelsea, and how did the club respond?
'Razor', via Twitter
I left Chelsea for a few reasons. With the board, I wasn't able to reach an agreement about the extension of my contract. I felt that what I'd asked for was quite fair – it wasn't like I was demanding to be the best earner at the club. I still had one more year remaining on my contract and I said that we'd talk after I came back from the 2006 World Cup in Germany. After the tournament, where I reached the final with France, I went to Guadeloupe to see my family. When I arrived at the airport there, it was full of people. I was quite shocked. Every day people came to my house to ask for me photographs and autographs. I didn't expect that and at the end of my holiday I was really tired, so I asked Jose Mourinho if I could get a few more days off. But I think the club wanted me to go on their tour to the United States so they could say that they had a player from the World Cup final in their team.
In retrospect, I think that we didn't understand each other. It's a great pity, as we had the same common goal: to win trophies. But things got even worse for me when my No.13 shirt was given to [Michael] Ballack. I didn't expect that to happen and that was the moment I felt I couldn't stay at Chelsea any more. That number had meant a great deal to me. I'd chosen it because I didn't know in which defensive position I'd play, and I liked it because I'd been told it wasn't really a number that had been worn by an outfield player at Chelsea before me.
I didn't know anything about it being an unlucky number, but it suited me and it became an important number for me while I was with the club. It's a shame how we parted ways, because Jose Mourinho was the manager who gave me the opportunity to become one of the best defenders in the world.
Did you really threaten to score an own goal when you were leaving Chelsea? What did you think about that rumour and why do you think it surfaced? And did you ever speak to anyone at the club to complain about the story being published?
Tobi Wordsmith Osho, via Facebook
I never said I would score an own goal. How can you say that?! I think it's the most ridiculous thing I've ever heard. Maybe at this time the people at the club tried to find a way to blame me for what was happening, because all of the supporters wanted me to stay. If I play football, I play with my heart. I have always played at 100 per cent.
Did you have to move house when you joined Arsenal from Chelsea? I can't imagine you being keen on spending hours stuck on the M25!
Robin Durden, vai Facebook
In my first season at Arsenal I stayed in my house near Wimbledon. But that was indeed a long drive to the training ground – between 45 minutes and an hour. During that year my first son was born, so sometimes I didn't sleep very well. My body was tired and, around October, I got this groin problem which put me out for almost three months – maybe that was partly down to all the driving? Later, I moved nearer Hampstead, from where it only took me something like 25 to 30 minutes to get to training.
How did you feel about taking the No.10 shirt that Dennis Bergkamp used to wear? Why that number?
Jamie Berger, Luton
At Arsenal I wanted to wear the No.13, but it was already taken by Aleksandr Hleb. The No.3 was available – because Ashley Cole had just left – but I chose No.10. I saw it as a great opportunity as I'd already worn the same number earlier in my career, and my daughter had been born on November 10. At the same time it was good for Arsenal that I wore that number. If a young player is given the No.10 shirt, it'll be far too much pressure on his shoulders. But to me, it didn't make any difference at all.
Who'd you pick to win a fight between Wenger and Mourinho?
Pete Davies, Norwich
I don't know. I don't know exactly what happened between those two, but sometimes I think it is important to move on and forget about whatever happened in the past.
What was your favourite memory during your time with Arsenal?
Danny Smith, London
[Thinks long and hard] I would say that my best memory at Arsenal is actually my first game against Middlesbrough. Because I'd arrived from Chelsea, the supporters will normally boo you. But when I was out on the pitch during the warm-up, they all applauded me. That was really nice – I didn't expect that.
CLUBS
1995-97 Caen
1997-2001 Marseille
2001-06 Chelsea
2006-10 Arsenal
2010-13 Tottenham
2013-14 Perth Glory
What exactly was going through your mind that afternoon at Birmingham in 2008? Had Eduardo's terrible leg injury affected your state of mind? And do you regret losing your cool?
Ben Moss, Essex
I was too emotional. You always learn from your mistakes. Eduardo's injury wasn't part of that, it was just because we had dropped two points at the end of the match as we hadn't kept our focus. Sometimes you need to show that passion. You can't just keep saying, 'Oh well, don't worry.' But it didn't work and that's why we ended up in fourth place, as we weren't strong. But yeah, maybe I lost my head with what I did.
How did you feel when Wenger chose to take the captaincy away from you?
Aaron Lucas, via Facebook
I felt it wasn't very fair at the time, but in hindsight it was the best thing to do. Some people didn't want me to wear the armband anymore, so maybe the manager thought there was a bit too much pressure on my shoulders and I was being too passionate about my role as the captain. It happened after I'd given an interview in which my words about dressing room unrest got twisted, and I was portrayed as a bad captain.
Did Chelsea have something mentally that Arsenal didn't, in terms of being able to last the pace in the title race?
Greg Skinner, via Facebook
You need experienced players who have got the right personality. The average age of the Chelsea team I played in was higher than it was at Arsenal when I moved there. It makes a difference, and that's maybe still the case with the two clubs even now. The game isn't just about being able to play nice football, it's also about being prepared to fight.
Having moved from Chelsea to Arsenal and got a lot of stick, did you think twice before moving from Arsenal to Spurs in 2010?
Lee Matthews, Cambridge
No, not really. I could have gone to Paris Saint-Germain as well, but because of my family I didn't want to go to another country. After one year at Spurs I had a chance to go to Juventus but I chose to stay for my family once again. Another reason was that Spurs offered me a two-year contract extension after I'd initially signed there for just the one season.
William, your performance for Spurs at Arsenal in 2010-11 was incredible! That was your first match as Spurs' captain, too. Did it feel weird wearing the armband against a former club and your new north London rivals?
Ben King, via email
I knew it would be a difficult situation, both for the fans of Arsenal and for me as well, because I'd been the captain at Arsenal for 18 months. Before we went over to the Emirates, I remember that we all gathered for breakfast at White Hart Lane. When I arrived at the club, people showed me some newspapers, which claimed that an Arsenal player would refuse to shake my hand. Later on, Harry Redknapp came over to see me when we were getting ready in the dressing room and asked me about it.
I said that it was no problem for me, to which he replied, "You know what, I think we'll do something to make the game even more electric." I said, "What do you mean, Harry?" And he said, "You'll be my captain today." Everyone was very surprised when they saw I was the first to come out of the tunnel. But that game went very well [Spurs won 3-2] and I had a good display.
I got the feeling you weren't as happy during Andre Villas-Boas's time as Spurs boss than you were under Redknapp – was that the case?
Patrick Daniels, via Twitter
Yes. At the start everything was fine. I knew Andre from his first spell at Chelsea when he worked under Jose Mourinho as a scout. I picked up an injury near Christmas during that first season when Andre was at Tottenham. I went back to France to get some treatment, but when I came back to London something seemed to have changed. When I recovered he initially said it would be good for me to play in the FA Cup against Leeds, but later on he changed his mind. I had a meeting with him where he told me his decision. I still assumed that I would travel with the squad to Leeds, but just when I was ready to go, I thought, 'Hold on William, just check the squad list, as you never know.' And my name wasn't even there!
I realised I was lucky I didn't get on the team bus, as that would have been so embarrassing. Andre hadn't told me. In one of our meetings he said he needed me in the second half of the season, but from then onwards I more or less only played in Europa League games. Maybe he thought I was too old – and I would have understood it – but I didn't get an explanation. So that made me pretty unhappy. In football, I like a manager who is honest with his players. All of this doesn't mean Villas-Boas is not an honest manager, of course, but in that moment he was not honest with me.
Be honest, William. Which club did you prefer: Chelsea, Arsenal or Spurs?
Georges Lefurgey, via emailI liked all three, but maybe Chelsea was the most special time for me. It was my first club abroad and I had a great time there, winning a few trophies as well. And it was there that I first started my international career as well. When you are playing for a big club you expect to lift trophies. When I won the Premier League with Chelsea I felt like the King of England [Laughs]. You want to keep experiencing that joy again and again.
Did you ever consider joining West Ham so that you could have played for all of the major London clubs?
Arthur Griffiths, via Twitter
I think my agent actually did talk with them, but I am not 100 per cent sure. What I clearly recall, though, is that I had a meeting with Crystal Palace in the summer of 2013. Ian Holloway was the manager at the time and we met at the training ground to discuss a deal, but it didn't come off in the end. During the same summer, I tried to go back to Marseille, to offer them my experience, but they didn't offer me a deal despite me saying that I would halve my salary. I also spoke to Claudio Ranieri, who was the manager of Monaco. He seemed to be happy to sign me but later explained that the board had ruled it out. In the end I signed for Perth Glory in Australia.
How would you describe your first season in Australia with Perth Glory? I seem to remember one particularly bad moment that you had in a match with the Western Sydney Wanderers…
Roger Sadler, via Facebook
That was one of the biggest mistakes in my whole career! I tried to kick the ball, I missed it with my right foot, but then accidentally kicked it with my left. It was embarrassing [Laughs]. My son will always ask me, 'Dad, what is this?!' And I have to laugh about it. But yeah, it can happen. It happened only once in my career. Other than that moment, though, my time there was a fantastic experience. The culture was amazing, I really liked the relaxed atmosphere.
Would you compare N'Golo Kante to Claude Makelele? Can he get to the same level? Or is he already there?
EddieazzarCFC, via Twitter
They are a bit similar. In this new 3-4-3 system that Chelsea are playing, Kante can get further forward than Makelele ever did, but he will still run everywhere! He's not too far off the level of Claude. He will eventually get there with age, if he has more experience. How can he improve? Perhaps with his positioning.
COUNTRY
2002-10 France (84 caps, 5 goals)
Did you know that Thierry Henry had handled the ball to set up your goal against Ireland and send France to the 2010 World Cup? Did you care? And did Thierry say anything after?
Shane Beirne, via Facebook
I didn't see it, because there were a lot of players in front of me. I just saw the ball, which came in my direction, and I tried to get my head onto it, although I scored with my shoulder. When I got back inside the dressing room, I heard that Thierry Henry had handled the ball. He didn't comment on it further, and personally I didn't feel ashamed about it. I don't think Ireland would've been had it happened the other way around. A few months before the game, Ireland had been awarded a very soft penalty which helped them get a goal [during a match against Georgia in February 2009]. And another example would be Luis Suarez – do you think that he felt ashamed when he did that handball against Ghana in the 2010 World Cup quarter-finals? That was on purpose.
What went wrong for France at the 2010 World Cup? What did you think of Raymond Domenech?
Yannick Borde, via Facebook
That tournament still hurts us. The relationship between the coach and that team was not very good. It was a building up of tensions, and then it exploded when Nicolas Anelka was sent home and the squad went on strike. It was a really tough time for everyone involved in French football.
How are you finding being a pundit for French television? Is that what you'll do for the rest of your working life, or do you think you might want to become a manager in the future?
Luc Gagnon, via Twitter
I don't really want to be a manager, but maybe at some stage I would like to be a defensive coach. When young players are brought into the first team, they will often still have to improve elements of their game. But some managers don't have the time to tell them about specific things they need to do to defend better.
When I watch a match I sometimes see defenders who just don't know how to defend properly. I'm not sure that they get taught the right way when they are young. It would be nice to do that. I'm getting more used to the punditry now – I like it. I'm always trying to come up with constructive criticism. I'll indicate how a player can do something a little differently, but naturally I'm a bit shy.

This feature originally appeared in the September 2017 issue of FourFourTwo. Subscribe!
Thank you for reading 5 articles this month* Join now for unlimited access
Enjoy your first month for just £1 / $1 / €1
*Read 5 free articles per month without a subscription
Join now for unlimited access
Try first month for just £1 / $1 / €1