The bitter battle for Welsh supremacy: Swansea vs Cardiff
By Andy Mitten published
In 2009, Andy Mitten was on the frontline for a long-awaited South Wales Derby...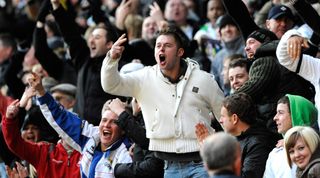 It's a beautiful afternoon in South Wales as the sun dips behind the silhouette of the vast Port Talbot steelworks. On the nearby M4 motorway, a scruffy flag hanging from a bridge distracts motorists. "CCFC Port Talbot Bluebirds," 
it reads. The flag's owners wait for the 
approaching convoy of 30 coaches carrying the entire Cardiff City support to Swansea.
Motorway junctions are closed as the 
procession, flanked by 25 police vehicles and 
a helicopter, moves west on its 40-mile journey. When it passes under the flag, the waiting 
supporters pat their hands on their head and "do the Ayatollah" – a surreal action popular since 1990 when introduced by a Welsh language punk group, inspired by images of former Iran leader Ayatollah Khomeini's funeral a year earlier.
As the coaches arrive at Swansea's new Liberty Stadium, FourFourTwo is granted permission by police to watch them herded into a grim steel pen adjacent to the away turnstiles. Many of the travellers are in a state of foaming 
hysteria. One opens the coach skylight and spews "You Jack b****rds!" – the first in a barrage of verbal fire, which concludes "get back in your f***ing caravan. Swansea's a s***hole."
Indeed, despite the stunning coastline outside the city that stretches towards the Mumbles lighthouse and the Gower Peninsula, Swansea doesn't exactly rival fellow port cities like Sydney or San Francisco for aesthetics. Even its most famous son Dylan Thomas described it as an "ugly, lovely town", while the black comedy Twin Town went for "pretty shitty city".
"It has always been the second city of Wales," explains Chris Wathan of The Western Mail. "The people have watched money pumped into a rejuvenated Cardiff for new projects like the Millennium Stadium and the Welsh Assembly, and they don't like it."
"Swansea hate Cardiff with a passion I couldn't begin to explain," agrees Tony Rivers, co-author of Soul Crew, Cardiff's hooligan tome. "The feeling is mutual but not as deep: they really do seem to despise us more than we despise them.
"Perhaps there's more to it than football, with Cardiff being named the official capital of Wales in 1955 [Swansea was only granted city status in 1969] and Swansea feeling that they'd been relegated to the status of a second-class city... the poor relation of Wales."
Twenty metres away, behind a 120-strong police barricade, the so-called poor relations vent their hatred by hurling invective and doing their finest Michael Phelps 
impersonations. "Swim away" they sing, in reference to a locally famous 1988 event when Swansea fans chased Cardiff fans into the sea after a game. The numbers vary dramatically according to which side you ask, but the South Wales Evening Post reported: "50 Swansea fans chased 30 Cardiff supporters onto the beach near County Hall and into the sea."
"They were up to their chests in water," observed one eyewitness. "It was quite comical to watch. Eventually the police managed to get the Swans fans away and the Cardiff fans out of the sea looking like drowned rats."
As rival fans continue to swap 
unpleasantries outside the Liberty, the 
significant police presence ensures Cardiff's travelling contingent enter the North Stand without complication. Part one of the 
operation has been a success.
Bigger than North London, Sheffield and Tyne-Wear
Given their cities' battle for political and economic supremacy in South Wales, it's natural that the country's two biggest 
football clubs should also be great rivals. Perhaps more surprising is that in a 2008 study commissioned by the New Football Pools, the battle between the Bluebirds and the Swans was seen as bigger than Tottenham versus Arsenal, the Sheffield derby, Aston Villa versus Birmingham and even 
Newcastle against Sunderland.
The survey result becomes even more pronounced when you consider the teams' respective yo-yo histories up and down the leagues, which ensured they avoided each other in league competition for long periods. The first Football League clash came in the old Division Two in 1929 – two years after Cardiff lifted the FA Cup, the only major honour either club has won [at the time of writing] – and from 1931 to 1950, and 1965 to 1980, Cardiff and Swansea only met in Welsh Cup games 
and 'friendlies'.
When the clubs did clash, the rivalry was intensified, and in recent decades that has manifested itself in one area in particular: hooliganism. A dart was thrown at 
a policeman's head during a Welsh Cup 
final in the early 1980s, and in 1993, what became known as 'The Battle of Ninian Park' saw pitch invasions, seats thrown and multiple arrests.
Such scenes became familiar, and the game was the first in Britain to see away fans banned as police sought to prevent both cities becoming virtual war zones by keeping rival firms of marauding young men apart. For an element of surprise, Swansea's hooligans even travelled in several stretch limousines to one game in Cardiff, before eventually being rumbled by police. Such was the likelihood of trouble, both teams were frequently told to run 
immediately back to the sanctuary of the dressing rooms at the final whistle.
Despite not clashing since 1999, the 
hooligan book Swansea Jacks (legend is that a dog called Jack saved several sailors from drowning in Swansea) is full of cloak and dagger stories of the two sets of hooligans fighting throughout the decades, even when they've both been away watching the Wales national side. Italian police were baffled as they escorted hooligans from both clubs into the cells before a 2003 European Championship qualifying game.
Even the derby-starved players have been caught up the simmering rivalry. After their 2006 success in the Football League Trophy at Cardiff's Millennium Stadium, Swansea players Lee Trundle and Alan Tate carried a Wales flag daubed with 'F*** off Cardiff'. Fans' hero Trundle also wore 
a t-shirt depicting a Swansea supporter urinating on a Cardiff shirt.
Ironically, having not come face to face for nearly a decade, the two teams have been drawn together in the Carling Cup ahead of their two Championship games this season. That absence has made the hatred grow stronger, as becomes apparent inside the Liberty Stadium. It's a clean black-and-white bowl of 20,500 seats, which Swansea have shared with the Ospreys rugby club since 2005. An unquestionable success, the Liberty contrasts sharply with their old, cramped, characterful Vetch Field home, a mish-mash of uneasily juxtaposed stands which have sat rusting away by the prison since the Swans left.
Cardiff, meanwhile, will be hoping that their new 26,500 stadium, which they move into at the start of next season, will have 
a similar effect, boosting attendances in their push to reach the pinnacle.
Rivals for promotion to the Premier
Both cities have the population to support a top-flight club and both clubs have slick off-field operations (Cardiff's headed by Peter Ridsdale, who is much more popular than he was at Leeds). They've also made considerable efforts to curb the hooligan problems for which they long endured an uneasy reputation. The problem is, Cardiff and Swansea really do loathe each other.
"In your Swansea slums," sing the restricted away following of 1,457 fans, who are surrounded by a buffer zone of 2,500 empty seats which the limit crowd to 17,411. "You look in the dustbins for something to eat, you find a dead rat and you think it's 
a treat…" Swans fans repeat the song, replacing the word 'Swansea' with 'Cardiff'.
The invective flies back and forward, the Swansea fans closest to the away end the loudest. The Liberty is gloriously 
cacophonous. A Union flag emblazoned with 'WALES' is met by a cry of "stick your Union Jack up your arse". Welsh flags old and new proliferate, with Swansea's rendition of Land Of Our Fathers as passionate as any heard at a rugby international.
The Swansea players, resplendent in all white, huddle before kick-off. "Roberto Martinez's black and white army," booms from the stands, a Spanish flag with a Swan on it a nod to the club's Iberian influence. Not that you see many Spanish flags in Catalonia, birthplace of the Swans gaffer.
The game starts with a flurry of aggression. One of the few Welsh players on show, Cardiff's Joe Ledley, receives a yellow card after six minutes. At a later corner, the 
raffish Ledley whips up the away fans by patting his hands on his head 'to do the Ayatollah'. But it's not to be Cardiff's night as captain Stephen McPhail is harshly dismissed after winning the ball in a challenge. The walk off the pitch is long and uncomfortable for the former Leeds man, against a backdrop of 10,000 people singing 'swim away'.
Swansea grab the game's only goal in the 57th minute, another Catalonian, Jordi Gomez, scoring via a deflection off Gavin Rae. At the final whistle, you could hear the cheers in the 
valleys. The Cardiff fans generously applaud their vanquished heroes, before despondency kicks in and turns to aggression. Three hundred Bluebirds try to attack the Swansea fans, their efforts sustained for 20 minutes, with crush barriers hurled at stewards and some troublemakers breaking through. The vast majority of supporters show their abhorrence of this violence, and there are many concerned faces as the 
perpetrators surge forward en masse, but the massive security presence holds firm.
FourFourTwo is introduced to a showered and besuited Gomez after the game before he returns to his rented flat on Swansea's redeveloped marina. Swans want to hug and offer him wine and women (their wives) in appreciation and, while he's polite enough, the significance of scoring the only goal against your local rivals is wasted on the Spaniard.
The same would not hold true had Kris O'Leary, Swansea's 
longest-serving player, scored the goal. "I was gutted not to play last night but the next best thing is being a fan and I loved it," he says.
Hailing from Port Talbot, O'Leary – who signed as an apprentice in 1994 – feels the rivalry more acutely than most. "There's a 50-50 split between Swansea and Cardiff in Port Talbot," he says, "though you'll find big shifts according to age and whether the teams were successful when they were kids. I get a lot of stick from Cardiff fans. They call me a 'Jack b****rd' all the time in the street. It's good-natured, but it's not 
a good idea to go out in Cardiff with a Swansea accent. The only time I go out there are with the Welsh rugby players who are big enough to look after everyone."
He's enjoyed the recent upsurge in Swansea's fortunes, though he hasn't 
forgotten how bad things were. "I played for Swansea when we were in the sh*t, in front of 2,000 at the Vetch. Now we can take that many away.
"In 2001, the club was falling apart. All the players were either asked to take a big wage cut or they had their contracts terminated. They tried to cut my money by 60%.
"Another time, I got a phone call on Christmas Eve to say that we wouldn't be getting paid. I had a young family to support so it was difficult. We were told that 
a takeover deal had collapsed. I was due to sign for a house the next day. Then there was 2003, when we came within a game of being relegated from the Football League."
Cardiff, too, flirted with oblivion not so long ago, finishing 89th in the Football League in 1996; 13 years ago, but a world away. "It's good we're playing each other when both are close to the Premier League," says O'Leary. "There's a confidence about both cities. New bars have opened when in the past pubs were dives with pint glasses being thrown about. With the rugby going well too, things look good for Wales."
Eggs and chasers
Not every Welshman likes rugby. Two months later FourFourTwo is out in Cardiff on a Saturday night with the Soul Crew lads. Tomorrow morning they will travel to Swansea for a league game, but tonight their frustration isn't with Swansea, but rugby.
Wales have just beaten Australia and Cardiff's slick city centre is packed with jubilant, drunk, rugby fans. Favoured haunts are approached, but dismissed upon arrival because they are full of "egg". Or "peanut huggers". Another is off limits because it's full of "posh egg" – the Tafia, the Welsh establishment of professional classes.
"Cardiff's a football city," says Dave Jones, co-author of Soul Crew. "Always has been, always will be, despite what the media say. More people play and watch it than rugby."
After three hours' sleep, Jones is up and excited for Swansea away. The lads have arranged to meet at the Tuck In cafe close to Ninian Park. It's still dark when they walk in, but the greasy spoon is full of ageing hooligans feasting on cooked breakfasts. There's not a spare table and just one fan is wearing colours. He looks out of place among this band of diehards waiting to go into battle against the old foe.
"Too old for all this," mutters one. Many, including Jones, are in their forties. Most have had little sleep; others haven't been to bed and are on the comedown from their Saturday night excesses.
"See him over there?" asks Jones, pointing to a lad in a chequered shirt stuffing toast into his mouth. "He's called Rent-a-Riot." Other conversations focus on ecstasy, women, casual clothes… and philosophy.
Yet despite the infamous reputation of the Soul Crew, most of the lads know that the police operation today will be so 
sophisticated that there's unlikely to be 
trouble. As with the game in September, every Cardiff fan has to travel on a police-escorted coach from Ninian Park. This means one fan has had to come from Neath, five miles from Swansea, and stay overnight in Cardiff to make the 7.30am meet. Another has come from Holyhead, five hours to the north in Anglesey.
Thirty coaches are waiting in the shadow of Cardiff's new stadium, across the road from their soon-to-be-old Ninian Park home. The police are also waiting and they know all the Soul Crew faces.
The operation replicates September's, though more Cardiff fans have gathered on the bridges above the M4. As the coaches pass underneath, the fans do the Ayatollah. Even 30 miles from Cardiff and far closer to Swansea, it's all Cardiff fans. The same tatty flag is flying by the motorway in O'Leary's Port Talbot, while further down the M4 
a new flag says, 'Welcome to Swansea City – the capital of Welsh football.'
The clubs may currently be neck and 
neck in the Championship table, but this particular boast is a bit rich given the recent past. "Swansea has fallen back in love with its football club again, no question," says 
journalist Chris Wathan. "But Cardiff haven't needed to shout about their status in the last nine years because the league tables have done the talking, including one pivotal moment when it looked like they were going to drop out of the League as Cardiff were going for promotion to the second tier."
Inside the Liberty it's clear that the two sides are pretty evenly matched these days. Again, there is no shortage of aggression and while Swansea take the lead after 19 minutes, Cardiff score either side of the break, the first from Ledley who, for 
a change, does the Ayatollah in front of the 1,630 away fans. They all follow suit.
Implausibly, Cardiff captain McPhail is sent off again and substitute Gorka Pintado salvages a point for Swansea.
"Stevie Mac probably cost me three points," says the solemn-faced Dave Jones after the game, before commenting 
trenchantly on the criticism both he and his players have received from the media before the game. "Some of you have written that me and my players don't know what a derby means," Jones says to the dozen or so local journalists. "You have to play the game and not the occasion. Look at my record and derby games that I've played in. We know exactly what it means. Managers have to be calm and not get involved in the occasion.
"I didn't enjoy playing in derbies because nobody wanted to make a mistake. The games could become dull because you don't want to try and take advantage. And I don't enjoying managing them either. In Liverpool you kept your head down and didn't go into town for a few weeks. Not that I've got any plans to go into Swansea at night…"
As of next season, Jones will be hoping he won't have to visit enemy territory 
during the day, either. The two sides contest Ninian Park's last-ever derby this month. 
A win and promotion to the Premier League for either side and there will be little doubt over whether Cardiff or Swansea is the 'Capital of Welsh Football'.
Thank you for reading 5 articles this month* Join now for unlimited access
Enjoy your first month for just £1 / $1 / €1
*Read 5 free articles per month without a subscription
Join now for unlimited access
Try first month for just £1 / $1 / €1
Andy Mitten is Editor at Large of FourFourTwo, interviewing the likes of Lionel Messi, Eric Cantona, Sir Alex Ferguson and Diego Maradona for the magazine. He also founded and is editor of United We Stand, the Manchester United fanzine, and contributes to a number of publications, including GQ, the BBC and The Athletic.
Quizzes, features and footballing fun
Get the best features, fun and footballing frolics straight to your inbox every week.
Thank you for signing up to Four Four Two. You will receive a verification email shortly.
There was a problem. Please refresh the page and try again.