Chris Waddle: One-on-One
"I worked in a sausage factory, so if I was playing badly I was having a 'Banger' or if I was playing well, I was 'Sizzling'..."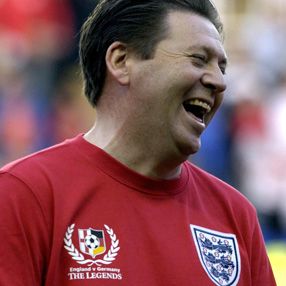 "I once had a penalty shootout with Rudi Voller to decide who had the best mullet," proclaims Chris Waddle proudly. "I won and was awarded Mullet of the Year." For a player who won a hat-trick of league titles in France with Marseille and was voted Footballer of the Year while with Sheffield Wednesday in 1993, this barnet-related victory seems to draw a disproportionate amount of joy. This may, of course, be because the success vindicated the twin infamies of his career; namely ?haircuts and penalties. Plus it involved a shootout victory against a German.
This is just one of the stories the former England winger, who won 62 caps, is keen to recount while relaxing in a swanky London club where he's agreed to meet FourFourTwo. The player turned pundit, known now for his no-nonsense views – he famously dubbed England "a quarter-final team" – is in forthright mood. Honesty that is spurred on by the sight of a copy of a previous 'One-on-One' with Glenn Hoddle, which he flicks through before announcing: "Mine's got to be better than that."
He spends the next 40 minutes fielding questions on England, past and present, Diamond Lights and sausages. Whether he manages to better his former team-mate and vocal partner is for you to decide...

Is it true you learnt to dribble while playing 40-a-side games?
Paddy Hughes, Durham
Yeah, nobody really had matching kit so if you didn't show you didn't get a pass. But it wasn't just kids, everyone from age six to 26 would be playing. As an eight-year-old, I would often nutmeg the older guys. I took a few good kickings for that.

Having worked at a sausage factory before signing for Newcastle, what in your professional opinion is the best snag – Cumberland, Lincolnshire, bratwurst? And just how wrong are vegetarian sausages?
Peter Strauss, Kings Lynn
I couldn't tell you as I never made sausages, just the seasoning. The press said I worked in a sausage factory for the headline writers. So if I was playing badly I was having a 'Banger' or if I was playing well, I was 'Sizzling'. As for vegetarian sausages, I think they're a complete waste of time.

As a lifelong Mackem, how difficult was it to sign for Newcastle? How did the fans take to you? And did you really have an agreement in your contract that you didn't have to play against Sunderland?
Barry McManus, via e-mail
It wasn't a problem at all. I actually had a two-week trial with Sunderland before signing for Newcastle but they didn't fancy me. That wasn't the annoying part though. What was annoying was that I could only take two weeks' holiday from the sausage-seasoning factory and both weeks were used up by that trial. So when Newcastle offered me a trial a week later, I couldn't take it. In the end, Newcastle said they'd wait until my contract finished at Tow Law [the amateur club he was playing for at the time] before signing me. As for an agreement in my contract not to play against Sunderland – what a load of rubbish. We played Sunderland twice in my five years at Newcastle and both times I was injured. That's it.
You went from non-league football to playing alongside England internationals Kevin Keegan and Peter Beardsley. How difficult was that to adjust to?
Simon Fullwood, Hackney
When Kevin joined we went from crowds of 20,000 to 35,000, hundreds of people would turn up to watch us train and we became the big scalp in the league. I went from a team with no expectations to a team looking to win the Division One title. Also, Kevin was an England international so I was in awe of him. I found it really difficult at first. After three months, there was talk of me going to Brighton but I told the manager, Arthur Cox, that I wanted to fight for my place. He told me that I was as good as these and that I didn't have anything to be nervous about. So I started to play without fear and things got easier.

Like Gazza later on, were you distracted at all by the bright lights of London when you first joined Spurs?
Iain Middleton, Plymouth
I lived out in Hertfordshire, the only time I went into London was for the Christmas party. So it wasn't a problem. Overall I didn't like it, I prefer local pubs.

I'm sure you set up over half of Clive Allen's 49 goals in 1987. Did you ask for half of his goal bonuses? I would have!
Tomasso Alessandro, via e-mail
It would have been the hardest job in the world to get any money out of Clive. Looking back, getting 49 goals was unbelievable but he should have got more! He missed a load of chances that season. If he got 69 no one would have complained.

Hoddle, Waddle, Gascoigne: who was the most skilful?
Sunil Bagha, Chatham
Well I'd definitely say Hoddle and Waddle were the better singers. As for skill, it's difficult to compare because we were different types of players. I ran with the ball more than the other two, Glenn was a quarterback and Gazza was an all-rounder. What I do know is that if you put those three together, you'd have a great team.

Glenn Hoddle said in his recent interview with FFT that he was a natural on Top of the Pops and you were petrified. What do you say about that? He also said you were scruffier than him. Do you agree?
Geoff Boswell, Surrey
He was the one that was petrified, I carried him that night. I remember we got introduced as the new Wham! by Gary Davies, which we weren't happy about. We made a great team though, he did all the 'ahhhhs' and I did all the 'oooohs'. To be on Top of the Pops was a massive achievement, like playing at Wembley. As for me being scruffier than him; I'll give him that one!

What were your reasons for leaving Spurs for Marseille? When you joined, you became the third most expensive player of all time – was this a burden or an ego boost?
Tom Bradley, Liverpool
It took me three months to get used to the language, the heat, the fitness. All this time, I was under scrutiny because of the price tag – the third most expensive player of all time is expected to perform. It all changed when I scored a goal against Paris Saint Germain where I lifted it over the keeper's head and back-heeled it into the net. Suddenly everything kicked into gear and the next three years were like playing in Fantasy Island and I was Tattoo [pint-sized character from the '70s show].

At Marseille, you were vying for a spot in the team with a young Eric Cantona. Did you ever have any run-ins with him?
Ben Atherton, Bolton
Eric used to come into training every day on a Harley-Davidson but otherwise he was a quiet lad. I'd heard stories about him where he'd flown off the handle, but I got on well with him. We actually went out for dinner and a beer a couple of times.

Your Marseille team-mate Jean-Pierre Papin was voted European Footballer of the Year in 1991, but I gather you set up the majority of his goals. How miffed were you not to even make the top three?
Jack Barker, Portsmouth
Before the European Cup final when we lost to Red Star Belgrade, I got told by a lot of French journalists that if we won the game, I'd win the European Footballer of the Year. But we lost and it went to Jean-Pierre. I was glad for him though; he was a great goalscorer and helped me a lot when I first joined the club.

After a less than comfortable experience with Diamond Lights, why oh why did you go back for more pop action with Basile Boli in We've Got a Feeling? Also what the hell was that video all about? It's one of the best/worst pop videos I've ever seen…
Daniel Vitto, Turin
Err, money. Next question. [FFT: The video?] I had to play an English gent, wear a bowler hat and twirl an umbrella around. Basically, I had to make a tit of myself. It did get to number one in Albania though. Unfortunately, the video's recently been posted on YouTube, so it's been re-born. I just hope it doesn't get re-released!

What kind of reception do you get when you go back to Marseille? Oh, and how's your French?
Ryan Smith, Boston
I've been back on four or five occasions and every time the fans are brilliant – I get treated like a king. The good thing is, it's not just Marseille, I can go anywhere in France and everyone treats me very well. As for my French, it's terrible.

1990-91 for Marseille or 1992-93 for Sheffield Wednesday: which was your best season?
Mark Williamson, Glasgow
I would probably say Marseille but to win Footballer of The Year was a great achievement. The football at Marseille though, was impossible to describe. If they played stuff like that now, they'd win the European Cup.

You played in the 1991 European Cup final for Marseille and were Footballer of the Year in 1993 but still couldn't get into the England team – why was this?
Ross McKay, Clyde
I was obviously disappointed and didn't agree with Graham's selection. It was frustrating watching England against Sweden during Euro 1992 from my sofa at home when I knew I should have been on the pitch. Graham has since said that he had John Barnes on the left and he was looking for something different. Graham – who I get on with very well now – might admit he was wrong, he might not, but as a manager, I understand that you can't please everyone.

You named John Barnes in your FFT 'Perfect XI' despite competing with him for a place in the England team for many years. Did the rivalry bring you closer together?
David Bray, Bournemouth
There was no rivalry, me and John used to spend hours talking football. We'd bore the arse off Gazza talking tactics, formations and foreign football. As for our experiences with England, I think the fans didn't take to us because at the time in England, players like myself, John and Glenn were considered luxuries. We could do with a few luxury players now.

The 1990 semi-final was arguably your best performance in an England shirt. Do you wish you'd shaved the mullet off sooner?! Did you think your shot from the halfway line was in as it looped over Bodo Illgner?
William Hunt, via e-mail
I wouldn't have wanted to shave my mullet off any sooner, as it would have taken my strength away. As for that shot, yes, I did think it was in, I was away celebrating. But the whistle blew so it was lucky it didn't go in, I'd have looked a right knob.
But I wouldn't say it was my best game for England, that was against Italy when I played against Maldini when he was about 18 or 19 and I turned him inside out. He obviously remembered because when Marseille played Milan in the European Cup in 1991 he kicked me up in the air.

Which was more difficult to deal with: losing the 1990 World Cup semi after missing a penalty or losing the 1991 European Cup final and not taking one?
Guy Hamilton, via e-mail
Both were equally difficult to take. I think if we'd won the semis we'd have won the World Cup and I definitely think we deserved to win the 1991 Champions League against Red Star Belgrade – who played for penalties after 10 minutes. In 1991, I didn't take a penalty because we already had five regular penalty takers. The one who missed, Amoros, had never missed before. He changed his mind in the run up and it just shows what pressure can do to even a professional penalty taker.

Why on earth did you do those Pizza Hut adverts with Stuart Pearce and Gareth Southgate? Because they were a laugh or was it some kind of therapy?
Patrick Barrett, Mayo
Good laugh. You can't do everything right in life and you're going to make mistakes. It's easy to crawl into a ball and say
'Ooh, everybody hates me'. I've always thought humour is a good way of dealing with these things.

You played on both flanks and could cross and shoot with both feet. Why are so few of England's top players now as adaptable?
Tim Glenning, Haslemere
I was completely left-footed until I was about 23. It's then that I started playing on the right-hand side and people knew I'd cut onto my left so I worked on my right in the gym. Twenty minutes a day for a couple of months is all it takes for a professional improve his weaker foot. It makes me laugh that England are crying out for a left-footed player and the guys trying to get that role can't just practice for 20 minutes a day on their left.

You made fools of a few full-backs in your time. Did any actively threaten to cripple you if you went past them?
Aaron Patel, Shrewsbury
No one threatened me, I just got players saying, "Oh, don't go past me, please," or "I knew you were going to do that," and even as they'd chase me, they'll be saying, "If I wanted to stop you, I could have!" My reply was always the same: "Don't worry about it, mate, Maldini fell for it too."

You've been a big critic of English players' lack of technique. Have you ever been tempted to get more involved in coaching yourself?
Jessica Commons, Cheltenham
I think that the coaching system at grassroots needs to be revamped. At 13 or 14, I think it should be all ball work and technique, but it's not, it's about power, size and winning. We used to produce players like Barnes, Gascoigne and Hoddle, but now we have to import them. I think if the laws were changed – if it was easier for players to get into coaching without having to get all these badges – I would definitely get involved.

After the last World Cup you branded England, 'a quarter-final team and no more'. Do you see there being a significant improvement under Capello?
Chris Hughes, West London
I'd still say we're a quarter-final team. We're desperately short of players who can run with the ball and create and until we start producing that type of player again we'll remain a quarter-final team. Capello can't make somebody dribble past three players and create things if they aren't capable of doing it. The best teams have creative players that can provide a bit of magic; an Henry or Zidane.

Rate these players in order of haircut, from best to worst. Rene Higuita, Jason Lee, Kevin Keegan (perm), Taribo West, Chris Waddle (mullet).
Adam Soffe, via e-mail
I'd definitely be number one, followed by Keegan because his perm was unique. Then Higuita, followed by that pineapple haircut and last, Taribo West. What people forget about the mullet was it was basically an accident. When I got to Newcastle, I had long hair and got injured so I cut it all off. Then I got injured again so I thought I'd have it long on the sides and short on the top. From then on, I didn't get injured. So the mullet was down to superstition.
I remember playing at Newcastle when I first got it done and after we ran onto the pitch you could hear everyone in the crowd asking each other what I'd done to my hair. During the game, I went to get the ball for a throw in and someone shouted: 'Hey Chrissy what you done with your hair, like?' Two weeks later, another home game and the ball went out of play but this time no one was giving me stick. So I turned around and I see that 80 percent of the crowd had mullets. When I was driving home that night I passed a load of hairdressers with signs in the window saying 'Chrissy Waddle perm £5'.

What's the best goal you've ever scored?
Paul Dwyer, Wolverhampton
There was one for Marseille against AC Milan in a European Cup quarter-final; a free-kick for Sheffield Wednesday against Sheffield United in the FA Cup semi-final or my long-range shot for Bradford against Everton in the FA Cup third round; all were great goals. I always said that if I scored an unbelievable goal I was going to walk off the field because I wouldn't be able to do anything better in the game. I never had the bottle to do it unfortunately.

Did you ever get people coming up to you and saying "Chris Waddle" in a Mediterranean accent after the Fast Show's "Chanel 9" used your name as another way of saying 'I don't know'?
Claire Turner, Newcastle
All the time, I should have got royalties for that. I got invited to go on Jumpers for Goalposts with Paul Whitehouse and he explained how it came about. He was in Spain and he was watching the news and the newsreader finished her report with 'pethethethethe Chris Waddle'. He found it amusing and decided to use it.

How did it feel to finally play for Sunderland, your boyhood team, only to find cameras recording everything for the documentary Premier Passion? I still remember that bollocking you got off Peter Reid!
Ian Gathercole, Swansea
At the start of the season the lads were all really aware of the cameras but by 20-odd games the cameras were just part of the changing room. I do remember that bollocking from Peter Reid. We'd just got beat 2-0 by Liverpool and he went around the team having a go at everyone, then he got to me and said, 'What do you think?' I just said they were too good for us. He wasn't happy. He was a very passionate manager. If we'd put a swear box in the changing room that year, he'd have had to pay about £200,000.

Is scoring a goal really better than sex, or has your sex life improved since you made that claim?
Lee Hall, Newcastle
When you score a goal you lose the plot for 10 seconds of your life. On many occasions I've scored and gone absolutely ballistic and only remembered what I did after watching the replay. It's a wonderful feeling. Is it better than sex? No.

You were pushing 40 by the time you retired and still play local football in Sheffield. Is that why you've not gone into coaching – you just can't face not playing anymore?
Michael Brett, Cardiff
I just enjoy getting my boots on and playing, it's got nothing to do with coaching. I play Tuesdays and Sundays and was top scorer last year with seven goals in 12 games for my pub team. The lads might tell you I'm a lazy so and so though. And they'd probably be right!

From the October 2008 issue of FourFourTwo.
Thank you for reading 5 articles this month* Join now for unlimited access
Enjoy your first month for just £1 / $1 / €1
*Read 5 free articles per month without a subscription
Join now for unlimited access
Try first month for just £1 / $1 / €1