Crowd of defenders still following Wilfried Zaha around and hacking at him
The Crystal Palace winger is receiving some special attention from defenders, Back of the Net reveals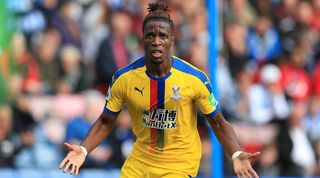 Roy Hodgson has called for more protection for Wilfried Zaha after video footage emerged of the Crystal Palace star being followed around his local supermarket by defenders attempting to batter him with their shopping trolleys.
Zaha is amongst the most fouled players in the Premier League and opponents regularly choose to stop his mazy, attacking runs with robust challenges, shoulder barges or acts of common assault.
Huddersfield's Matthias Jorgensen was booked for bringing down Zaha at the weekend, but avoided further punishment for attempting to flatten Zaha with his Land Rover just before half-time and firing a harpoon gun at him in the 65th minute.
To make matters worse, footage has emerged of Jorgensen still keeping a close watch on Zaha several hours after the game and repeatedly barging him with his shopping trolley in Waitrose, preventing Zaha from a clear olive-buying opportunity.
Sent to the cooler
As Zaha soldiered on and attempted to pick up some frozen peas, West Brom's Craig Dawson came from nowhere to bundle him into the freezer cabinet before raising his hands above his head and chuckling sardonically.
"Wilf's battled his way to checkout only to find [Watford's] Etienne Capoue scanning the items," Hodgson told FourFourTwo. "Capoue's just thrown them on the ground, stamped on them and then proceeded to wag his finger at his supervisor who has asked Zaha to pay anyway.
"Maybe you'd expect that in a Morrisons but not when you're shopping at this level. If we don't do something about this, guys like Wilf will be doing all their shopping at Carrefour next season."
However, many defenders believe that Zaha simply needs to toughen up and learn to shrug off the occasional flying elbow to the face or close-range musket shot.
"[Repeated bodily assault] is all part and parcel of the game," Jorgensen told FourFourTwo. "When I am told to mark a player, I take the job seriously. I'm just not going to let him drift into space, whether that's on the edge of the box or in a Vue Cinema three days later."
At the time of publication, Newcastle's Paul Dummett was moving his possessions into Zaha's spare room and had already tripped his new flatmate on his way to the bathroom.
Please note: This story is satirical, obviously. Shop in peace, Wilf.
Back of the Net • New features you'd love on FourFourTwo.com
Quizzes, features and footballing fun
Get the best features, fun and footballing frolics straight to your inbox every week.
Thank you for signing up to Four Four Two. You will receive a verification email shortly.
There was a problem. Please refresh the page and try again.