Hugo Lloris to remain Spurs captain unless he murders several people, then we'll see, confirms Pochettino
The Tottenham boss is standing by his skipper until he's wanted by the FBI, Back of the Net can confirm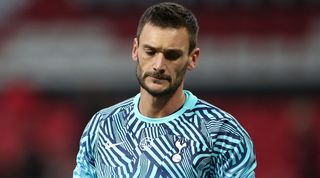 Mauricio Pochettino has declared that Hugo Lloris will remain Tottenham captain until he commits a much more meaty crime than simply drink driving.
Lloris pleaded guilty to drink driving at Westminster magistrates court and was fined £50,000, which he paid there and then in petty cash, but his 20-month driving ban will mean he is faced with the grim prospect of being chauffeured in luxury cars for the foreseeable future.
While there have been calls for Lloris to lose his captaincy, Pochettino insists that the shot-stopper is still the right role model for his side, at least until he actually descends into a frenzy of blood-letting.
"Merely drink driving isn't enough to call into question Hugo's ability to be the face of Tottenham Hotspur," Pochettino told FourFourTwo. "It'll take a proper criminal offence to get me to consider taking away the captaincy – we're talking not just one murder, but maybe if he was a notorious serial killer.
"Even then, the fact he could organise and commit those crimes so effectively for years would show me a kind of dedication that I find admirable.
"And does being a serial killer impact on his ability to come and collect a cross? I would argue not. Unless he's mid-murder.
"Perhaps if he ran a terrorist cell? But again, that would show some impressive leadership qualities - an effective sleeper cell doesn't assemble itself - plus it'd demonstrate an aptitude with explosives, and you never know when that could come in handy later in the season."
Just desserts
Tottenham have shown just how seriously they take Lloris's actions by fining him two weeks' wages, a sanction that will seriously impact Lloris's monthly truffle spend.
"Hugo has suffered enough for his mistake," a friend of Lloris told FourFourTwo.
"He's really struggling to find a way to heat his spare indoor swimming pool this month now.
"For any kids out there wanting to know the dangers of drink driving, I can tell you that at this very minute there's a grown man sobbing into his diamond-plated Van der Hilst pillow and contemplating the possibility that his image rights may have decreased in value. That's enough to make anyone think twice."
Please note: This story is satirical, obviously. We hope you twigged that before now.
Back of the Net • New features you'd love on FourFourTwo.com
Quizzes, features and footballing fun
Get the best features, fun and footballing frolics straight to your inbox every week.
Thank you for signing up to Four Four Two. You will receive a verification email shortly.
There was a problem. Please refresh the page and try again.