Daniel Sturridge: Talentspotter
By Hitesh Ratna published
"I wanted to be a wrestler, but it's probably a bit late now..."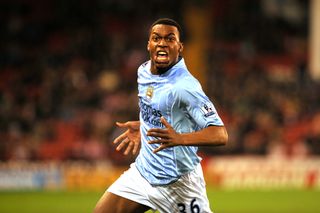 Nickname
'Studger' – it's a family nickname that has stuck.
Club supported
I used to support Derby when I was younger because my Uncle Dean played for them, but once he left I lost my loyalties to them. Now it's Arsenal. I love the way they play.
Clubs played for
Cadbury Athletic were my first club: I signed for them when I was six. I then moved to Aston Villa when I was seven, before signing for Coventry four years later.
Strengths
I would say my dribbling, goalscoring and all-round finishing. I also have good vision on the pitch.
Weaknesses
I can work on every aspect of my game, but if I had to say one thing it would be my heading.
Heroes
Pele. I'd watch videos of him play and that would inspire me.
I play a bit like...
I wouldn't say I play like anyone, to be honest. I suppose I've tried to mould my game on what I think a number 10 should play like – like a Pele or Maradona.
Highlights
Being named MVP and top goalscorer at the Nike World Premier Cup in 2004. Also making my debut for Man City against Reading and representing my country.
Lowlights
I've had lots of different niggly injuries that have not helped me out over the years. I've missed so many matches through injury that I've lost count but hopefully I'm over them now.
Toughest opponent
Russia's Sergey Morozov. I faced him during the UEFA Under-17 Championship last year for England. He had everything. He was big and strong and very difficult to get past. Definitely the toughest opponent I've faced so far.
Tell us something we don't know
I was born in Dudley Road City Hospital, the same hospital that Micah Richards was born in.
Best player played with
It has to be Micah. He's a good defender, he's got strength, pace and power, everything you need in that position – and he has a presence on the pitch.
Biggest influence
Definitely my dad. He has done everything for me – he taught me how to play, how to kick a ball properly. Everything that's in my game now has come from him. I've got to say I wouldn't be where I am without my coaches too.
Best advice
That was from my Uncle Dean. He said don't let anyone ever put you off your game or knock your confidence.
Biggest joker at the club
Lewis Chapman, the kit man. He does the craziest things you could imagine. Any little thing he does just cracks me up. I can't give you one example because there are so many to laugh about.
Car
I'm not driving yet but probably an Audi when I get around to it.
Chicks
There's a few floating about these days, but I would probably go for Beyonce.
Flicks
I saw The Departed – that's a decent movie – and Blood Diamond as well.
Favourite holiday destination
I would love to go back to my roots and go to Jamaica. I haven't been there yet but it's a destination I'm going to go to very soon.
TV programmes
I never miss My Wife and Kids.
With my first pay packet...
I went out for a meal with all my family to celebrate.
If you hadn't become a footballer...
I wanted to be a wrestler, but it's probably a bit late now. I'd probably still be in some sort of football environment, maybe something like coaching kids.
Most embarrassing moment
When I was with the U21s, I had to stand up and sing Boyz II Men in front of all the lads. It went down great – ask them!
If I could play alongside anyone...
I'd love to play with Lionel Messi. Everything about his game is fantastic: his speed, his skill, his vision.
In five years time...
Hopefully I'll be an established world player and in the full England squad.
Interview: Hitesh 'The Hitman' Ratna. From the September 2007 issue of FourFourTwo.
Thank you for reading 5 articles this month* Join now for unlimited access
Enjoy your first month for just £1 / $1 / €1
*Read 5 free articles per month without a subscription
Join now for unlimited access
Try your first month for just £1 / $1 / €1
Quizzes, features and footballing fun
Get the best features, fun and footballing frolics straight to your inbox every week.
Thank you for signing up to Four Four Two. You will receive a verification email shortly.
There was a problem. Please refresh the page and try again.