Derby candidates in four-month Himalayan retreat trying to understand Derby Way
Derby are looking for a manager who understands the mystical Derby Way. Back of the Net has the latest...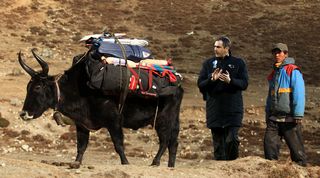 Derby County have begun their search for a new manager who fully understands 'the Derby Way' – a higher state of consciousness that can only be reached with years of dedication, sacrifice and a rudimentary knowledge of a 4-4-2 formation.
NEWS Clement axed as Derby head coach
Paul Clement was sacked after eight months as Derby's spiritual leader when the club's Holy Council ordered an inspection of his Vishuddha Chakra and, with the club sitting fifth in the Championship, found that Clement's Derby manna was not pure.
Clement was immediately cast out of the iPro Stadium and is believed to be in the Peruvian jungle subsisting on a diet of Incan Golden Berries and shredded matchday programmes in the hope of re-attaining the Derby Way. 
In search of
The new contenders to become Derby boss have begun the arduous and dangerous path to prove they are at one with the Derby Way.
The five candidates are to spend the next four months thousands of miles from civilisation taking part in a gruelling daily regime of meditation, tai-chi and pointing and shouting orders at Rhesus monkeys.
"Derby County would like to place on record its gratitude to our former Great Leader, the godless heathen Paul Clement, and we wish him all the best in the wilds of Peru," a Derby County statement to FFT reads.
"Our new leader will be a man who truly understands the Derby Way. He will be judged not by his ability to deliver results on the football pitch or to secure promotion to the Premier League but by his devotion to a far more important vague, immeasurable concept.
"The five pretenders to the Derby throne are beginning the ordeal of the selection process. They will be broken down physically and mentally, every fibre of their very being will be analysed in search of the Derby Way. We will look within their very souls.
"After that we'll have lunch and talk wage demands."
Guru Darren Wassall will take charge for the remainder of the season but, although pure, his powers are believed to be limited to guiding Derby to mid-table.  
Please note: This satirical news story is not real. But you already knew that, right? 
RECOMMENDED De Jong looking forward to new chest-high challenges
Quizzes, features and footballing fun
Get the best features, fun and footballing frolics straight to your inbox every week.
Thank you for signing up to Four Four Two. You will receive a verification email shortly.
There was a problem. Please refresh the page and try again.