Don't expect Chelsea-style spending: The off-pitch uncertainty threatening Liverpool's needed rebuild
Two underachieving sides face each other in a mid-table clash this weekend. But while Chelsea are attempting to spend their way out of crisis, don't expect the same from Liverpool, writes This Is Anfield's Matt Ladson...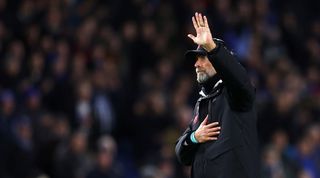 (Image credit: Getty Images)
Transition season. Rebuild. Overhaul. Buzzwords that surround Liverpool FC at present.
Jurgen Klopp now needs to do what he has never done before and rebuild his own squad to achieve continued success.
But there are a few major sticking points at Anfield for this to happen.
Firstly, the man tasked with overseeing transfer deals, the club's sporting director, Julian Ward, is serving his notice period ahead of a summer departure.
Ward has only been in the role since last summer, with the previous sporting director, Michael Edwards, having announced his intention to leave the club the year previous, with Ward, who was Edwards' assistant, increasing his duties over time.
There will be no such transition period this time, with Ward's departure coming as a shock. "It was a surprise when Julian told me," admitted Klopp last month. "But we work completely normally together until the day he leaves."
Transfers, and indeed contracts, can and will still be done, but it's hardly ideal that the man whose job it is to make transfers has handed his notice in and a successor is needed.
Then there's the person who is the head of a six-strong team of analysts whose job it is to identify new signings, Dr. Ian Graham, who has also handed his notice in and will also leave the club in the summer.
Next, there's the 'man who runs Liverpool', FSG's Mike Gordon, who has stepped aside from his role in the day-to-day running of the club. A man who has, reportedly, expressed his concerns that the club cannot compete financially (opens in new tab) with the likes of PSG, Man City and Newcastle.
And then, finally, there's the actual owners, Fenway Sports Group, who are on the record as saying they are seeking investment in the club and off the record in being open to a full sale of the club.
To sum it up, the person responsible for playing a large role in identifying a potential signing, the person responsible for making the signing, and the people responsible for paying for the signing, are all effectively serving their notice.
Such uncertainty cannot be helpful at a time when the club are struggling on the pitch to compete with clubs backed by extreme wealth.
If you're a potential signing, do you question whether new owners could want a change in management and thus question whether Jurgen Klopp will be your manager? Unlikely, but again, it's uncertainty.
No Chelsea-style rebuild
This weekend, Liverpool face Chelsea. It's a rivalry which, in the modern era, dates back to the final day of the 2002/03 season and a fixture dubbed the '£20 million' match (yes, £20 million then was the huge money involved in Champions League qualification). Chelsea won, qualified for the Champions League ahead of Liverpool, and in walked Roman Abramovich and all his riches. The history of the Premier League changed forever.
Four years after that, Liverpool changed ownership as then-owner David Moores realised he could no longer compete with Chelsea's new spending power. How history repeats itself.
Chelsea of 2023 are under new ownership again with the wildly free-spending American Todd Boehly - a man who seems intent on making a mockery of the Financial Fair Play rules that once attracted FSG to owning a Premier League club.
Boehly might 'win the transfer window' and some fans seem just as happy, if not happier, to do that than win actual football matches. What does 10th place in the league matter when you've just made your 14th signing of the season?!
A joke, of course, but increasingly in modern football it seems the obsession with transfers far outweighs the actual football. Liverpool's rebuild, when it happens, won't be like Chelsea's - and probably for good reasons.
And while some Liverpool fans could be forgiven for looking with envious eyes at Chelsea's lavish new signings, there are those, too, who remember the ownership of Tom Hicks and George Gillett and understand actually how close Liverpool FC came to entering administration (if you're not sure, read Brian Reade's book, Epic Swindle)
FSG always insisted that Liverpool FC would run as a business on its own, self-sustaining. They cannot and will not risk the future of the club by putting it into financial jeopardy - which you might say is fair enough. The latest Deloitte Money League report has Paris Saint Germain spending 111% (yes, 111%) of their turnover on wages - and that's for the accounting period before Kylian Mbappe signed his new contract. Not every club is being run in a financially sensible manner. This is what Liverpool, and others, are competing against.
What FSG need to do now, though, is provide clarity over the ownership of the football club.
They also need to appoint a sporting director as soon as possible so that a handover period can be in place before Julian Ward departs.
And they must ensure that, if the club is sold in full, the new owners are right for Liverpool FC - owners who understand the football club, the city, its supporters and its community. Perhaps that's the part harder than finding somebody with £4 billion to spend.
Matt Ladson is the editor of This Is Anfield (opens in new tab)
Thank you for reading 5 articles this month* Join now for unlimited access
Enjoy your first month for just £1 / $1 / €1
*Read 5 free articles per month without a subscription
Join now for unlimited access
Try first month for just £1 / $1 / €1
Quizzes, features and footballing fun
Get daily World Cup 2022 news, updates and other football frolics to your inbox
Matt Ladson is the co-founder and editor of This Is Anfield, the independent Liverpool news and comment website, and covers all areas of the Reds for FourFourTwo – including transfer analysis, interviews, title wins and European trophies. As well as writing about Liverpool for FourFourTwo he also contributes to other titles including Yahoo and Bleacher Report. He is a lifelong fan of the Reds.
Quizzes, features and footballing fun
Get daily World Cup 2022 news, updates and other football frolics to your inbox
Thank you for signing up to Four Four Two. You will receive a verification email shortly.
There was a problem. Please refresh the page and try again.