The enigma of Michu: the rise, the fall... the what next?
Bobby Gardiner ponders what's on the horizon for the former must-have for your Fantasy Premier League team...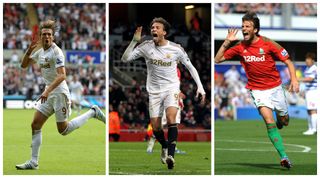 The ball rolls fortuitously towards the penalty spot as Miguel Perez Cuesta strides to meet it. In many ways, the stars of fate seem to have aligned perfectly: it is the 80th minute in the Champions League qualifier between Napoli and Athletic Bilbao, the score is 1-1, and the shaggily haired hero-to-be has been on the pitch for mere minutes after coming on for Marek Hamsik. 
But, within a blink, the stars were back to their arrogant randomness. The anxious debutant's first instinct had been to look away from goal rather than towards it, and to bizarrely pass to a team-mate in a noticeably worse position. Uncharacteristic, to say the least, from a man coveted for his calmness.  
Michu's chance at Napoli slips him by
The rise
The Michu story is one of the strangest tales of the Premier League era. Signed for £2.2m by Swansea City in July 2012, the marauding attacking midfielder announced himself to British football with a clinical brace on the opening day of the Premier League campaign, a match and debut he himself described as "incredible". 
And he didn't stop there, scoring consistently throughout the season as he racked up 22 goals and played a major part in Swansea's historic League Cup win. Gradually, 'Michu' became both a synonym for 'bargain' and a measure of currency and, towards the end of the campaign, he was repeatedly linked with a move to Arsenal – a team who had fallen victim to his finishing first hand – for a fee of around fifteen Michus himself.
That debut at QPR
"The boy Michu has been a revelation. To sign him for just £2 million and get 20 goals out of him - what a bargain!" chimed then-Manchester United chief Sir Alex Ferguson. As the next season came around, though, Swansea had managed to hold on to their prized possession, thanks in no small part to his close relationship with Michael Laudrup and the added allure of a Europa League campaign. 
The Spaniard played fairly well up to his injury during the South Wales derby in November. Although he only had a couple of goals and an assist in the league in nine games, Michu had been more productive in the Europa League and both scored and assisted in Swansea's spectacular 3-0 dismissal of Valencia at the Mestalla. He had also broken into the Spain squad, replacing David Villa after the Barcelona man injured his ankle. In short, an expected lay-off of just over a month seemed a small hurdle in what looked like an unstoppable ascent.
The fall
But Michu, or at least the one that we had come to know, never really returned. Rushed back by an under-pressure Laudrup in December, he was once again forced out by injury – an ankle issue which was to sadly become a recurring problem. By the time he recovered, there was no Laudrup to be rushed back by.
The Dane had been replaced by Garry Monk, who had gone from being a team-mate to the manager. Michu didn't feature until March 15 and only played five times in the second half of the season, plagued by lingering issues and swarmed by questions about his loyalty. He didn't even feature against Napoli in the two-legged Europa League tie, where a potential move was reportedly first discussed.
Garry Monk has not taken to the Spaniard
The why
During the summer of 2014, it became obvious that Michu wanted to leave. Monk had set about dismantling the cliques of the squad he had inherited, the biggest of which was populated by Laudrup's Spanish recruits. By the end of the summer, Jordi Amat and long-time stalwart Angel Rangel were the only Spaniards left at the club often called 'Swanselona' for its inhabitants as much as its football. 
The media circus began to spin viciously around Michu, who had never been shy about his ambition – in December 2013, when he had returned from the initial injury, he told Marca that "every player dreams about playing in big teams, clubs who play in the Champions League and fight for titles. I am no different."
He was cruelly described as "a little bit of a loner" by one local paper, who implied that the tempestuous side to Michu's personality was a new development in his second season at the club. Revelations of him "standing in the tunnel at half-time well before his team-mates" were used as criticisms rather than as evidence of enthusiasm like they might once have been, were he still the hero of a season before. In truth, Michu had always been dangerously passionate; it was just more noticeable during a season of frustration.
The stars
And so it was that the anxious debutant who came on against Athletic Bilbao was one with a point to prove, rather than a name to make, after an initial loan move with an option to buy. But just as the very stars that had unquestionably favoured him throughout his first season in British football seemed to realign for a moment, they ominously moved to torture him again: not with a lone missed chance, but the return of injury problems. 
In November, Napoli announced that Michu would need surgery on his ankle problem. He had made a couple of starts for the club in the league but had barely had the chance to make an impact, especially given that he was coming off the back of a season of little football. He didn't feature again for the Italians. 
also ON FFT.COM
The Michu story is undoubtedly a cautionary tale of how quickly fortunes can change in football. But many take it as face value, seeing it as the simple narrative of a player not being as good as we thought he was. That he is now in limbo, linked with the likes of Rayo Vallecano and Celtic without any solution materialising as the end of the window looms, is proof of his failure. 
This is far from the truth. It is not for us to blame our shaggily haired hero-to-be, a player who was overused by a manager whom he wholeheartedly trusted and wanted to impress before being cursed with a debilitating injury just as new challenges began to present themselves. The Michu story is a sorry one where we can only blame those stars.
Quizzes, features and footballing fun
Get the best features, fun and footballing frolics straight to your inbox every week.
Thank you for signing up to Four Four Two. You will receive a verification email shortly.
There was a problem. Please refresh the page and try again.