Erik Lamela the perfect symbol of Pochettino's new Tottenham
There have been plenty of promising signs in Erik Lamela's early performances for Spurs this season - Thore Haugstad outlines what it is the Argentine forward is finally doing right...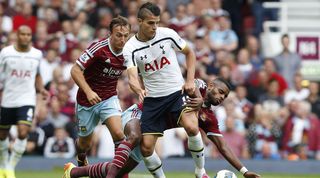 As managers gear up for the annual summer deadline-day frenzy, Mauricio Pochettino can afford to feel a little more relaxed. In a summer where rival clubs have strengthened, Tottenham have focused on excavating the talent they already have – and victories over West Ham (1-0) and Queens Park Rangers (4-0) suggest the plan is working. Symbolic of the promising start has been Érik Lamela, whose lively display against QPR indicated a long-awaited revival.
Lamela has much to prove. The 22-year-old Argentine's debut season was as bad as they come, with injuries and weak form limiting him to three league starts. Unhelpful were the mid-season managerial change and the steep transition from Italian to English football. And swapping Rome for north London cannot have been easy for a Buenos Aires-born youngster. Nonetheless, the £30 million transfer from Roma looked disastrous.
The appointment of Pochettino may well reignite Lamela's career. Not necessarily because they are compatriots, but because the refined 'philosophy' Pochettino believes in suits Lamela's skillset and habits. Wiser after a difficult first year, the winger sprung into life against QPR last weekend and assisted two goals in a dazzling performance.
Crucially, Pochettino understands Lamela's need to express himself in different areas of the pitch. "It depends on the situation whether Érik will play as the No.10 or wide," the Spurs boss said before the season. "My philosophy is to give a freer style with a good organisation and not only with Érik, with other players. The most important thing is to create a good shape for our players to be comfortable and to show their real qualities."
They very much did against QPR. Pochettino used a 4-2-3-1 system with Danish playmaker Christian Eriksen flanked by Nacer Chadli (left) and Lamela (right) – to great effect. The attacking midfield trio roamed and switched positions, with Chadli and Lamela drifting in between the lines. Lamela's movement was particularly varied and he wandered wherever he pleased.
In fact Lamela seemed to play as much on the left as on the right. This was linked to the movement of Eriksen, who completed the highest number of passes in the final third and exerted significant influence on the game. Both he and lone striker Emmanuel Adebayor tended to drift towards the left.
This suited Lamela. It allowed him to shift across and take up pockets of space centrally. Being a left-footed right winger, those areas would always be his preferred zones.
Indeed, Lamela first played as a No.10 at River Plate before being shifted out wide. In his second season with Roma, in which he scored 15 goals in 33 appearances, most of his finishes came from central positions. The nature of the goals varied. Some were Arjen Robben-style runs from the flank; others first-time hits owed to storming runs into the box. That Lamela is a winger is clear. How much time he should actually spend out wide is a more debatable question.
Against QPR the movement of Eriksen and Lamela meant Tottenham constructed fewer attacks down the right. This enabled Lamela to create danger in the centre.
Lamela's dribbling stood out. He attempted four take-ons more than anyone else on the pitch, completing five. He created three chances and two goals; the first a near-post corner for Eric Dier; the second a fine solo run that led to a cross for Chadli to head home.
The latter assist underlined Tottenham's fluency. Eriksen had come deep and kept possession near the halfway line. He played a pass to Lamela, who had wandered inside to exploit the space Eriksen had vacated. Lamela ghosted past one player and continued to dribble down the left side of the defence. Chadli made a reverse run into the box and headed in Lamela's deft delivery. It was wonderfully crafted, the two wingers switching sides to combine.
But just in case some feel tempted to label Lamela a frail luxury player on the basis of last season, his defensive statistics should not go unmentioned. Last weekend he made eight ball recoveries – the most of any Spurs player – and three tackles. Some actions took place on the left flank, again reflecting the unrestricted role he enjoyed.
This role was highlighted by Pochettino after the game. While the manager emphasised the importance of a sound defensive structure, he also said: "But it's important Eriksen and Lamela feel free because they are creative players. You can put players like that in their shells. But they need the movement to be able to attack. Today he [Lamela] was sometimes No.10, sometimes right, sometimes left, sometimes changing with Adebayor."
He is a different player to last season. Lamela may come to symbolise Tottenham under Pochettino: more refined, more varied and more unpredictable.
Thank you for reading 5 articles this month* Join now for unlimited access
Enjoy your first month for just £1 / $1 / €1
*Read 5 free articles per month without a subscription
Join now for unlimited access
Try first month for just £1 / $1 / €1