FIFA 19 Ultimate Team: new Icons, Division Rivals… and headers and volleys!
Prepare yourself for a new daily challenge, and the return of Steven Gerrard and Frank Lampard...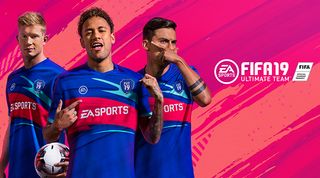 As FFT revealed last month (opens in new tab), FIFA 19 developer EA Canada has had a busy summer – the Champions League and Europa League are headed to this year's game, in addition to on-pitch improvements such as timed shooting and improved tactical options. But for many fans, there's only one mode that matters in the annual sim: Ultimate Team.
Eager to tease as always, it's the last mode EA is discussing ahead of the game's September release date. But FourFourTwo has had a sneak peek in the company of gameplay producer Kantcho Doskov, and can now take you through all the key features in this year's FUT. As a bonus, we also get to sample changes made to Kick Off mode – including the option to channel Colombia's 2018 World Cup squad and play without any rules at all…
Eight new Icons are headed to FUT
FIFA 18 featured 30 legends included as Ultimate Team 'Icons', the list spearheaded by Pele (rated 98), Diego Maradona (97) and Ronaldo (96).
FIFA 19 adds 10 more. Inevitably another Brazilian joins the ranks in Rivaldo, but there are two Englishmen making returns to the series alongside him: namely Frank Lampard and Steven Gerrard. Sadly only one defender is among the elite additions – Fabio Cannavaro – and surprisingly, no goalkeepers at all.
Still, there's some serious quality among the other six fresh names: Eusebio, Clarence Seedorf, Johan Cruyff, Miroslav Klose, Claude Makelele and Raul.
Your new daily time sink is called Division Rivals
Squad Battles were the big addition to Ultimate Team last year, as you accrued points to earn rewards by winning matches against the AI. It's back again this year, and accompanied by a mode that's geared for the online gamer: Division Rivals.
It's a bit like Squad Battles in that you rack up points throughout the week to earn performance-related goodies at midnight on Monday, although there's a key difference: all fixtures are played against human opponents, and you're grouped together in divisions with players of similar ability.
As well as earning packs at the end of each week, you can also bank points towards qualification for the weekend league, where the best FIFA players in the world compete over 40 matches from Friday to Sunday.
Packs have been tweaked in subtle, but sweet ways
Ultimate Team diehards spend more time opening packs than they do playing matches, meaning EA needs to innovate in this area every year to prevent its most popular mode going stale.
One way it's done so for FIFA 19 is by making it easier, and more intuitive, to process a pack after you've just opened it. Your 12 cards are presented in a horizontal line across the middle of the screen. Highlighting a card, then flicking the right stick up, sends it to the top of the screen and your Transfer List; nudging down on the stick dispatches it to your Quick Sell pile at the foot of the screen.
From there you hit Advance, and all cards are directed according to your commands – with those left in the centre of the screen being stashed in your club. Result!
…that aren't just limited to pack openings
Another way in which EA is changing packs is by incorporating its new licences – even if for now it's saying no more than you can "build your dream squad with live UEFA Champions League and Europa League content updates". Er, cool.
But it has teased pack designs sporting the Champions League logo, leading FFT to confidently predict that there'll be a continental team of the fortnight after each round of European games, to supplement the domestic team of the week which lands every Wednesday at 6pm.
An innovation less shrouded in mystery is something called the 'Player Pick Pack'. Every so often, instead of receiving a player in a pack you'll be offered a choice of three, and must choose the one which offers most value to your squad – or on the transfer market. It's a bit like the existing draft mode, only you get to keep the chosen player. Even for top-tier signings from clubs outside of the Prem's big six – say Zaha vs Arnautovic vs Vardy – it's going to trigger some seriously tough, but fun, decisions.
Strength is as important as pace now
Fed up of facing online Ultimate Team squads boasting Aubameyang, Rashford and Salah? Producer Doskov says you'll be able to combat their outrageous speed with raw strength, thanks to work his team has done with the match engine.
"We've definitely looked at balancing pace," he says. "Strength is a key attribute, particularly for defenders who don't have so much pace. Going in more aggressively is resolved by the physics of the two players coming together, and naturally the stronger player will [usually] come out on top.
"Even if he's a fraction of a second later [than his opponent] he'll still be able to get a foot on the ball. Pace is always difficult to balance, but we feel that the changes made this year, such as jockeying quicker and more realistic deceleration, are going to give defenders improvements in how they can cope with really fast players."
We weren't joking about the headers and volleys mode
Yep, headers and volleys really is coming to FIFA. It's part of a total overhaul being given to Kick Off mode – your default means of playing single matches vs the AI, or against a mate on the sofa.
As part of his overhaul, you can now set house rules in all manner of cute ways. Headers and volleys is a traditional 11-on-11 game where – you've guessed it – only headers and volleys count, while you can also choose to make goals from outside the area count double, or have a team lose a player each time it scores, or turn offsides and fouls off completely.
SEE ALSO
FIFA 19 review: 7 big things we've learned from playing for the first time (opens in new tab)
Why Jose Mourinho has finally picked a battle that he can't win (opens in new tab)
It's not only rules which tempt experimentation. Rather than play for bragging rights alone, all your stats are tracked and linked to your online ID – so whatever machine you use to repeatedly hammer little brother Harry on, running totals are kept up to date. And you can compete for trophies too, with finals of all cup competitions in the game – Champions League, Europa League, MLS Cup, FA Cup, etc – all contestable as one-off matches.
That's your family Christmas sorted well in advance – and most likely New Year, too.
FIFA 19 is released for PS4, Xbox One, Nintendo Switch and PC on September 28
Thank you for reading 5 articles this month* Join now for unlimited access
Enjoy your first month for just £1 / $1 / €1
*Read 5 free articles per month without a subscription
Join now for unlimited access
Try first month for just £1 / $1 / €1
Get the FourFourTwo Newsletter
The best features, fun and footballing quizzes, straight to your inbox every week.