FIFA 19 review: Champions League brings improvements both on and off the pitch
The biggest club competition in the world takes EA's football sim to the next level, but there are also many on-field upgrades to enjoy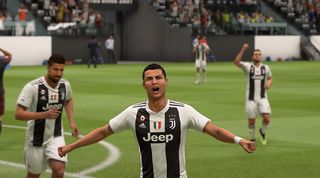 After 10 years as a PES exclusive, the Champions League takes its series bow in FIFA 19 (opens in new tab) – and often-criticised publisher EA has done a sound job of matching the competition's floodlit weeknight grandeur.
Available in nigh-on every mode, it masterfully blends both fantasy fulfilment (which Huddersfield fan hasn't dreamed of hosting Real Madrid?) and reality: the operatic theme, the mildly preposterous arch, a new commentary team in Derek Rae and Lee Dixon. Rounding out FIFA's colossal-as-ever selection of teams and competitions, it provides a sense of completeness to this grandaddy of football games.
That said, FIFA boasting a comprehensive list of real leagues, crests and faces is nothing new, and they'd mean little if the on-field action was dross. So how does it handle in the box-to-box sense? Funny you should ask…
SEE ALSO What's new in FIFA 19 Ultimate Team? (opens in new tab)
Hi ho, Silva linings
For the second year running, new FIFA evolves its on-pitch style rather than starting anew. That means a matchday experience that's immediately familiar yet still packs fresh nuances. Take player speed, for example: gameplay has been slowed down to give a touch more time on the ball, and ensure that wide players lacking Olympian swiftness (such as Bernardo Silva and Juan Mata) are no longer ineffectual. Elite pace feels even more rare, and special, as a result.
One of the best changes pertains to heading: powerful central defenders and forwards truly hang in the air, and get oomph behind clearances and leaping efforts at goal. New aerial animations also enable players to react to the ball even when at an unnatural angle or height, to the point that FourFourTwo has seen insane bicycle-kick clearances and last-gasp backheels off the goalline. And on the subject of the ball, it's… bigger. Only a little, but it looks more realistic as a result.
Timed shooting is the on-field change EA has trumpeted most, and it's a cool risk-reward mechanic: tap the button for a second time as your player releases a shot and, if timed perfectly, you get extra power and accuracy. Mistime for a Christian Benteke-style shank onto Holmesdale Road. But ordinary shooting has been honed too: forwards are able to hit the target from narrow angles, and low drives from distance are possible without having to hold a modifier button. Everything is nicely contextual.
RECOMMENDED 10 teams we can't wait to use on FIFA 19 (opens in new tab)
However, the engine being kinder to you in one way means meanness in another: you really need to know each player's stronger foot now. Swing Andy Carroll's right peg at a low cross and it seldom troubles the keeper, since wrong-footed efforts often turn out floaty and tame. But Carroll is one of the big beneficiaries of that remodelled heading mechanic, proving that FIFA gives as well as takes away.
Rae of hope
Ultimate Team (opens in new tab) is where most players will put these on-pitch tweaks to the test, and the series' best mode gets some off-the-park enhancements too.
SEE ALSO The 11 best cheap Premier League players for your FIFA 19 Ultimate Team (opens in new tab)
Pack openings are sped up significantly by the option to send everything to your club with a tap of R2, while last year's Squad Battles mode – in which you earned packs based upon results in offline matches – is brilliantly supplemented by an online equivalent, Division Rivals. It means both types of player are equally catered for.
The Champions League gets embedded in FUT to a degree, featuring player cards based on performances in the competition – although it's a shame there's no way to have Rae and Dixon as commentators. Indeed, while visuals tweaks do please, like seeing a goalscorer's card superimposed on the pitch as the opposition kicks off, it's time EA found a way to unlock all presentation styles in Ultimate Team. Official MLS, Premier League and La Liga overlays are in the game, and using them in FUT would be a masterstroke.
Admittedly, we're picking holes: the Champions League content elsewhere is smartly utilised. In the largely unchanged career mode you can edit/remove/add qualifiers (including, yes, Huddersfield) at the outset, and see the draw for both that and the also-new Europa League pop up in your TV-style news items.
You can play the tournament as a standalone competition, and it's one of many new strands to exhibition matches – which also allow you to modify rules, such as long-range goals counting double and ignoring all fouls and offsides. While cynics will roll their eyes at EA splurging on another big licence, the Champions League both reinforces and evolves the series' foundations.
A Journey's end
Nowhere is this clearer than in The Journey: Champions, which sees the likeable, fictional Alex Hunter return for a third and final story outing. He's at Real Madrid now, vying for Champions League glory against old pal Danny Williams, while sister Kim seeks to establish herself in the US national side. All three are playable, and the mode concludes tidily while throwing in some cool surprises along the way: piggy-in-the-middle in the Bernabeu dressing room, anyone?
It'll always be on trend to criticise FIFA and EA, particularly when so many choose to spend real money on Ultimate Team – pro tip: don't! – then lament their woeful luck. (To this end, pack odds are included this year.) But there's simply no package so comprehensive in the genre – and we don't just mean by comparison to PES, but all sports games.
Highly playable on the park and endlessly explorable off it, FIFA 19 is a must-own, even if it repeatedly leads you to turn the air blue. Much like at 4.51pm any given Saturday.
NOW READ The 5 best formations in FIFA 19: our favourite systems explained (opens in new tab)
Four things we love about FIFA 19 (opens in new tab)…
L1 love, L1 life
Our favourite microscopic detail: the small triangular icon which hovers over a team-mate at all times, denoting who you'll switch to by tapping L1. It transforms defending for the better.
Spanish steps
The Chinese league arrives in FIFA – welcome back, Oscar – while La Liga gets myriad new player faces, and all stadiums other than the Camp Nou. Be sure to check out tiny, pretty Getafe early doors.
Rewritten rulebook
Playing head-to-head in No Rules Mode is a hilarious, fouly, cheaty, riot. Choose Leicester for maximum offside-goal trolling (and little brother F-wording) thanks to the uncatchable Jamie Vardy.
MORE FIFA 19
FIFA 19 ratings: EA Sports reveal top 100 players – and name No.1-rated star
FIFA 19 soundtrack: Jungle, Childish Gambino and Gorillaz all feature (opens in new tab)
It must be glove
Keepers are never quite right – a bit like real life – but seeing them occasionally miss crosses is a cool nod to reality, and new animations add thumping punches and staggering fingertip stops.
… and one we hate
As ever, there are matches where successful AI comebacks from 0-2 down seem predetermined, and will have you slinging the controller – although EA denies 'scripting' exists. Hmm.
FIFA 19 is released September 28 on PS4 (version reviewed), PS3, Xbox One, Xbox 360, PC and Nintendo Switch.
Thank you for reading 5 articles this month* Join now for unlimited access
Enjoy your first month for just £1 / $1 / €1
*Read 5 free articles per month without a subscription
Join now for unlimited access
Try first month for just £1 / $1 / €1
Get FourFourTwo Newsletter
The best features, fun and footballing quizzes, straight to your inbox every week.